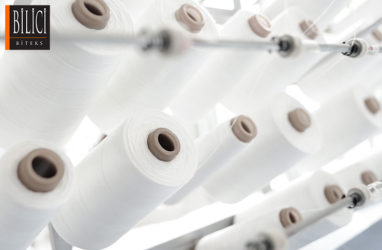 Investing 3.5 million USD in their production lines, Biteks İplik aims for 25% increase in turnover through this investment.
Osmaniye based Biteks İplik, one of the most important players of the Turkish textile industry, aims to increase production capacity with a new investment of 3.5 million USD. Aiming to meet increasing customer demand and increase its market share, the company continues their work in polyester and cotton yarn production.
Biteks İplik With A 3.5 Million Dollars Investment
In order to increase their power in polyester and cotton yarn market, Biteks İplik is making a new investment. The following details are given about the investment made by Bilici Yatırım ve Sanayi, which owns 21.4% of the company, in Public Disclosure Platform (KAP). "The effect of these investments on production capacity and annual turnover will be 12% for 2018 and 25% for following years. It is planned that half of the financing of the investment will be made from the equity capital and by using a long term loan for the other half." 2 million 247 thousand USD of the company's investment will be made on polyester yarn production line and 1 million 243 thousand USD on cotton yarn production line. The machinery and equipment investments will be realized this year with a total value of 3 million 490 thousand USD.
About Biteks İplik
Established in Osmaniye; Biteks İplik continues its production with 40,944 spindles of high technology ring; and with an airjet machine park of 72 spindles. Biteks İplik was founded in 2007 within the Bilici Group; which started its activities with the purchase and sale of textile and agricultural products in Adana in 1950; and has a production capacity of 20 tons per day in 30 thousand square meters closed area.
High quality production of diverse yarns in operation are such as; Ne 6-60/1 Ring and Core-Spun range; 65/35 or 50/50 blend (or custom mix proportions for customer's special orders) black; grey melange (S-57-S-65 with anthracite (in the range of grey melange); and coloured (especially brown and navy blue) polyester / viscose yarns. Apart from polyester/viscose blended yarn qualities, they can also serve in 100% viscose (black & grey melange) and 100% polyester (black & grey melange) yarn qualities.
All stages of production are carefully controlled in the Biteks factory, where yarn quality is standardized in every manufactured product. All of the ring yarn production is controlled by "Uster" standards and yarns are combined with "splicer" devices.