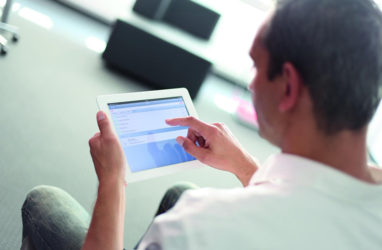 The Oerlikon Manmade Fibers segment technology is all about cost-efficient and high-quality manmade fiber production. With innovative Industrie 4.0 solutions, the company is setting new standards with regards to customer benefits. With the Plant Operation Center (POC), for example, manufacturers can maintain a holistic overview of manmade fiber system production – from the polycondensation, the spinning system all the way through to texturing and the downstream further processes. With this, processes can be optimized, production optimally planned and the product quality improved. To this end, the concept is already supporting the rising need for greater flexibility in production processes. The digital future is now!
Global competition within the manmade fiber industry and the changing expectations of consumers with regards to fashion detailing are today increasingly presenting yarn manufacturers with challenges. Special production runs, such as spun-dyed products and special yarn cross-sections, must be flexibly, quickly and efficiently manufactured in small batches; here, the production of standard products must not suffer. Optimum planning of product switch-overs must ensure there is no risk of waste, quality errors or over and under-production.
Modular system maintains workflow overview
Here, the modular structure of the POC system guarantees customer success. With its more than 20 modules – for example, for quality control, maintenance and production planning and recipe management – the workflow management system can be optimally tailored to customer requirements. More than 250 successfully implemented POC-equipped installations speak for themselves.
The primary focus is on the traceability of all process data in real time and the potential direct reaction to deviations in machine efficiency or product quality. Here, not only can data from the inhouse laboratory be directly integrated, but so can – with the corresponding link – the data from the downstream processes such as texturing, for example. Equally, the POC is able to monitor auxiliary systems such as air-conditioning, compressed air provision and the entire polycondensation system (CP).
In detail: POC modules
Here, the modular structure permits yarn manufacturers to adapt their 'own' Plant Operation Center precisely to their requirements.
As a total concept, the POC assumes a major share of the functions provided by a manufacturing execution system (MES), including the link to superordinate ERP systems and to corresponding interfaces for automation systems, such as package handling and storage in the spinning system. To this end, the control of automation systems within the spinning process is part of the concept.
Each individual module provides concrete potential production cost savings.
Production planning
Production orders are optimally prepared and integrated into the production process, hence ensuring transparent production. With this, the over- and under-producing are avoided – even in the case of small batches.
Recipe management
Machine settings optimized to the respective product are stored in the recipe management system and transferred to the production system error-free when switching products. As a result, the product quality is guaranteed even in the event of frequent product switch-overs.
Quality control
The integration of data measured in the laboratory helps ensure high product quality. In addition to 100-percent traceability for each individual product unit (package) throughout the entire manufacturing process, a so-called cyber-physical system also provides fast identification of, and reaction to, potential quality deviations.
When integrating further processing procedures such as texturing, functions like the creel management system can be used to very efficiently optimize product quality.
Efficiency monitoring
The statistics module continually monitors the production efficiency of individual products or entire machines and plants. In this way, production process malfunctions that can result is lower yields or high waste rates, for example, are identified early on and can be alleviated quickly.
Alarms and maintenance planning
As a result of managing the alarms and the maintenance planning tailored to the production process, the POC system supports the customer in minimizing downtimes and unplanned interruptions and hence also production waste. At the same time, personnel deployment and system utilization are optimized. Malfunctions in the plant are transparently displayed using monitors or mobile devices, allowing for swift alleviation and for optimum planning of necessary maintenance during the production process according to specialist staff availability. In parallel, shift planning is supported in keeping with actual staff requirements.
Performance monitoring
For fast real-time monitoring of production plant efficiency, the data can be displayed according to key performance indicators on the customer network and also on mobile devices. As a result, the management is able to check on the system at any time – even outside the plant. However, if unplanned machine downtimes or process problems nevertheless occur, Oerlikon Manmade Fibers Customer Service experts can use the remote support function to log into the system directly and provide the system operator with swift support.
Upgrading existing systems using a POC
A POC system is not only a process monitoring option for new systems. Connecting existing manmade fiber systems to a POC system is usually unproblematic. For this reason, increases in quality and efficiency and hence also in competitiveness can be achieved even in the case of older systems.
Comprehensive support using the myOerlikon customer portal
However, digitalization does not end with the production system itself. And – with its 'myOerlikon' (www. myoerlikon.com) Web platform, Oerlikon Manmade Fibers supplies a cutting-edge solution for maintenance, spare parts provision and customer support. Here, the platform should not be viewed as a simple Web shop, but more as a customer-oriented global information and support platform. To this end, the complete documentation – including all operating instructions, plans and parts lists for the OMF machines installed at the customer sites, spare parts product selection from 3D catalogs and drawings, along with product images in the article overview – is among the most important features.
All customers have the possibility of tracking all quotation, order and transport route documents online and are therefore always up-to-date with regards to the order status. Furthermore, training videos, instructions and product presentations can be provided. Practically as a bonus, customers can of course also purchase original tested Oerlikon spare parts whose function and process performance are monitored using Oerlikon Manmade Fibers systems.
Entering the future of Industrie 4.0 with Oerlikon Manmade Fibers
Oerlikon Manmade Fibers provided an insight into potential future Industrie 4.0 solutions at 2016's trade fairs; the ITMA Asia in Shanghai and the India ITME in Mumbai. Linked to futureoriented service and automation solutions, Oerlikon prepares its customers for the future of manmade fiber production. And it goes without saying that the end results are always improved yarn quality and production efficiency.
What does the POC do?
Transparency throughout the entire production process and also for corresponding expansion measures over several plants throughout the world.
Reliable real-time data analysis
Fast identification of error sources
Supports fast decision-making and the speedy implementation of the necessary process adjustments
Optimum utilization of existing personnel and reduced downtimes
Avoidance of incorrect process settings
Fig. 1
Total Quality Managment (TQM) – solution 'filament'
Fig. 2
Digitalized production can improve efficiency and quality and make a considerable contribution; towards competitive production even in the case of flexible, small batches.
Fig. 3
The digital monitoring of as many areas as possible within a production process ensures optimum product quality; and performance control and can therefore also help achieve optimum cost efficiency for customers.
Fig. 4
With its augmented reality solutions Oerlikon prepares its customers for the future of manmade fiber production.