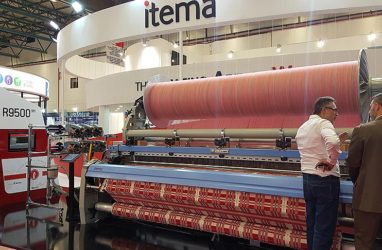 Itema Shows A New Way to Innovation at ITM 2018 – Making an indelible impression with their successful work with Turkish textile manufacturers, Itema did showcased their weaving technologies as well as the success case histories videos showing their cooperation with Turkish textile manufacturers at ITM 2018.
Itema, one of the most important technology suppliers of the global textile industry for rapier, airjet and projectile weaving technologies, showed their Turkish textile manufacturers focus with their partıcipation to ITM 2018. Itema booth saw the first market launch of denim weaving machine Rapier R95002denim as well as Rapier R9500terry for terry weaving, Airjet A9500 for apparel fabrics and Rapier R9500 machines for curtain application. Another interest point of the Itema booth was the video space where Turkish textile manufacturers shared their experience with Itema. In these videos, Berteks Tekstil, İpeker Tekstil, Koton Tekstil, Osman Canlı Tekstil, Ozanteks Tekstil, RB Karesi, Sürü Tekstil and Yedeks Tekstil gave some tips about how working with Itema contributed to their line of work up to this day.
Having a busy schedule with textile manufacturers from Turkey and various countries throughout the 4 days exhibition, a press meeting was also held with the participation of Sales and Marketing Director Christian Straubhaar and Itema Group CEO Carlo Rogora at Itema booth. Followed by the media of Turkish and worldwide textile industry, information about Itema's work both for sales results and technological solutions was provided during the meeting.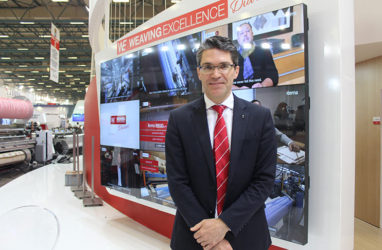 Itema Shows A New Way to Innovation at ITM 2018: never-before-seen benefits have been introduced
Christian Straubhaar, who gave an exclusive interview to Textilegence, has issued important statements. Straubhaar stated that ITM 2018 pulled through with flying colours, and expressed that they were satisfied with number and interest of customers from Iran, Egypt, Syria and North Africa markets as well as the Turkish textile manufacturers. Straubhaar; "We moved the innovation line in weaving to a different point at this ITM. In recent years, speed was a focus point. The work was about being faster for better quality fabrics. We headed for a new course. We addressed efficiency in production. iSAVER™ represents a revolutionary innovation by eliminating the waste selvedge on the left side of the fabric. The effect of this breakthrough device will soon be seen on the market."
Saying that they exhibited 3 rapiers and 1 airjet weaving machine, Straubhaar stated that these are the models that respond to the demands of the Turkish textile industry and they have their own place in the market. Giving details about the market launch of the Rapier R95002denim, Straubhaar argued that this machine was equipped with a breakthrough innovation. Straubhaar; "As you know, every rapier machine in the world will have fabric waste on the edges. With the new device: iSAVER™, we are able to eliminate this waste on one side, the left side of the fabric. This is not only great, but never-before-seen. It means for weavers and owners, a big saving. We speak here about 2000 euro every year as minimum saving for one machine, for ten years it makes 20.000 euro."
Sustainable and environmentally friendly denim production possible
Stating that with the iSAVER™ Itema concentrated on environmentally friendly production with this new technology; Straubhaar noted that Itema is making sustainable and environmentally friendly denim production possible; by saving cotton, water and energy due to the elimination of a significant amount of fabric waste. Moreover, indicating that the new denim weaving machine; which features reworked mechanical parts, consumes 15% less energy than the previous version; and that the life span of key components such as tapes is extended; Straubhaar emphasized that this second-generation machine is expected to gather great success in the market.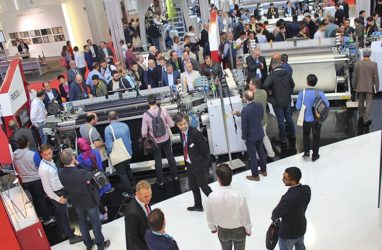 Turkish textile industry is demanding high quality
Repeating Turkey's importance for Itema as one of the Company key markets, Christian Straubhaar underlined the size of this market. "Turkey is a market where we experienced great success last year. We also achieved the same positive trend in the first quarter of this year," Straubhaar said; explaining that the Turkish textile industry differentiated as a market with high quality demand. Straubhaar continued his words as follows; "Innovative and high-end rapier and airjet weaving machines are the right tools for Turkish textile manufacturers; to produce premium quality fabrics. By adopting best-in-class weaving machinery, they also reduce production costs. Excellent fabric quality is guaranteed with the Itema weaving machines; due to the smallest shed opening in the market and to the unique Itema shed geometry."
Straubhaar, referring to the videos where leading Turkish textile manufacturers tell about their Itema experiences; – a collection named "The Itema Weaving Excellence Diaries", commented; "Like all our customers in the market, Turkish textile manufacturers; whom you can see in video interviews, are extremely satisfied with our machines. We established strong and successful partnerships with these valuable Customers. We are proud to say that we are getting more and more repeat orders; meaning that our quality, the continuous innovation and the accurate after-sales service we provide; represent key success factors in the market."