French textile equipment manufacturers rank sixth in the world in textile equipment exports and are powered by innovation for sustainable production. French equipment manufacturers successfully continue their activities with their strong financial structure and state-of-the-art technology investments, making a significant contribution to the sustainable transformation of the textile industry with their technologies that save energy and water substantially despite the challenging market conditions created by the pandemic. We talked about the latest developments of their members and their innovations and work on sustainability in our interview with French Textile Equipment Manufacturers' Association (UCMTF) Secretary General Christian Guinet.
French textile equipment manufacturers overcame the pandemic with their strong financial structures
Christian Guinet expressed that they had several record years in the global market before the pandemic and built a strong momentum thanks to their innovative equipment and services. He said; "Our member companies had strong financial structures which enabled them to navigate through 2020 and 2021. Many customers' projects were postponed and even the sales of parts went way down for several months as numerous textile factories closed down. French textile equipment manufacturers managed to maintain their position in the market despite this general contraction in the market".
Guinet pointed out the fact that they are now facing new challenges and continued his speech as follows; "During the 2021 first semester, the order intakes have benefited both from a catchup effect and from the strategic need of our customers to design new products. There were also investments in state-of-the-art technological equipment to produce them in a secure and sustainable way. Solid sales are following but we face a challenging cost inflation environment and supply chain constraints. For example, in Turkey, which has been our first or second market for the last decade, inflation and exchange rates fluctuations are particularly important factors for our customers in their investments decisions".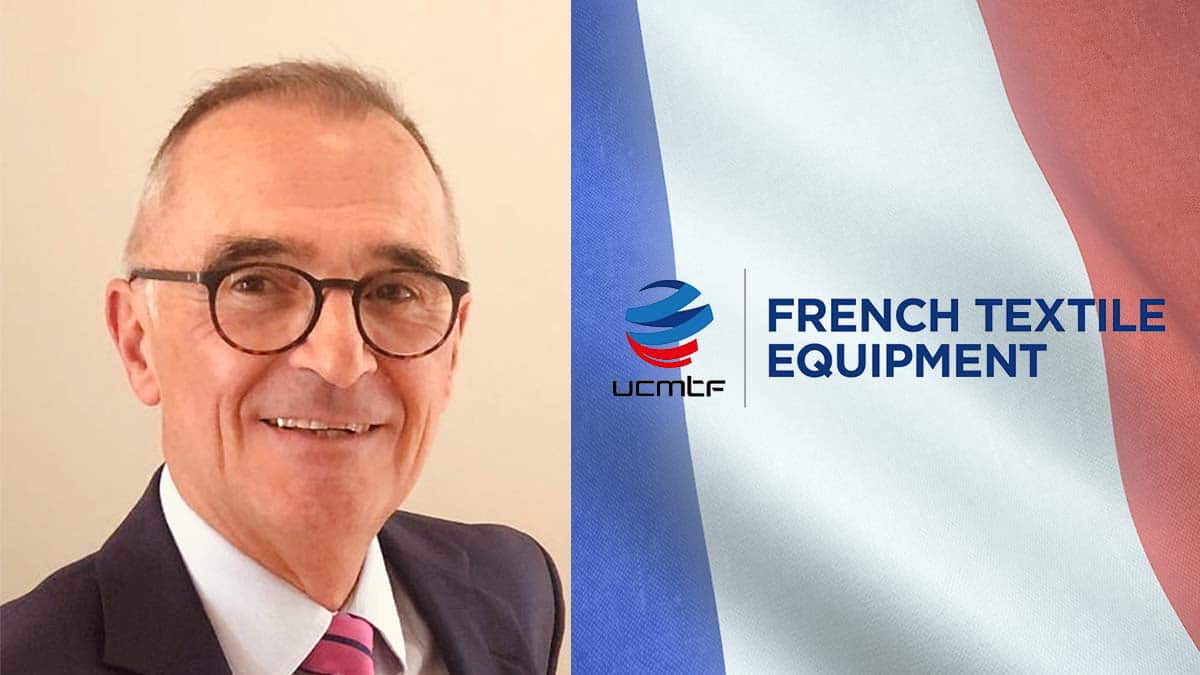 New developments provide around 40% in energy and water consumption savings
French equipment manufacturers also offer turnkey solutions involving one or several companies in a one shop model in addition to existing product catalogue and tailor-made equipments. Among these solutions are particularly; long fibre spinning (wool, acrylic …), yarn twisting and control (including technical yarns), space-dyeing, heat setting for carpet yarns, carpet systems, bleaching and hydro-extractor equipments, dyeing and finishing, felts and belts for finishing processes, precision machining and textile ERP.
Christian Guinet stated that French textile equipment manufacturers have found very different ways to offer sustainable processes in these areas and disclosed that among these are; fine-tuning of equipments, designing equipments using less energy, water, chemicals, raw materials, optimizing the whole production line, adapting the equipments to market requirements and designing new technologies to recycle textile products. Guinet emphasized that these approaches are not exclusive from the other but can be combined and said that in many examples, energy savings is in the 30-40% range, and that the same or even more amount of water consumption is achieved in dyeing and finishing processes. Guinet expressed that the French textile industry is also sensitive about renewable energy sources and noted that important studies are also carried out on recycling.
Superba increases both energy-saving and production amount
Christian Guinet emphasized the importance of designing equipments that save energy, raw materials, water and chemicals and underlined that this is not just a fashion or a 'politically correct' attitude, but a real 'must' both from ethical and economical points of view. Guined stated that this idea has been embedded in the strategies of French textile equipment manufacturers for many years and explained the efforts of Superba, one of the leading textile equipment manufacturers on energy saving as follows:
"When Superba, the partner of numerous Turkish carpet producers, developed the TVP3, in order to save energy per kilo of treated yarns, they kept the dimensions of the heat setting chamber from the previous TVP2S generation but enlarged the conveyor belt going through this tunnel. For the same quantity of energy (to heat the tunnel), the quantity of treated yarn was increased by about 30% and the energy consumption per unit of treated yarn reduced by the same ratio. This improvement may look simple in its principle but has requested highly precise mechanical and electronic tuning to ensure the very precise position of the belt inside the heat setting chamber: new high precision position sensors coupled with pneumatic heads, digital inverters with master-slave function, as well as new control algorithms. A very important carpet producer, based in Gaziantep, working for many years in partnership with Superba stated that the energy savings generated by the new TVP3 line are superior to the values presented by Superba to convince him of replacing the previous generation of equipments".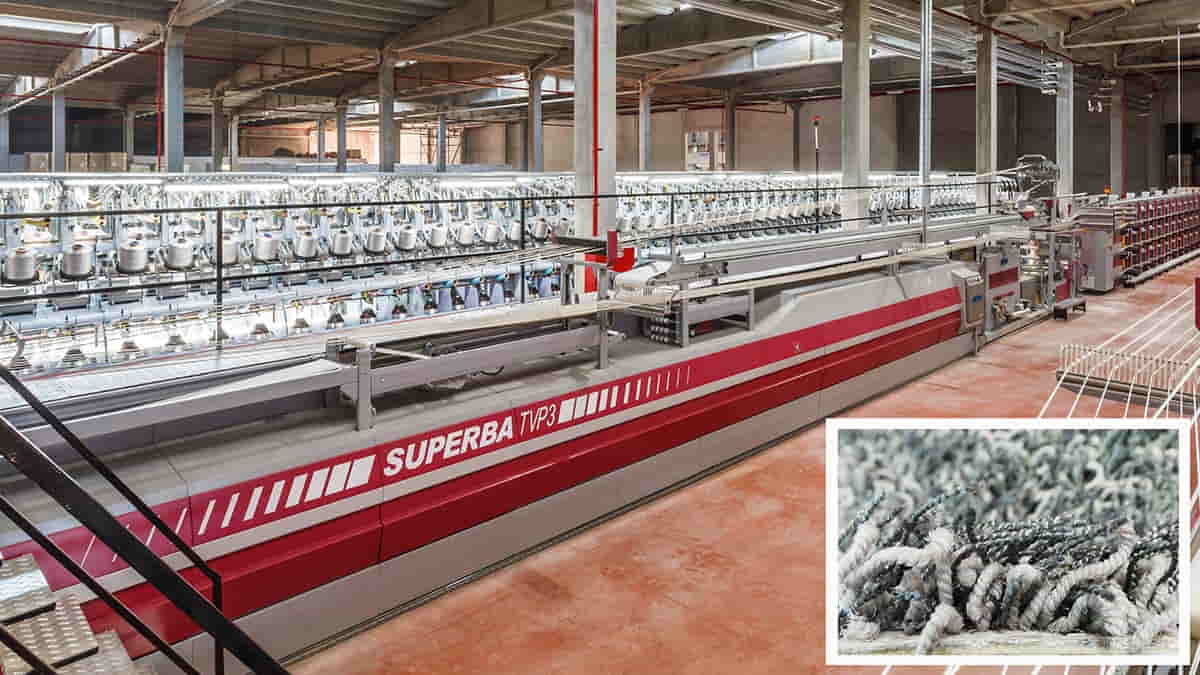 Alliance ROTORA cuts water consumption by two-thirds
Christian Guinet explained that the energy consumption in dyeing is directly related to the water volume and that the energy is mainly used for heating the water and stated that energy savings can be induced by improving the 'liquor ratio', which technically refers to the ratio between the fabric weight and the water volume. Guinet defined the importance of the ROTORA beam dyeing machine, developed by the French textile equipment manufacturer Alliance to dye some technical fabrics or furniture fabrics, as follows:
"Thanks to this technique, the vessel can be half-filled only or even less. The dyeing is achieved by seeping of the bath across the beam, with an automatic flow regulation. The requested energy allowing the beam rotation is extremely low (0,55 Kw). In a real example, for 150 kgs of fabric to be dyed, the water quantity has been reduced from 1 500 litres (liquor ratio 1:10) to 500 litres (liquor ratio 1:3) and the payback has been achieved in less than one year thanks to the energy and water savings. Alliance has introduced an energy savings simulator which calculates the energy savings, such as the existing liquor ratio, the daily dyeing capacity, the working days number, the water, electricity and chemicals prices, according to the data introduced by the customer".
"Industry 4.0 supports sustainable development"
Guinet said the following about the importance of Industry 4.0 in the context of sustainability; "We, as technology partners, have to offer not only innovative but disruptive solutions. Industry 4.0 is certainly the main way not only to improve the process of each equipment but the whole line production process. Then it clearly increases each equipment and the whole production process efficiencies and therefore contributes to the sustainable development movement".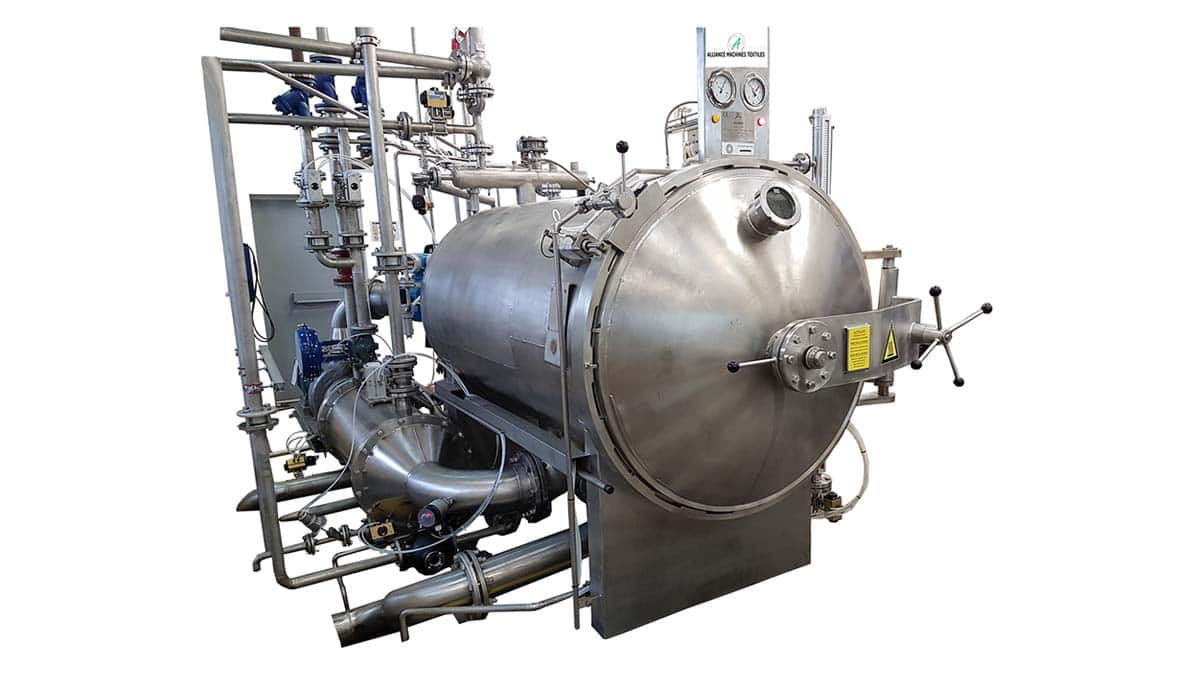 "Inflation is one of the biggest problems of the world economy"
Christian Guinet stated that inflation is one of the most important problems in today's world economy and said; "Inflation comes from the disruption of availability of some major components and the huge rise in prices for logistics. Fortunately, some of our companies had stocks of these components. Regarding the huge rise in prices, they have to discuss with their customers for at least sharing the increase in the cost and increase their prices in a responsible manner. Up to know they found comprehensive customers who are probably facing the same challenges. Let's hope that 2022 will come back to reasonable pricing and timing".
Guinet added that they also have some innovations as an association and explained that they are designing a virtual show which will complement shows such as ITMA in a very useful way.