Reliance Industries Ltd (RIL), offering smart and innovative fabric solutions using extensive technical know-how and cutting-edge technology, also provides value-added benefits with R|Elan™ GreenGold. Producers and their customers are constantly looking for opportunities to offer a unique value proposition and differentiate their products from the rest in the textile and clothing sector, one of the key industries for economic progress in most developing countries. Today, the demands for the features of enhanced performance and eco-friendliness stand out as well as quality in apparel products. RIL through R|Elan™ GreenGold, considering the importance of long-term sustainability and its urgent need in the fashion industry, has developed smarter and sustainable fabric technologies that enhance green fashion and at the same time also enable hi-performance functionality in garments with its extensive R&D studies.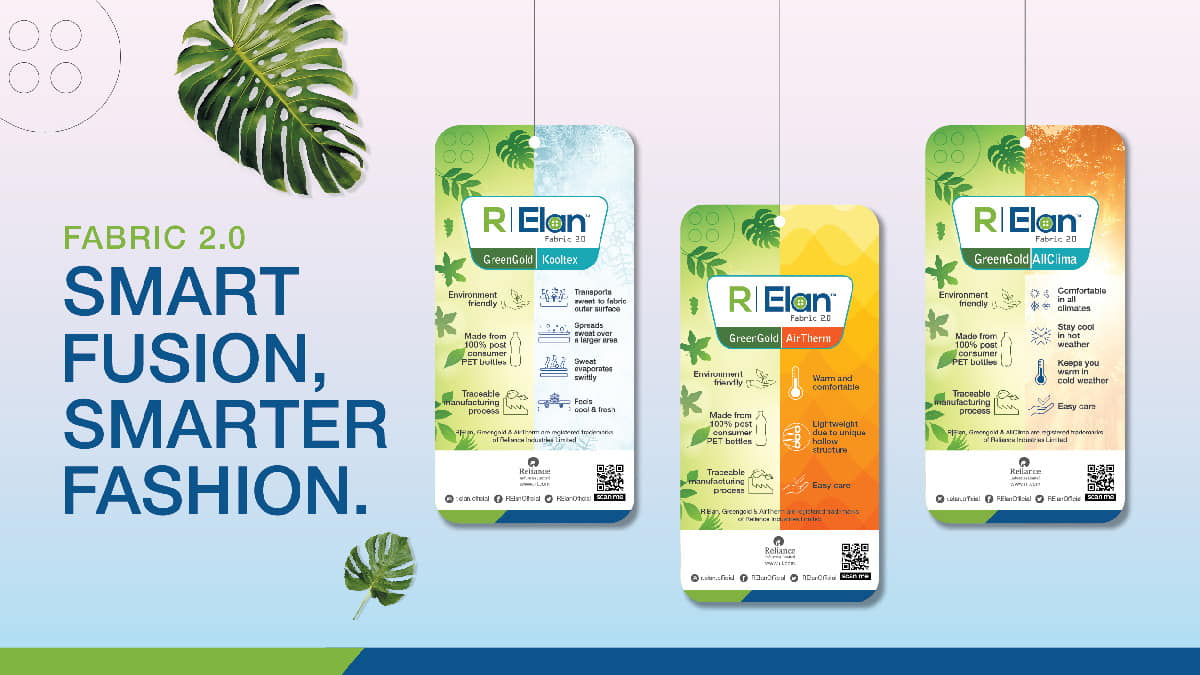 R|Elan™ GreenGold – From PET bottles to sustainable and value-added textiles
R|Elan™ range of fabrics offers multiple possibilities with inherent technologies that bring about innovative and lasting features in the garment for the consumer. R|Elan™ GreenGold fabric, which is made from 100% post-consumer used PET bottles, is a core part of the R|Elan™ sustainable product portfolio and it helps provide eco-friendly solutions to the fashion industry.
GreenGold can combine sustainability with various functional benefits like moisture management in R|Elan™ Kooltex, thermal insulation through R|Elan™ AirTherm and all-weather comfort in the form of R|Elan™ AllClima. R|Elan™ GreenGold can also enhance fabric sustainability with R|Elan™ EcoGold with CiCLO® which enables activation of biomimetic biodegradation under specific conditions. GreenGold is also available in the pre-coloured (dope dyed) form in a wide variety of shades, thus reducing the need for downstream dyeing.
Due to its versatile nature, GreenGold can be used across a wide range of applications in apparel such as casual wear, denim, formals, activewear, woven tops and bottoms, women's western wear and home textile applications. R|Elan™ GreenGold is also available with R|Elan™ Cotluk, a fabric that offers the much-desired cotton look and feel in apparel.