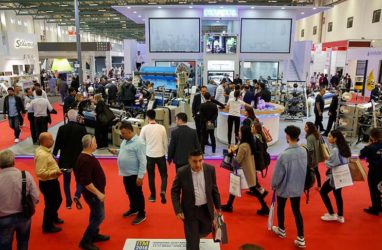 More Than Expected Attention to Picanol at ITM 2018 – Picanol participated to ITM 2018 with two rapier and 2 airjet weaving machines, and it became one of the points of interest during the exhibition. Weaving machines proved their strength and flexibility by working throughout the exhibition at the Picanol booth, where there was a heavy traffic.
Picanol, one of the most important brands of the weaving hall at ITM 2018, succeeded in attracting more than expected interest from visitors during the exhibition. Having 2 rapiers and 2 airjet weaving machines on its booth, Picanol once again proved that it provides solutions that respond to the flexible demands of Turkish textile manufacturers. Speaking about their participation to the exhibition, Picanol Marketing Manager Erwin Devloo underlined their commitment and the importance they give to Turkish Market. Devloo stated that the ITM fair, which they attached great importance to, was attended by an intense amount of visitors, and thus their expectations were met.
Erwin Devloo said that Picanol's airjet and rapier weaving technologies offered quality, efficiency and flexibility together, and that the following machines were exhibited at the ITM fair; OptiMax-i 4-R 190 denim, TerryMax-i 8-R 260 terry, OMNIplus Summum 4-P-190 bottom weight and OMNIplus summum 4-P 280 sheeting. TerryMax-i is a rapier terry towel machine, but Devloo also reminded that Picanol has an airjet model of this machine as well.
Devloo; "We brought our terry towel rapier machine to the exhibition because Turkey is a mainly rapier market. We introduced this machine by means of a seminar which we have realized recently in Denizli." Noting that they showed a special interest in Turkish denim manufacturers, Devloo noted that the OptiMax-i rapier weaving machine on the booth has 850 picks a minute, indicating that the manufacturers had closely examined the machine during the exhibition.
Referring to the airjet technologies, Devloo said that the OMNIplus Summum model works with 1300 picks a minute and it was weaving bottom weight. Pointing out to their more than 80 years of experience in weaving Devloo said that they were focusing on increasing performance in the direction of market demands and reducing energy consumption to the minimum. Devloo expressed that the OMNIplus bottom weight model is more than enough to meet the performance criteria demanded by Turkish manufacturers.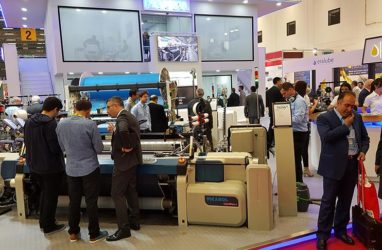 Picanol at ITM 2018: Turkey is a strong rapier market
Erwin Devloo said "The Turkish textile industry is mainly a rapier market,"; and argued that this trend will continue in the coming period. Devloo, however, draws attention to the development of the Turkish textile industry; "While Rapier technology continues to be dominant in the market; more and more Turkish textile companies are investing in airjet technology. We believe that the interest in rapier and airjet weaving technologies will grow together in this market."
Indicating that the Turkish textile industry has started to weave many different fabrics from the lightest to the heaviest; Devloo emphasized that Picanol has given them this strength with their rapier and airjet machines. Devloo continued his words as follows; "We have a reinforced version of our rapier machine when it comes to really heavy fabrics. We also have solutions for Optimax-i and very light fabrics. However, Picanol does not just offer weaving machines. If you look closely at all the gravity points all over the world; you will see that we offer a complete service package. In Turkey we have our own organization, which is responsible to serve our customers in Turkey. So, when a customer has a problem, we can respond to him very quickly. We are only one phone away from our customers."
Weaving machines are getting industry 4.0 ready
Describing that they have already started their work towards the textile industry of the future; Erwin Devloo has said that they are working for a long time now; to make the weaving machines ready for Industry 4.0. Devloo gave this example; "For example, ARVD (Adaptive Relay Valve Drive); which we have developed to control the arrival time of the weft thread; is a system that can automatically reduce air consumption in airjet weaving machines. Depending on the type of filling yarn, it saves 10-15% energy. We incorporate these and similar improvements into our machines."
Order book is full for the first half of 2018
Picanol announced eighth consecutive year of strong results by the end of 2017. Having a full order book for the first half of 2018; Picanol achieved a turnover of 688.93 million Euros in 2017. With an 8% turnover growth, 2017 was the best year of Picanol history. Picanol's Weaving Machines Division; of which the gross profit increased by 3% to 159,396 million Euros; also achieved a record breaking year.