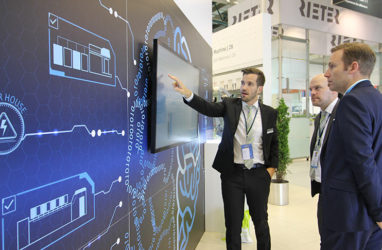 Presenting UPtime as a new step in digitalization of spinning mills, Rieter explained its advantages at ITM. UPtime enables spinning mill maintenance activities to be digitalized, ensuring real-time system control and prevention of malfunctions even before they occur.
Attending the ITM 2018, Rieter demonstrated their compact, ring, rotor and air-jet spinning systems, as well as UPtime; the next step in digitalization. Increasing productivity while reducing maintenance costs, UPtime is one of Rieter's new generation applications in textile facilities. Also on the Rieter booth were Bräcker, Graf, Novibra, Suessen which presented their new components and SSM which exhibited texturing and precision winding solutions.
Stating that Rieter has a more than 220-year history, Rieter Senior Vice President Sales Arne Brand said they are the leading suppliers of spinning systems. Noting that their lead position is not only limited to new spinning systems, Brand has also announced that they are trying to reach all spinning customers for after-sales products and services. Brand said they could meet with Turkish customers from almost all regions of Turkey because the exhibition was organized in Istanbul; "We have also met customers for example from Uzbekistan, from Egypt, from Turkmenistan, from Syria, from India, from Pakistan and from other countries that are also close-by. So from that perspective ITM was a very important exhibition for us to discuss our new offerings and also to learn from our customers of what they are expecting for the future."
Reminding that Rieter started to develop digital solutions that make the yarn production process more efficient and easier very early on, Arne Brand said; "We are the leading provider of spinning systems and obviously digitalization is something that is becoming more and more important nowadays and therefore Rieter also is innovating in that area as well. You may be aware already of our spin mill production monitoring system which is called SPIDERweb and has been around for quite some time and is now successfully operating on 13.000 machines in the world, 270 customers in more than 50 countries. We are now taking the next step of digital innovation with our UPtime system, which is a maintenance management and predictive alert system."
Noting that the variety of cotton fibers and other materials in spinning mills is constantly increasing; Brand noticed that this tendency exists  in the Turkish textile industry as well. Brand says this situation makes flexibility more important; "Rieter is ready to offer any kind of set-ups for the machines; so that we can process all of those materials."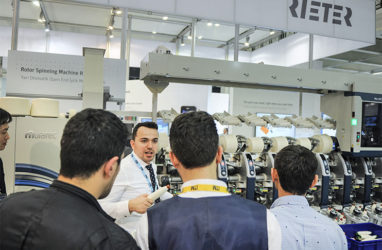 UPtime: a new step in digitalization
Rieter Vice President Digital Solutions Selwyn von Grünigen gave detailed information about the UPtime solution. Disclosing that Rieter's new expert system, UPtime; is a new step in digitalization, von Grünigen noted that they shared this with every visitor at ITM 2018. Von Grünigen; "What we can first see here is our cockpit that brings you all the information about the maintenance tasks; that you need to do in your spinning mill. What you can see here is that we have simple alarms; we have plant maintenance and we have predictive alarms; that you need to do in order to keep your spinning mill running at the optimum performance. And, you have a state of the art agenda; where you can see what task you need to do on which day. With different colour codes so you know which task is due at what time."
Von Grünigen explained that details about the alarm were presented to the user with notifications. The user instructions are an added value  of the system, von Grünigen continued; "The most important part is our ticket information system; because it allows the customer to keep track of which task is done by which technician; and to see if the task has been done in the due time. Our system allows you to dig deeper in all the maintenance tasks you have done in the past."
Artificial intelligence to the spinning mills with UPtime application
Von Grünigen stated that they brought artificial intelligence to the spinning mills with UPtime application; so that the behaviour of the machine in the last few months can be compared with the current behaviour. And, if there is an unusual or abnormal behaviour of the machine; an alarm is triggered so that the customer can actually prevent breakdowns before it happens said von Grünigen.
Through a network of sensors, UPtime collects performance-critical data on machinery such as temperature, air pressure, vibration and the like. It captures historical and real-time data; which are then analyzed using algorithms to diagnose failures and predict the need for maintenance. UPtime structures all past, current and future maintenance activities and gives clear directions as to what actions should be taken.