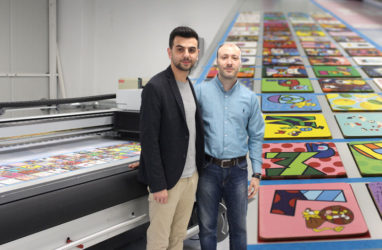 Boran Reklam, investing in the Nyala LED digital printer in order to transition into industrial grade production, has thus achieved the flexibility, productivity and strength they desire. Developing solutions for outdoor advertising and many other areas, the company aims to open up to the European market with the power of Nyala LED.
Pigment Reklam, one of the most important UV printing solutions providers in the digital printing and advertising industry, has achieved yet another sales success with Nyala LED, which appeals to a rich application field. Boran Reklam, which continues its production in digital printing and advertising at its Kurtköy Istanbul facility, has expanded its market target to Europe by investing in Nyala LED.
With its 3.2×2 meter flatbed structure, Nyala LED offers amazing flexibility and productivity, and can process any media. Even heat-sensitive materials can be printed on thanks to its superior LED technology. Nyala LED, which reaches speeds of 206m2 per hour, is the industrial segment flagship model of the new generation LED series of swissQprint. The LED lamps of Nyala LED, which have a durable and long life structure, have the same life time as the machine. Therefore, maintenance and spare parts need are minimized.
Nyala LED has been chosen for growth
Wanting to expand its domestic market growth towards export markets, Boran Reklam, preferred Nyala LED digital printer for its industrial production power. Boran Reklam firm official Uğur Toprak explained the investment processes as follows; "Actually we already had a UV printer. But we felt the need to transition into industrial printing to respond to increasing and diverse demands. We were looking for a machine that can provide fast, quality solutions. When we went to the FESPA Hamburg last year, we had a chance to look closely at the new UV LED solutions at the swissQprint booth. We have foreseen this technology carrying us to the industrial level in terms of printing and speed. We have made the investment decision as a result to sample printing and their positive results."
Saying that they knew Pigment Reklam before investing in Nyala LED, Toprak reminded that their dialogue has improved even more at FESPA Hamburg. Toprak; "We had a very positive meeting with Pigment Reklam firm owner Mr. Serkan Çağlıyan, and we were impressed by his warm approach. We have seen that investing with Pigment Reklam will be good. From this point on, we believed in Pigment Reklam. Thus, Nyala LED investment decision that is already at work in our facility has been taken."
Nyala LED: economical, efficient, high speed and high quality
Uğur Toprak, who said that he is a special interest in digital printing technologies, explained that as a company, they examined the machines as much as possible in the investment process. Drawing attention to the advantages of swissQprint's LED technology, Toprak; "Nyala LED contributes significantly to productivity and manufacturing cost as it draws energy to the lowest level, as well as the heat applied to the media. We get more economical printing costs. At the same time, our printing speed increased with our printing quality. With the modifications it is possible to further increase the printing speed. Nyala LED from swissQprint is the right solution because it meets our industrial printing goals.
Underlining the fact that they realized their goal of transitioning into the industrial level with Nyala LED; Toprak voiced that the variety of prints have increased with the strength and flexibility they have gained. Toprak, indicating that they could print roll-to-roll, showed that they could print the necessary Bergler fabric for the production of illuminated textile casks as an example. Indicating that they also have the print qualities of outdoor prints that are nearly at the same level as indoor print qualities, Toprak described Nyala LED as 'speed, quality and productivity'.
European Market is the target
Noting that advertising and printing industry market is constantly growing, and they are trying to get a bigger share of this growing market as Boran Reklam, Uğur Toprak has announced plans to grow with sales in the European market rather than the Turkish market in the new era. Toprak continued saying; "We have a reputation and market share in the local market for many years now. With industrial power, our position in the local market will become even stronger. However, our target is European markets now. So as Boran Reklam, we will protect ourselves from Turkey's fragile market conditions with the European market. We see a serious market potential in Europe. For this reason, 2018 will be a year that we focus entirely on the European market."
Boran Reklam grows ever since day one
Founded in 1994, Boran Reklam serves the outdoor advertising industry with solutions for exterior applications; car wrapping and exhibition and promotion booths. The company started to expand its applications and solutions at the beginning of the year 2000; and started to provide printing service on tiles by creating the FayansArt brand in 2008. Responding to the growing personalized tile surfaces needs of the architectural and construction industry; FayansArt contributes to the creation of private spaces. Boran Reklam's next growth step was the creation of the AdWorks brand for 3D Lenticular printing in 2010. The company was Turkey's first wide format manufacturer in 3D Lenticular printing; which gives depth and motion to the picture when viewed from different angles. Another of Boran Reklam's expertise is mobile advertising systems.