İpeker is making a difference in the industry with their history of silk culture and the vegan fabrics they produce today working closely with their weaving technology partner, Itema. The company plant is equipped with Itema R9500 rapier weaving machines and ensures to its clients the widest range of fabrics production with endless yarns and fibres possibilities.
İpeker, one of the most important textile manufacturers of the Turkish textile industry, is carrying on its long history with a powerful machinery park. Producer of the world's first Vegan-V Label certified fabric, the company added Itema's latest rapier weaving technology – the R9500 – to its production line in its recent wave of investments. İpeker was among the selected Turkish customers for the Itema Weaving Excellence Diaries project, which was carried out with important global customers of Itema. In this video interview, Managing Director and Board Member İhsan İpeker spoke about the company's past and market studies, and shared details about their collaboration with Itema.
İhsan İpeker said that the foundations of the company date back to the 1800's; and reminded that their first business took off with silk bug production and silk production in Bursa. Silk yarn production started with the establishment of silk yarn spinning facility in 1920; and in 1930 the manufacturing of fabric started with the establishment of the weaving facility. İpeker stated that in 1940-50, with the establishment of printing and dyeing facilities; they became the largest integrated silk plant in Europe and in the Middle East.
İhsan Ipeker; "We started to produce artificial-synthetic fibres by keeping up with the changing fashion world. For example, we have diverted to silk-like products like Cupro, which is an alternative to silk. In the final stage, we have left the silk, but the products were able to provide silk touch, sensibility, sensation and fashion sense. Today, with the principles of environmentalism and sustainability, we are transforming into a company that is producing according to the vegan rules." İpeker noted that they received the Vegan V-Label Certificate, approved by the European Vegetarian Association, for 146 different types of fabrics.
ipeker is getting its power from weaving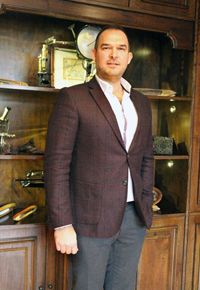 İhsan İpeker underlined that even though they have now stopped using silk fibres because of the vegan policy, silk touch is the key to all of the fabrics they produce. "Our fabrics can't be distinguished from silk and they carry silk features, they are skin friendly and at the same time they are continuously improved according to fashion trends," said İpeker. "Our main power here is weaving. Our most distinguishing market aspect is that we weave our own fabric and sell it to the ready-to-wear manufacturers with appropriate to fashion trends prints and designs. "
İhsan İpeker stated that Itema's R9500 rapier weaving machines were preferred as İpeker's weaving solution. He said that cooperation with Itema has a very long history. Expressing that they decided to renew their machinery to meet the new demands and modernization in 2012-13; İpeker recalled that the Itema team in Turkey helped them. İpeker; "Both the direction provided by them and the efforts of our research team showed to us that we could choose Itema with peace of mind. We saw Itema as the clear leading brand in weaving technologies and we chose them as a partner."
Indicating that their partnership with Itema is not limited to purchasing machines; İhsan İpeker underlined the strong cooperation before and after the sale as well. İpeker continued his words saying; "We were pleased with Itema's weaving technology and began to recommend it to other textile manufacturers. Our self-transformation journey affected the entire Bursa textile industry. This innovation and change that positively affected the quality of the fabric has made us satisfied; and also increased the added value of the industry."
R9500 eased up weaving and increased the quality
Referring to the advantages offered by Itema's R9500 rapier weaving machines; İhsan İpeker stated that the tuck-in system developed by Itema known in the silk culture gives them an advantage in fashion fabrics. İpeker; "Buyers look at the edges of our fabrics and they say it is a İpeker fabric or not. With the tuck-in system it was important for us to maintain this awareness and success in all our fabrics. The R9500 has flexible working ability, the machine is easily adjustable; it can be easily loaded, and these are very important points for us in a very intense workload."
Voicing that the company is a producer of Cupro cloths; Ipeker said that, during their machinery selection process, they chose machines to work properly especially in the Cupro weaving. Underlining that the Itema machines are particularly successful in Cupro textiles; Ipeker stated that they wove 100% Cupro or many different blends of it on Itema looms. İhsan Ipeker; "In addition to the Cupro and its blends, we can also weave different generic fibers, as well as Tencel. We are weaving our high twist flosh quality fabrics both in weft and in warp; and their quality is remarkable," he continued.
İhsan Ipeker said that they saw Itema as a weaving partner, and concluded his words by saying; "Itema means trust, transparency and innovation to me."