With an history as old as the Republic of Turkey, Berteks Tekstil is today increasing its power in the textile industry thanks to new investments. Berteks continues to work with the Itema weaving machines that the company is choosing as its trusted weaving technology provider since 30 years.
Berteks Tekstil, one of the well-established brands of the Turkish textile industry, is further boosting its market power through significant investments in new Itema weaving machinery. Berteks, based in Bursa, started its operations in the textile industry in 1922. A family-run business, the company continuously empowers its industrial knowledge and experience, now since three generations, producing an average of 30 million square meters of fabric per year, that are then exported to 200 countries in 5 continents.
Mr. Berk Noyan, Berteks President, recalled that the firm, has a strong and long history in home textile production but they never stopped to research and develop new fabric segments. Noyan; "Today our production is not limited to home textile fabrics. With the establishment of our R&D center last year, we started to show ourselves in many other sectors. This includes upholstery fabrics, drapes, stores, zebra curtains, pleated fabrics, furnishing fabrics and also fashion apparel fabrics and we are able to manufacture all these products due to the Itema superior weaving technology." Adding that they started their cooperation with Itema – at that time under the brand Vamatex – in 90', Noyan noted that the biggest achievement of the Italian weaving machines manufacturer has been to continuously develop its product portfolio with innovative weaving solutions.
"R&D department is very effective"
Berk Noyan also explained why customers prefers its company; "Us being innovative, creative, answering the demands of the market with an excellent and quick service; and other than that the new fabrics we create in our R&D department is very effective. I must also mention our different product groups in line with the customer's profile. Customers can actually access many of the fabrics they request when they visit us." Noyan expressed that they are also involved in the clothing industry as a result of the success in the field of home textiles; adding that they are producing fabrics oriented to the men's and women's fashion apparel sector.
Saying that they export 90% of their production; Noyan emphasized that they offer top quality products to top class customers with modern and up-to-date machines.
Strong partnership for 30 years with Itema
Berk Noyan enphasized that Berteks Tekstil has a strong cooperation with Itema; and reminded that they are working together since over 30 years. Mr. Noyan said that today they achieved very successful results with the Itema machines and; that they have never changed their weaving machines supplier since they never felt this need. Noyan; "The most important features we look for to provide  our widest fabrics range is to have flexible machines, good after sales support and the latest weaving technology. We obtained all of these criteria with Itema. We can work with yarns ranging from 20 deniers up to 4500 deniers. With the Itema machines we can produce both upholstery, curtain and thicker fabrics. We are using Itema machines since 30 years because we can do all this on the Itema machines."
Berteks is a company closely following technology updates, Noyan said, taking into account the trends in the global market. Noyan explained that Berteks's machine park was renewed according to the current demands; and the existing machines were gradually replaced by the rapier R9500. Noyan; "The fact that Itema is more flexible, faster in production and more efficient with the new technologies they created; led us to make the change in this way. R9500 is flexible, the machine can work at high speeds; the ease of using different yarns on the same loom with different deniers and compositions is our reason for preference." Noting that they have gained the ability to easily work with different types of yarns; Noyan pointed out that this made a positive contribution when diversifying their products.
Berteks Tekstil; 'We are happy with the technical support Itema is providing'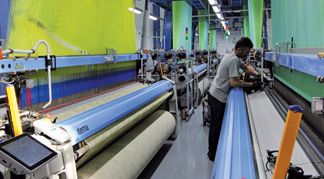 Berk Noyan, concerning to Itema's after-sales service, said that they are satisfied with the assistance they provide. Mr. Noyan, underlining that the machines are already running smoothly and that they do not need service; expressed that they didn't experience any trouble, including finding OEM spare parts. Berk Noyan described Itema as follows; "Itema is a company that provides up-to-date technologies; produces versatile and advanced machines and does not leave us alone when sales process is concluded, as well."
Introduced to the market in 2012; the Rapier weaving machine R9500 soon became the most successful rapier model on the global market. Getting ahead of their competitors with its easy handling and unique weaving quality; the Itema R9500 is no doubt the market leader in Turkey when it comes to weave sophisticated furnishing and upholstery fabrics, as Berteks testifies.