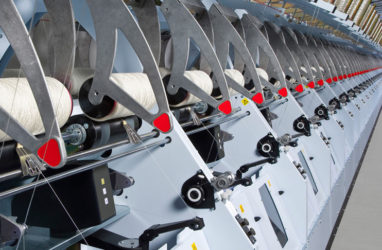 The Tire Technology Expo 2018 takes place from 20 to 22 February 2018 in Hanover and offers visitors the world's premier technology showcase with exhibits of equipment and materials covering the complete spectrum of the tire manufacturing process. The Saurer trade fair team will welcome you at booth 4016 in hall 20 and looks forward to presenting you the Allma TechnoCorder TC2 as innovative machine for tire cord production as well as latest developments in the tire cord twisting and cabling processes.
For the first time Saurer Twisting Solutions will exhibit the Allma TechnoCorder TC2 at the Tire Technology Expo. The high-performance two-for-one twisting machine has been optimized for the production of tire cord. Visitors will be shown the multistage twisting process of hybrid yarns for the carcass and cap ply as well as the production of chafer material.
TechnoCorder TC2 – As versatile as the market
Maximum production flexibility thanks to autarkic spindle technology
Unique material flexibility through innovative technology
Wide range of yarn counts
Unbeatable productivity due to delivery speed of up to 400m/min
Allma Prime-Pac – Top package quality with maximum density
Maximum economic efficiency and quality thanks to cutting edge technology
High user friendliness through worldwide unique section concept
Further innovative developments at the Allma CableCorder are the production of balanced 3-ply tire cord; as well as the possibility to produce hybrid yarns both in the two-for-one and cabling process.
The Allma CableCorder CC4 with patented energy saving technology stands for highest efficiency. The cabling machine, which has been awarded the Saurer E³ label for triple added value, has won over the market. The innovative technology allows for energy cost savings of up to 50 percent and reduces the number of yarn breaks by up to 50 percent. Furthermore, it offers low noise emission and simple machine handling.
The Saurer trade fair team takes pleasure in welcoming its customers and interested visitors to booth 4016 and informing them on the future twisting and cabling technology.
About Saurer Twisting Solutions:
Saurer Technologies GmbH & Co. KG Twisting Solutions with the brands Allma and Volkmann; offers world leading and energy efficient solutions; for tire cord, carpet, staple, glass filament and industrial yarns. For decades, Allma and Volkmann twisting and cabling machines have been constantly setting milestones; in terms of innovation, economic efficiency and sustainability. The company consider themselves a partner to their customers.