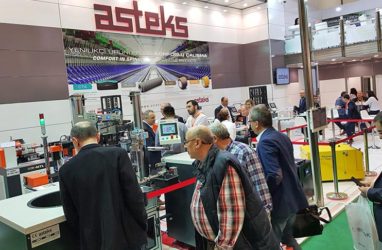 Asteks Becomes the Shining Star of ITM 2018 – Displaying cot, apron and cot grinding machine solution towards the changing needs of the textile industry at the ITM 2018, Asteks showed their difference with the launch of AGV automatic guided vehicle.
Having a strong presence in the domestic and international markets with cot, apron and cot grinding machines they develop and offer to the market, Asteks introduced the textile industry with advantageous innovations at ITM 2018. The exhibition, which took place in TUYAP between April the14th and 17th, Asteks booth 302B in Hall 3 was able to attract great attention during the event. Sharing their current and further developed product portfolio with the visitors, the company has also executed the world launch of AGV automatic guided vehicle.
Underlining that they regard themselves as "solution partners" of yarn manufacturers and spinning mills, Asteks Sales Officer Erkan Yılmaz stated that ITM 2018 was very successful. Indicating that they have finalized the sale of machinery at the exhibition with 6 companies from the domestic and foreign markets, Yılmaz said; "We have sales to Merinos and Biska companies that continue their activities in Gaziantep, to Oğuz Tekstil in Adana. To abroad, we have sold our newly developed cot grinding machines and cot surface treatment by UV machines to Azerbaijan-based Mingacevir Textile and Uzbekistan Compact Textile companies. During the exhibition we also held preliminary negotiations with dozens of companies for final sales. We achieved an exhibition success over what we were anticipating with the realized sales, deals and visitor interest."
Yılmaz stated that Asteks has been competing with global brands as a 100 % domestic firm as R&D, marketing and after-sales services play a crucial role in the competition. "We once again showed our competitive strength at the ITM," Yılmaz said, noting that the new products had attracted a lot of attention from the visitors; "This is the first time we have introduced the 203-SF cot grinding machine with smart feeding system to the market. The 203-SF, responding to the need for high amount of cot grinding, got full marks with its performance throughout the exhibition. The cots and aprons we produced also showed their uniqueness with their qualities and their longevity. The surprise product of the show is without doubt the newly launched AGV automatic guided vehicle."
Asteks Becomes the Shining Star of ITM 2018: New step in spinning mill automation: AGV Automatic Guided Vehicle
Providing information about AGV Automatic Guided Vehicle developed by Asteks; Erkan Yılmaz explained that they developed this solution first for their own businesses. Yılmaz expressed that AGV has been developed for carrying and towing in different directions at Asteks' own production facility; and stated that this device has been developed and adapted to the demands of textile manufacturers. Yılmaz said that AGV; which automatically carries the carrying and towing actions on and off the pre-defined line; increases efficiency by eliminating both staffing needs and faulty loading.
Innovation in aprons and cots; RC 750 and RC 851
The apron and cot solutions; which Asteks has had a strong experience in almost 50 years of their history; were among the most popular products of the exhibition. The RC 750 and RC851; developed for yarn manufacturers working with synthetic blended fibers; and other carbon-reinforced aprons fit perfectly into challenging working conditions. Offering longevity and easy maintenance aprons and cots contribute to the maintenance costs of yarn manufacturers.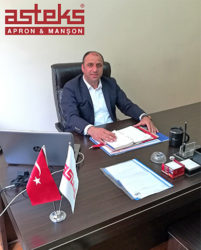 203-SF perfects cot grinding
The 203-SF, developed for performing high-amount cot grinding; makes it possible to reduce the number of employees needed in the grinding department; thanks to its smart feeding system. 203-SF can be used with dual or single feed options when grinding quickly with its superb performance. The diameter of the cots, together with the vibrating system; is measured with the laser measurement system, ensuring that all are according to the standard. Several production problems and mistakes are prevented thanks to the diameter of the cot being equal in the spinning machine. 203-SF found itself a slogan in the exhibition; "Leave it, it knows what it does".
Erkan Yılmaz stated that they always regard themselves as 'solution partners' as Asteks, he concluded by saying; "Asteks is the solution partner of the textile industry; as a domestic manufacturer of apron, cot, cot grinding machines and vehicles and devices towards the grinding department. We prove this with our work in domestic and international markets".