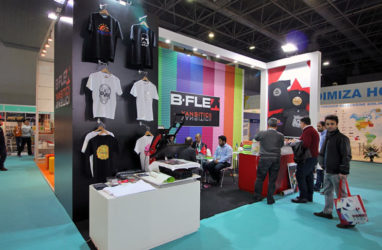 Displaying their heat transfer print vinyl at FESPA Eurasia 2017, B-Flex is aiming to double up their 2018 revenue in the Turkish market.
Taking part in the industry for over ten years with heat transfer film developed for textile printing, B-Flex attended FESPA Eurasia 2017. Attending the exhibition with their Turkish distributor Yansıtıcı Ticaret, B-Flex displayed heat transfer vinyl used in garment print.
B-Flex Owner Marco Pigato disclosed that it was the first time they were attending the event as exhibitors after having participated as visitors to previous FESPA Eurasias. Stating their solutions can be applied to all sport textiles, free time textiles and work textiles, Pigato also specified that they have a wide gamut of colours. Pigato; "we have more than 215 products for transfer printing at the moment. We are among the best in quality in the world."
FESPA Eurasia 2017 was extremely successful for them according to Pigato, he indicated they have meet industry professionals from Iran, Iraq and North Africa besides Turkish market. Mentioning safety jackets and reflective materials sold by their distributor Yansıtıcı Ticaret were also on display at the booth, Pigato told they have met several new customers and established new connections at the exhibition.
B-FLEX : "We have technical and marketing superiority"
Pigato explained B-Flex solutions' technical and marketing superiority as; "Our technical superiority is regarding the construction of the products. We only manufacture in polyurethane, not in PVC. As the polyurethane has a very high resistance to washing cycles and drying cycles. And the second part that makes B-Flex superior is our marketing process. Our competitors usually deliver in 3 or 4 weeks, we are able to deliver from 1 roll to 1000 roll in only 2 to 3 business days. At the moment we deliver for the entire Europe and for Australia and New Zealand and Japan from Italy. The sister company we have in Augusta, Georgia USA is the company that serves Canada, North America and Mexico. So, we reach the global market through 2 companies situated in Italy and USA as well as our distributors."
GIMME5 decreases the transfer time and heat, increases the quality
Offering all their markets to the local market through their Turkish distributor Yansıtıcı Ticaret; Marco Pigato emphasized that their focus was on the GIMME5 EVO newly launched in the world and FESPA Eurasia. Reminding the product was launched in 2016, Pigato recorded that transfer print can realized with this product, pressed in only 4 seconds, and in 140°C. "Usually all the other products can be pressed in 15 seconds and for a very high temperature" said Pigato, and he argued this process is going to create problem because of the sublimation of the inks, a sort of migration of the pigments; the colours would not be so bright, and this would create problems in the end product.
Technologic development is closely monitored
Stating self-adhesive vinyl was used for cars, windows, wrapping in the past; Pigato reminded that material was also single colour or printable upon. Pigato; "Now, with its rich product range, B-Flex is supplying that and many more from a single source. We started only with four materials for the digital printing and now we have more than fifteen. That means the company is very digital oriented so all our materials can be printed with the major brands; like Mimaki, Roland, HP Latex, Mutoh and we are definitely have a special look at all this brands and; every time we see something new on the market about the printing machines; we try to develop our products according to these developments."
Turkish market will become very important
"We've always seen the Turkish market as one of the most important in the Euro-Asia area" said Pigato; and he continued stating Turkey was extremely important for textile manufacturing. Vocalizing Turkey being one of the biggest countries in the world for number of pieces produced; Pigato emphasized the importance of the transition from screen printing to direct printing or to heat transfer vinyl for them. Marco Pigato concluded saying; "Turkey will have a key importance in 2018. We have a very high target for the next year. We want to double this year's turnover. And I am sure, I am totally confident that we will succeed with our distributor Yansıtıcı Ticaret and its Owner Emrah Bilir; who proved himself being market focused."