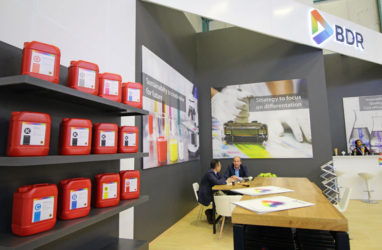 As the only domestic company manufacturing reactive and sublimation inks, BDR does not limit their market target to Turkey. The company achieved significant sales figures in European, South American and Asian markets, and is moving rapidly to a competitive position with their quality-price balance.
Exhibiting reactive and sublimation inks for the digital textile printing industry, BDR Boya Kimya presented solutions for a large number of visitors at their first ITM 2018 fair. The company introduced the water-based and chemically eco-friendly Diamond HD-R and Diamond HD-S brand inks, with their principle: 'A Green World'.
The Diamond HD series digital reactive inks, developed by BDR, is specially formulated for industrial Kyocera print heads used in digital textile printers, such as MS and Efi Reggiani. The BDR brand offers print manufacturers superior performances in cotton, silk, viscose, rayon, linen, wool, lyocell and like fabrics. Designed for high-performing digital textile printing systems, Diamond HD enhances ink performance by minimizing the need for maintenance on print heads. Diamond HD-S sublimation inks were also developed for the specific needs of large format printers. Producing according to ISO standards, BDR has an annual production capacity of 1000 tons. The company aims to increase its capacity to 1,500 tons per year over a period of 6 months.
BDR took off with an innovative vision
Providing information on BDR, Managing Partner Serra Saatçioğlu said that they are producing innovative and sustainable inks. Reminding the firm has been founded 2.5 years ago, Saatçioğlu introduced the firm briefly as follows; "BDR Boya Kimya Sanayii A.Ş. was established in Bursa Organized Industrial Zone in Bursa, the heart of Turkish textile industry. There is a serious digital transformation going on in the textile industry. Therefore, the needs in this area are both increasing and diverging. As BDR, we have set out to contribute to this transformation in the industry. We have become one of the leading manufacturers of reactive-based digital textile inks and related chemicals for industrial digital textile printing, in short, we have become a world brand."
Explaining that they are doing intensive R&D and technology investments, Saatçioğlu stated that they have succeeded by combining their experience in textiles and digital printing together with Founder Partner İbrahim Demir. Saatçioğlu; "The aim of BDR Boya Kimya A.Ş. is to develop the high performance and quality inks in order to meet the expectations of the print manufacturers by following the most advanced production technologies."
BDR: the first Turkish reactive ink manufacturing company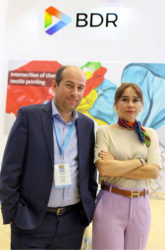 Serra Saatçioğlu underlined that BDR Boya Kimya is the first Turkish company to manufacture digital textile reactive inks. "Our brand BDR Diamond brand is competing with giants in the world market as domestic production" said Saatçioğlu; and expressed Turkey's experience on the production of textiles, and reinforced their accurate branding efforts. Saatçioğlu vocalized that; the ink they manufacture creates value in high quality and competitive price points; "Our inks have completely water-based content. It is therefore made up of chemicals that do not pose a threat to human and environmental health. We are working with organizations like GOTS, Reach Inditex, and Kyocera certification in this area." 
Saatçioğlu explained that the ITM 2018 was very productive for them both in terms of presentation of the BDR; with its institutional structure and detailed description of the products, and explained that they had useful meetings in order to strengthen ties with the industry and manufacturing companies. Saatçioğlu commented saying; "BDR Boya's proud activities and collaborations in countries like; Spain, Italy, Pakistan, Portugal, Brazil, Russia, Uzbekistan, Bangladesh, India and China is encouraging and motivating us to do better."
Pointing to their aim of cooperating with manufacturers who have a high domestic and foreign market satisfaction wishing to transfer their production to higher quality segments; Saatçioğlu explained that they continued to invest in R&D and technology just for this purpose. Saatçioğlu ended her words saying; "Our goal is not only to apply the technology; which is the means of manufacturing the best and lasting; but to ensure the sovereignty of scientific thought and advance in regard to this principle as an institutional culture."