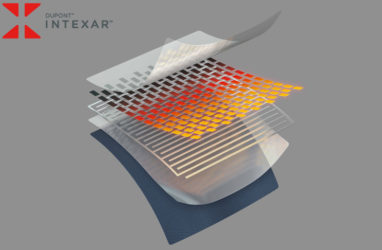 DuPont and Formosa Taffeta Company (FTC) Introduce Heated Clothing Technology at ISPO Munich. Intexar™ Heat enables thin, safe and efficient heated garments.
DuPont Advanced Materials (DuPont) announced the newest offering from DuPont™ Intexar™ – a powered smart clothing technology for on-body heating. Intexar™ Heat is a thin lightweight and durable heating solution for outdoor clothing that is designed to be easily integrated into garments. DuPont will highlight Intexar™ Heat in partnership with the Formosa Taffeta Company (FTC) at the upcoming ISPO Munich trade show, Jan. 28-31, in Munich, Germany, at FTC's booth C3 544.
 "Intexar™ Heat is a revolutionary stretchable ink and film that when powered, creates a comfortable warmth," said Michael Burrows, global business manager, DuPont Advanced Materials. "Our team has worked hard to develop a heater that feels like fabric, doesn't rely on cables, thick wires or big batteries, and can stand up to very cold environments. From outdoor enthusiasts to industrial workers, Intexar™ Heat can help conquer the elements in comfort, increasing focus and improving performance."
FTC is the first textile manufacturer to take advantage of Intexar™ Heat technology as part of its Permawarm™ line. Permawarm™ delivers clothing brands a complete garment heater system including the Intexar™ heater, connectors and control software.
"With Permawarm™, clothing brands can focus on garment design and brand engagement. We are taking the guesswork out of bringing their customers safe and comfortable heated garments," said James Lee, president of Formosa Taffeta Company.
Intexar™ materials also can enable biometric monitoring in smart clothing. Pulse rate, respiratory rate, muscle activity and form awareness are all measurable using sensors and conductive pathways built from Intexar™.
About FORMOSA TAFFETA CO., LTD – FTC
FORMOSA TAFFETA CO., LTD. (abbreviated as "FTC") was founded in April 1973 and headquartered in Touliu City, Taiwan. As the key supplier in sports and outdoor clothing textiles, FTC aims to bring the textiles industry forward. To further serve the clients; Formosa Taffeta Companyhas set up Canton (Zhong Shan) plant; and Jiang Su (Chang Shu) plant in China, Long An plant and Dong Nai plant in Vietnam; as well as offices in Taipei, Hong Kong, HCM City and New Jersey.