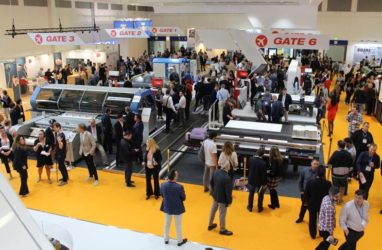 Mimaki attended Fespa Berlin 2018 with innovative digital printing solutions; and has unveiled their position as 'the single source for all steps of digital printing process' appealing to the whole industry. Mimaki also shared with the industry their actions; and investments that will guide the future of digital printing, textile printing and outdoor advertising industries for the first time. The Mimaki Tiger-1800B Mkll has an extensive line-up of optional devices; that provide compatibility with virtually any fabric and transfer paper. 
Mimaki, a leading manufacturer of wide-format inkjet printers and cutting systems; has revealed a number of innovations at the Fespa Berlin 2018 that has took place from May 15th to 18th. Mimaki Europe created an unusual and engaging booth with airport concept 'on board with Mimaki' in Berlin; and showed with this concept for the first time that they are a complete solution provider for the digital printing industry.
Emphasizing solutions covering the whole range of pre-treatment, printing and finishing steps, Mimaki has launched their latest innovations in digital printing for textiles and apparel. The new version of the Tiger-1800B digital textile printer; introduced last year and soon opened the door to new opportunities in industrial production, was presented for the first time to the market. Mimaki Eurasia managers and technical staff have met with the visitors from Turkey and Eurasia region; and gave detailed information about solutions throughout the exhibition.
The production class Tiger-1800B Mkll digital textile printer, meeting the industry for the first time; has a 1200 dpi high quality printing mode. Providing a true alternative to traditional print in production class; Tiger also offers digital advantages that cannot be achieved with conventional methods. The Tiger-1800B Mkll has a printing capacity of 385m2 per hour; and reaches end-users covering a wide production range, from sample making to small to medium print runs.
Tiger-1800B Mkll offers wide range of solutions all together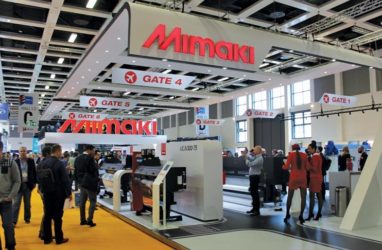 The Mimaki Tiger-1800B Mkll has an extensive line-up of optional devices that provide compatibility with virtually any fabric and transfer paper. This includes a feeding unit for roll media equipped with a centering device and tension bar; a Jumbo roll unit to enable printing of long-length roll fabric or heat transfer paper; and drying and winding or pleating options for printed fabrics.
At Fespa Berlin 2018, Tiger-1800B MkII has been shown in combination with the jumbo roll of Mimaki Vision Jet-X sublimation transfer paper. Available in 1620 and 1830 mm widths, the Mimaki Vision Jet-X is lightweight (57g/m2); but suitable for producing almost everything from sports apparel, flags and banners requiring a high density of ink deposition to fashion and home fabrics with less ink coverage.
Mimaki, single source for the whole process
Mimaki showed the fruits of their efforts at Fespa Berlin 2018 following the acquisition of Australian company Rimslow last year and the recent joint venture with Bompan in Italy. Mimaki responds to the supply need of the textile and apparel industry from a single source and now owns a complete solution including pre-treatment of fabrics, digital printing, and steaming and washing post-print steps.
Mimaki recognised with two prestigious EDP Awards
Mimaki, once again proved their success with their innovations and concept at Fespa Berlin 2018; and were the recipient of two of the European Digital Printing Association (EPD) Awards given in the exhibition. Prominent with its 4 and 5 layer printing technology; the Mimaki UCJV300-160 won the EDP award in the 'the best roll to roll printer up to 170 cm' segment. In addition, Mimaki's innovation in the 3D printing segment, the unique 3DUJ-553 3D printer capable of printing over 10 million colours and in full colour; was deservedly awarded in the 'accompanying technologies' segment.
Mimaki Tiger-1800B's first Turkey sale
Mimaki Tiger-1800B was offered on the market last year; and it gathered a great amount of interest in a short time. First sale in Turkey was to Liteks Plastik Imperteks Tekstil. Arjen Evertse, General Manager of Mimaki Eurasia,Gurcan Kurtaran,General Manager of DigiMania and Ibrahim Bukucu, General Manager of Liteks; who came together at Fespa Berlin 2018, congratulated each other for this successful cooperation.
Liteks started negotiations with Mimaki Eurasia through their textile dealer DigiMania after the Fespa Eurasia 2017 in order to invest in the Tiger-1800B textile printer. In the business of sublimation transfer printing for many years; Liteks has chosen Mimaki's innovative, high speed digital textile printer Tiger-1800B; as the first choice for investment because of their growing business volume and increasing ink consumption. Liteks now have the ability to print in length with the Tiger-1800B; and has increased their productivity advantages with the Jumbo roll feeding unit. Designed for printing on sublimation transfer paper, the machine offers 8 print heads with high print speed (385m2/hour), constant transfer paper usage and drying. The Tiger-1800B achieves long-lasting prints without sacrificing quality; and reaches out to end users with superior features such as high resolution printing consistency, 10 liter ink tanks; low ink consumption and a wrinkle sensor to prevent printing problems.