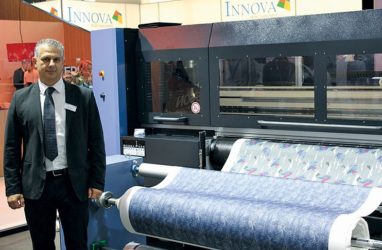 Having a rich and competitive product range, Epson has also presented other graphic and textile printing solutions as well as the new Monna Lisa Evo Tre 16 at the FESPA 2018 Berlin.
Epson was one of the international hotspots for digital solutions, prominently with the Monna Lisa Evo Tre 16 (16 heads shown at the exhibition but also 32 heads available in the line-up) in the FESPA 2018 Berlin. Epson welcomed visitors in Hall 2.2 booth D30, and exhibited their rich SureColor printer portfolio for the textile (F Series), industrial advertising / signage (S series) photography (P series) areas as well as the industrial-scale textile printer Mona Lisa. Epson also announced the Epson Edge RIP, which was expanded in order to work with all SureColor SC-F textile solutions. This software was first introduced last year for the SC-F9300.
Partners were also presented in the Epson booth. Among these were the following; Onyx (demonstrating RIPs), YrStore (specialising in DTG personalisation), EMax (labels), Sublitech (showing 3D dye sublimation for products as diverse as cutlery and toilet seats) and Chromaluxe (demonstrating flat promotional products targeting the photo market and décor markets). Emphasizing the support of young talent, the company has featured in the exhibition booth design of textile students from two universities in England (Birmingham City University and University of Leeds).
New Monna Lisa Evo Tre 16
Those who are engaged in digital textile printing have closely examined the new Monna Lisa Evo Tre 16; which performed especially pigment printing at the EPSON booth. Expanding the Monna Lisa series, this new digital textile printer was developed by Epson, F.lli Robustelli and For.Tex (both belonging to Epson group) for high-quality wide format printing.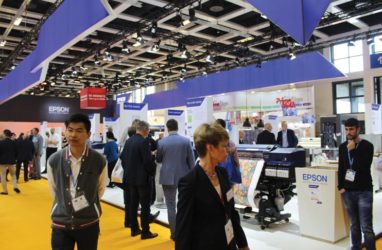 Designed by the engineering company F.lli Robustelli in collaboration with Epson, this digital printer has Epson PrecisionCore technology, the standard for high-quality digital printing also applied in the textile industry. The new Mona Lisa Evo Tre with 16 print heads for 8 colors can work with acid, reactive, disperse and pigment inks. Compatible with a highly versatile and ever-evolving textile market; the printer makes it possible to produce three different print heights while combining high productivity and high quality.
Monna Lisa Evo Tre 16 was shown with a pigment printing application which is strongly potential growing on the market. While pigment printing makes the process more economic; it also provides environmentally friendly benefits because it does not require steaming and washing.
In the wide-format digital printing market, textile products show the biggest growth figures. According to a recent study by MarketsandMarkets; digital textile printing market will rise from $ 1.76 billion in 2018 to $ 3.21 billion in 2023. Among the reasons for success are the ever-increasing quality of new techniques and materials; the ease of digital production for small samples, and the increased demand for solutions with less environmental impact.
Renato Vincenti; we develop solutions to meet all demands
Epson Italia Pre-Sales and Training manager Renato Vincenti; answering at our questions, pointed out the high step ahead in Epson technology to match the market needs also at the DTF requirements; "Epson group (including Robustelli and Fortex) is always oriented to listen the customer and finding out the most suitable solution for. Monna Lisa was born exactly to match those expectations; helping the user and respecting the environment by a specific ecological solution, much more convenient vs the traditional printing methodology. The full textile market is under the focus on Epson and Monna Lisa is the right product; offering high precision, high quality also in specific sectors requesting complex design typically difficult to represent."
"Epson group is investing a lot in research and development to cover many DTF scenario we do believe in a strong contribution to the textile market with innovative solutions. Fespa is an important show where to communicate our strong presence also in the DTF among consolidated products already well known for signage or sublimation with our large format printer series."
New solution for industrial printing
The Monna Lisa series has constantly increased its industrial strength according to Vincenti; and he reminded the machine's ability to print with reactive, pigment, acid and disperse inks on many fabrics including; polyester, cotton, silk and lycra. Vincenti stated that there is a serious increase in demand for printing on especially lycra and polyester-based fabrics. He said traditional printing methodology might be not perfectly suitable to represent specific complex designs and Epson solution could be the right answer to match these requirements; saving time, reducing cost and having less impact on the environment.
Vincenti added that EPSON is a solution provider for digital printing from beginning to end now also in textile; especially with the acquisition of For.Tex and Robustelli. "EPSON is now an umbrella that covers the customer needs" said Vincenti and continued saying; "From the software to the printer, everything from ink to print head was developed for dozens of different requirements. Thanks to the team's high competence, we provide the best most suitable solution for different needs. We are also the consultant for the users in order to provide the best solution for. We are focused and involved in both mid/high-volume and niche markets, where high quality has the priority."
Renato Vincenti said that Monna Lisa's well-known in Turkish market; "Since we have many units running installed in the market. We are offering different configurations. Our line-up can offer double configurations with 16 or 32 print heads, with 180, 220 and 320cm print width. Main Monna Lisa message can be summarized in one word; the versatility that always mark as important differentiator in a market that is in constant growing in volume and quality."