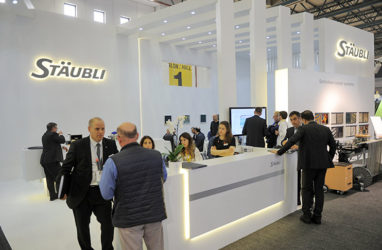 Staubli Demonstrates ' Trustworthiness As A Partner ' – Staubli emphasized that they are a 'trustworthy' partner for the Turkish textile industry, exhibiting SAFIR S40 automatic drawing in machine, Jacquard and dobby solutions, TOPMATIC warp tying machine and many other products at their booth at ITM 2018.
Knowing the Turkish textile industry and its demands by heart, Staubli was one of the attraction points to the weaving hall with their booth concept at ITM 2018. The Staubli booth has attracted a great deal of attention both with the machines and equipment, as well as the weaving samples. Staubli Vice President of Marketing, Sales and Service Fritz Legler says that ITM 2018 has attracted a lot more visitors compared to the previous one in his evaluation for Textilegence. Stating that they are satisfied with their current and potential customer focus, Legler said that the project pipelines are full.
Noting that they were delighted to showcase their advanced weaving solutions, Legler continued saying; "Our visitors were able to closely examine the SAFIR S40 automatic drive machine. Our Jacquard and dobby solutions were also a magnet to visitors since Staubli is clearly leading this field of shed forming technologies around the globe. In summary, we were also showing a TOPMATIC warp tying machine which is the leader in Turkish weaving mills. Our unique D4S toe closing device inspired a great number of knitters to visit us in the weaving hall."
Fritz Legler stated they have met not only Turkish textile manufacturers at the exhibition but also a large number of visitors from Iran, Uzbekistan, Egypt, Pakistan and Algeria. "All in all we were completely satisfied with this exhibition," said Legler, he also mentioned that their initial goals were surpassed by far.
Staubli Demonstrates ' Trustworthiness As A Partner ' : textile machinery investments in Turkey continues to grow
The level of textile machinery investment in Turkey has been attractive in recent years – and as such, there was no exception in 2017 according to Legler and he said the running year of 2018 started off on a good and satisfying level as well. As concerning their products Legler said; "Staubli holds a leading position for any kind of shed forming technology – ranging from Jacquard machines for any kind of structured goods woven in Turkey to high-speed dobbies and cam motions for Rapier and Airjet weaving machines. Furthermore, our automation technology – i.e. automatic drawing-in machines SAFIR S40 & S60 are of great demand too – as are our TOPMATIC tying machines."
About their investments in Turkey, Legler said that the dislocation of their new headquarters in Turkey to the East side of Istanbul (Tuzla) was a step towards improving proximity to their customers even more and to allow an easier access towards the different textile areas in the country, from Bursa to Gaziantep and so forth. Legler; "In all the areas we are present with sales and support staff to cater for our main goals: satisfy our customers and assure them of our presence thus maintaining optimum efficiency of any machine, system or automation solution they bought from us. Training, support and availability of spare parts for machines; that are often older than the weavers are key to our Turkish customers. Longevity of Staubli machines is what they are looking for and getting from us."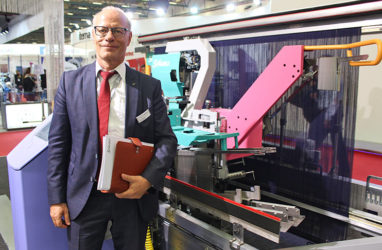 Legler; Turkey did not disappoint us about Jacquard
We asked how the dwindling of the jacquard weaving trend has affected them, Fritz Legler said;
"Fashion comes and goes – so does the attractiveness of any market. Staubli is a Jacquard machine solution provider for any kind of applications; from narrow fabrics such as ribbons and labels to great upholstery; and terry fabrics as well as technical textiles and carpets. Thus, if one market is down because of e.g. fashion trends, other are normally up. We are not disappointed about the level of activity in Turkey. Our product range; with SX, LX, LXL and now even LXXL electronic Jacquard machines is a perfect match for Turkish Jacquard weavers; – ITM confirmed this trend and customers expressed their satisfaction in our technology and services. We now cover any kind of Jacquard designs from 70 hooks; to more than 25`000 hooks – or more in case of coupled machine units."
Legler said that they additionally provide personalised Jacquard harnesses; that give the weaver the possibility to achieve a perfectly matched system solution; for even more efficiency and precision in Jacquard weaving. Mentioning their credo as: "fast moving technology for fast moving textile mills!" Legler emphasized that hundreds of R&D engineers in Staubli do nothing but create innovative products and solutions day in day out.
Staubli is active in all points
Legler; "It is the lifeblood of our DNA and the company. Staubli is active in all points; – be it in the field of digitization, providing energy efficiency of all our textile machines; or offering quality from the beginning of using our technology at customers` mills. Our products can be remotely accessed if customers wish to do so. What is important though with regards to more progressive business models in future; is that this journey has to be gone together with our end users of our Staubli technology. Our textile industry is still in its infancy if it comes to digitalization which carries a great potential."