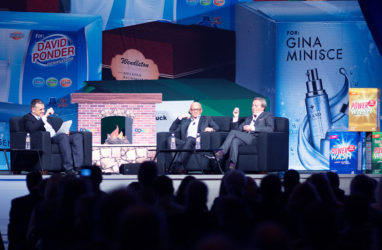 EFI customers discover the new age of digital print at 19th annual EFI Connect Conference.
As printing companies seek the best ways to reduce costs, increase productivity and capture new market opportunities, many of them are getting educated on the advanced, integrated capabilities from Electronics For Imaging, Inc. (Nasdaq:EFII) presented at the 19th annual EFI Connect conference. The January 23-26 event – one of the printing industry's largest, longest-running and most influential users' group conferences – provides attendees with the latest training and technology details to help them profit from the analog to digital transition. Connect also features the debut of several new EFI products, including:
EFI VUTEk® HS125 Pro and HS100 Pro Fast-4™ hybrid flatbed/roll inkjet press models; that offer a range of super-fast 4-color grayscale modes, with speeds up to 225 boards per hour. This enables more cost-effective grayscale production of distance-viewed signage and graphics.
The EFI VUTEk FabriVU® 340i, a soft signage printer; that delivers a lower cost of entry into high-growth soft signage applications by offering fully integrated inline sublimation without compromising engine speed or quality.
Version 6 of EFI's Enterprise Commercial, Midmarket Print, Publication, Quick Print, Packaging and Corrugated Packaging Productivity Suites for advanced, end-to-end business and production MIS/ERP workflows.
EFI MarketDirect, a next-generation cross media customer engagement platform; that gives printing companies the power to deliver comprehensive management on loyalty programs, offers, newsletters, surveys and other customer communication programs.
Escada software, EFI's recently acquired, robust corrugated process control product.
EFI iQuote technology for enhanced estimating of versioned and variable-data digital print work.
EFI Optitex 3D Design Illustrator, a plug-in tool; for the fashion textile space that gives designers the freedom to validate and customize 3D garments in Adobe® Illustrator®.
Digital opportunities presented at EFI Connect
Many of the new opportunities for customers discussed at Connect reflect; a market redefinition happening for the print industry in the wake of continued digital industrial transformation. During his opening keynote speech at Connect, EFI CEO Guy Gecht said; "The new Print is all about putting spectacular images on essentially any material. With digital inkjet technology and automation; the new Print brings immense opportunity in the era of the fourth industrial revolution."