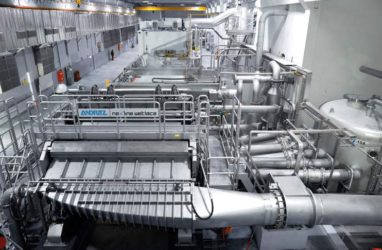 ANDRITZ Nonwoven, part of international technology Group ANDRITZ, has successfully completed start-up of the neXline wetlace line supplied to Akınal Sentetik Tekstil, the leading Turkish producer of nonwovens.
The highly flexible ANDRITZ WetlaceTM technology, which combines wet forming and hydroentanglement, is especially suited for the production of  that are dispersible and 100% biodegradable without any chemical binders.
Akınal is ready to access new markets
The ANDRITZ neXline wetlace is designed for high production capacities of up to 15,000 tons per year; and integrates stock preparation, wet forming, hydroentanglement, and drying. The ANDRITZ WetlaceTM technology fulfills the highest environmental standards for the end products; and produces certified nonwovens quality according to the latest EDANA/INDA guidelines for flushable wipes.
Akınal Sentetik Tekstil is about to launch a new generation of flushable fabrics named BioFlush®; which are dispersible and biodegradable, and is thus accessing new markets.
This successful start-up confirms ANDRITZ Nonwoven's position as one of the global market leaders; for the supply of complete nonwovens lines, key components, and services.