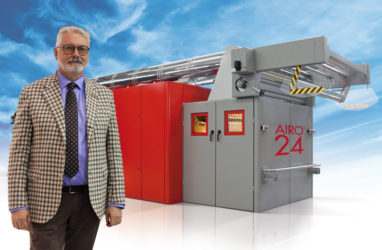 Biancalani who launched finishing machines for woven and knitted fabrics is experiencing a positive period in sales and orders. Biancalani General Manager Mr. Rossano reminds 2016 being a very satisfactory year when he was expressing his views about the market. Biancalani said; "good expectations for the first half of 2017 have been respected, both for the finishing machines for woven and knit fabrics sector; Turkey in particular has yielded better outcomes than expected, while the rest of the global market has gone quite well."
In his estimate for the whole of 2017 Rossano expects a 10% increase in sales compared to the same period of 2016 for both the global and Turkish markets. About the potential in Turkish Market, Biancalani underlines that he is very confident in the growth potential of the Turkish textile industry, which promises interesting spaces for the future.
Biancalani : The stability in sales and the quality of the finished product is related
Mr. Rossano described the stability of sales as continuous demand to the quality of the finished product when asked about the trend and demand influencing factors. And therefore the finishing machines they produce have a great potential. The company announced a new finishing machine for the Turkish Market by the end of 2017. He adds; "we continuously invest on new research and development. We work to make more efficient, environment friendly and sustained finishing machines for knitted and woven fabrics and the results we obtain are satisfactory."
The company gets attention mostly with innovative, continuous open-width tumbler and touch machine AIRO®24.