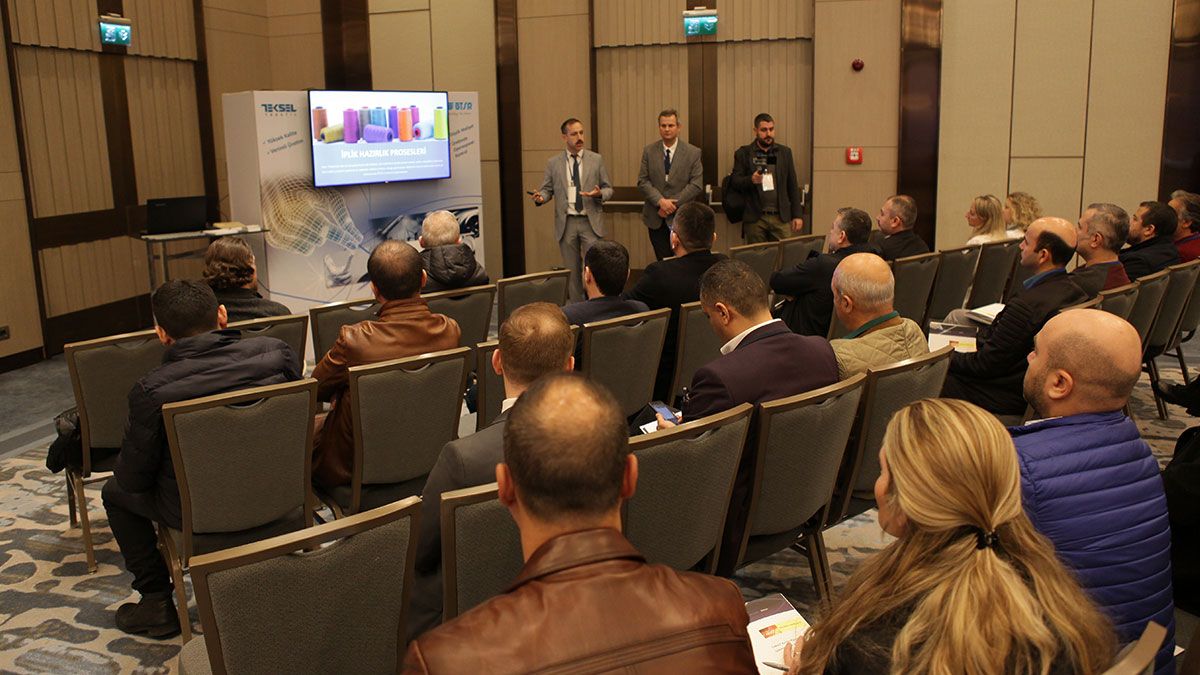 Italy-based BTSR, which has developed yarn technologies for more than 25 years, organized a technology summit in Istanbul and Gaziantep. The company is represented by Teksel Tekstil in Turkey and presented available and newly developed technologies to the Turkish textile industry at the Technology Summit 2019.
Yarn break sensors, quality sensors and electronic tension controlled feeding devices in BTSR's product range were exhibited in both summits held in Istanbul on December 10 and in Gaziantep on December 12. In addition to these products, visitors were able to see the new IRIDIUM yarn quality sensor, Ultrafeeder 2 and Unica 2 feeding devices, which will be introduced to the market. In the presentations, the details of PC-LINK Web software system which provides support for Industry 4.0 studies were shared as well.
At the technology summit, information was also given about Teksel Tekstil A.Ş., representing major textile technologies brands. Founded in 1987 in Istanbul, the firm is the representative of 14 international firms in Turkey with their 45 experienced expert staff for textile machinery, spare parts and components.
Angelo Rizzo; "BTSR applications became a global reference"
At the Technology Summit, BTSR Sales and Marketing General Manager Angelo Rizzo made a presentation about the company and its products. Reminding that BTSR was founded in Italy in 1979, Rizzo said that the company now serves with more than 100 employees. Rizzo; "BTSR, which has an innovative and development-oriented culture structure, provides technological support to more than 200 machine manufacturers (OEM) with its products, and works with more than 3000 textile/technical textile end users and qualified solution partners in more than 40 countries".
Rizzo, who also gave information about BTSR's main sector applications, said; "We provide services women's thin and socket socks; circular knitting, medical, seamless, yarn preparation applications, technical textiles, carpet, hygiene and diaper processes. BTSR has become a global reference for yarn breakage tracking sensors; tension-controlled yarn feed solutions and yarn quality control processes for leading companies in textile applications".
Iridium will revolutionize yarn quality control
BTSR Sales and Technical Service Officer Claudio Marini gave information about Iridium system; which will break new ground in yarn quality control field. Marini; "Iridium, a fast sensor developed to control yarn quality, is a 3D reading and colour analysis system. Thanks to the optical reader, this new sensor can detect the position and size of the yarn in any situation. Colours can be read with another sensor added to this system. The natural colour of the yarn changes due to contamination. Thanks to the sensor that will detect these deficiencies; better quality results can be obtained in the processes in the spinning mills; and the manufacturers will be able to make reports as they wish with the PC-LINK software system".
Dr. Bülent Özipek from Istanbul Technical University (ITU) Faculty of Textile Technologies and Design made a presentation on 'New Horizons in Textile' at the event. Özipek informed the audience about the development of the sector, fibre types and application areas of technical textiles.
In parallel presentations at the Technology Summit; Teksel Tekstil Regional Sales Managers presented sector specific BTSR applications in detail to sector representatives. In the Q&A session, the participants were informed about how they can provide solutions to the problems they experience in production with BTSR products.
Following the presentations at the Technology Summit, a lottery was held among the participating companies. Two companies from Istanbul; one company from Gaziantep was entitled to participate in a 2 nights and 3 days trip to Italy. Lucky companies will also be able to visit BTSR's facilities in Italy.