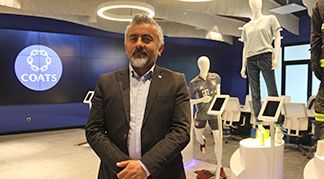 Coats becomes part of the innovation cycle. CWith an R&D centre registered by the Ministry of Industry and Technology last year, Coats takes innovation further with their newly opened hub.
Global textile industry's leading industrial thread manufacturer Coats made a new investment in their 50th anniversary in Bursa. With a history of 260 years, Coats opened their 3rd worldwide Innovation Hub in Bursa following America and China. Launching their operations for Turkey in İstanbul in 1952, and relocating them to Bursa in 1968, Coats showed that they are in fact the innovation and supply leader of the market for the past 50 years. Implemented with a budget close to 2 million dollars, Coats Innovation Hub EMEA will lead the technological innovations in Turkey, Europe, Africa and the Middle East Region, and it consists of several units spread over 2 floors in a gross area of 1600 square meters.
In addition to the showroom and meeting room prepared for meetings and product presentations, offices and composite prototyping workshop are located on the upper floor of the hub. All the necessary equipment to produce high value-added products is installed on the ground floor.
Coats becomes part of the innovation cycle
Coats EMEA Innovation Director Erkan Ekici made a special statement to Textilegence about the company's new innovation hub and its activities. Underlining Coats' long history, Ekici stated that the market leadership in sewing threads has been expanded towards technical applications in the last years. "Coats pays more attention to product diversity and innovation in the past 5-6 years than ever before," said Ekici and added; "Coats has opened the Innovation Hub to provide more added value products to the customers and to make life easier for them and us. In this hub, dedicated to innovation, we aim to offer innovative, value-added solutions that will benefit our customers, our 3rd party partners, universities and industry professionals. Activities resulting with successful products have already started".
Turkey is the right location for investment
Answering our question on why did 1.4 billion dollars sized Coats, preferred Turkey for their new innovation hub, Erkan Ekici said Turkey is in an excellent position geographically. Ekici; "Turkey functions as a bridge between Asia and Europe. It is very easy to serve Europe and other neighbouring countries from here. In addition to geographical advantages, more importantly, Turkey has qualified labour force. Coats can quickly reach required talents without suffering any difficulty in Turkey. Our large-scale customers continuing their operation in Turkey is another affecting point. Therefore, we can say that being close to the customers, reaching the markets comfortably and having a good pool of talents have been effective in the investment decision of Coats".
Mr. Ekici expressed that textile engineers, chemists, material engineers, mechanical engineers and several technologists are currently working at the new Innovation Hub. Mr. Ekici stated that Bursa will respond to EMEA region's R&D needs and informed that Coats' innovation planning is globally laid down by Innovation Management in the United States. Ekici; "Projects are carried out in a systematic manner. There is a coordination between all hubs. Each innovation hub works harmoniously to do what has not been done before in Coats, without repetition. We were recognized by the Ministry of Industry and Technology as an R&D centre in 2018. With the opening of the Innovation Hub, we have strengthened our commitment to innovation and our vision of developing solutions; that will be needed in the future, not just focused on current problems".
The main topic of studies is sustainability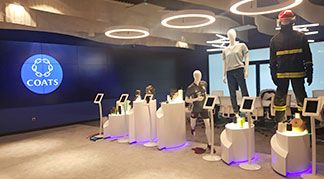 Erkan Ekici emphasized sustainability as one of the main focuses in Coats' work. Explaining that Coats created a follow-up system that can monitor the production and consumption data of its own facilities, Mr. Ekici said that their headquarters are immediately informed in case of deviation of the online monitored data from the specified standard values. "Sustainability is considered through used resources, the production process and the impact of products on the environment," said Ekici; and recalled that Coats promised to produce all the sewing threads from more green-friendly and recycled materials in the next 5 years. Ekici disclosed that the supply chain began to being established accordingly.
Ekici announced that Coats will unveil an innovation at ITMA 2019; and said that low-lot (volume) coloured thread demands will be met with the new digital thread coloration device. Ekici continued as follows; "Our customers will thus be able to reach the exact quantity of thread they need; not the large quantities that traditional dyeing standards offer. Also this colouring technology will not be consuming any water. Zero water consumption will be an important advantage for both the environment and customers".
Coats will grow in new areas without breaking away from traditional textiles
Erkan Ekici underlined that they did not break away from traditional textiles; while focusing on the development of technical threads and high-performance materials; and evaluated this process as the expansion of their product portfolio. Ekici; "Demand for performance materials is increasing rapidly. Security, communication, sustainability, weight reduction and smart solutions are the top trends. Coats has adapted itself to these major trends seen on a global scale, aiming to develop new products. In a short time, we made significant improvements in this area. Our flame-resistant Flamepro yarns, our sewing threads sold under Ecoverde brand; which are manufactured from recycled raw materials and Thermoplastic composites are an example of this".
Mr. Ekici stated that Coats Turkey exports 60% of the thread produced; and added that the weight of innovative products in exports will increase; together with the Innovation Hub and developed new performance materials.