Epson, offering its customers comprehensive solutions under a single roof for digital printing from printers to printheads, from ink to software, reinforces its strong market position with innovative works. During the vendor and customer event held at Epson headquarters in Istanbul, we had an exclusive interview with Epson Turkey Pro-graphics Account Manager Ersel Şamiloğlu, Epson Turkey LFP Pre-Sales Specialist Hayri Şenol, Epson Europe B.V. (Middle East Office) Regional Sales Manager Shihab Ahmed Zubair and Epson Turkey Service Manager Engin Hıraoğlu. Epson Turkey A Team both evaluated the Turkish market and explained the new steps the company took in digital printing.
Ersel Şamiloğlu reminded that there was a rapid recovery in the market after the pandemic and stated that this was observed very clearly in 2022, especially in textile promotional products. Noting that the interest in sublimation printers, which appeal to many different applications, has increased significantly, Şamiloğlu said that with the increase in the capacities of the companies and their production for abroad, they started to receive demands in textile production. Şamiloğlu stated that they aim to grow in sublimation in the Turkish market and disclosed: "Our product portfolio is expanding greatly and we continue to launch new products. We expect a growth of over 30 percent both on the promotional side and on the production side where small products are available." Noting that Epson has solutions in various application areas from graphics to textiles in wide format printing, he said that as the product range expands, they are able to reach different audiences and this is clearly reflected in their sales.
Şamiloğlu explained that Epson is now gradually leaving laser technology behind and that a large part of their product portfolio consists of inkjet printers, and that they plan to discontinue the production of laser machines as of 2026, but continue to supply spare parts until 2030. Underlining that they focus on developing and producing energy-efficient printing solutions that are sensitive to the environment and human health, he added that they will launch new solutions for the reuse of cotton and wool products as well as textiles and paper products by 2025.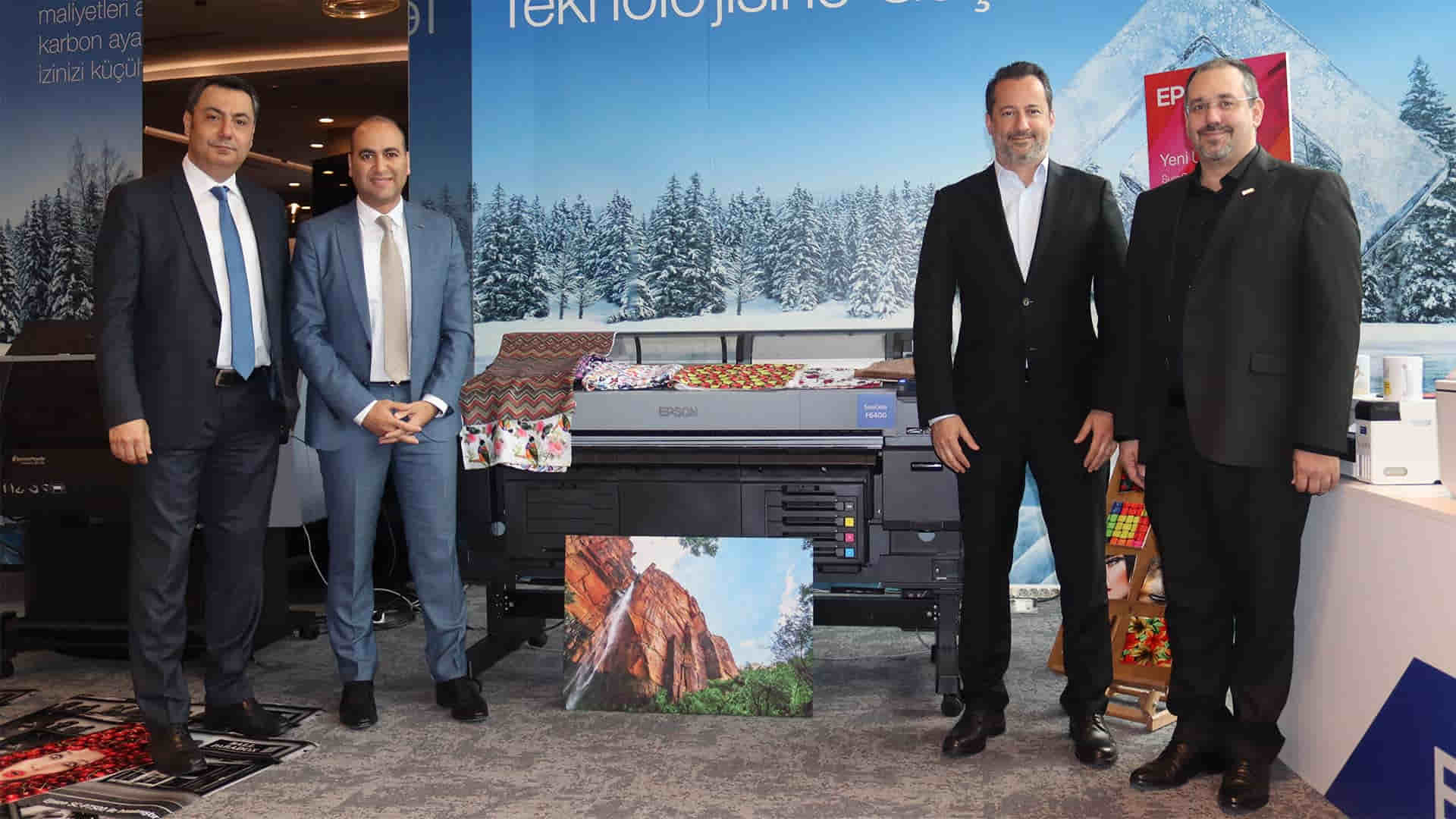 SC-F6400 pushes speed limits while increasing productivity in textile printing
Hayri Şenol, noting that they have a wide range of products in different sizes in the sublimation market, said that they have 24 inch printers for the promotion sector, 44 inch printers for the promotion and textile sector, 64 inch and 76 inch printers for the production segment. Referring to the new SC-F6400 printers, Şenol stated that this printer stands out with its accelerated print head and 4.4-inch touch panel and its productivity has increased by 30 percent compared to the previous series. He said that SC-F6400 can be used in all segments where polyester fabrics such as uniforms and upholstery fabrics are used, and described the expanding colour options as follows: "The SC-F6400 does not only print in 4 colours, when configured as the SC-F6400H, one of the 2-colour options, fluorescent yellow – fluorescent pink, light cyan – light magenta and orange – purple, can be added to increase to 6 colours."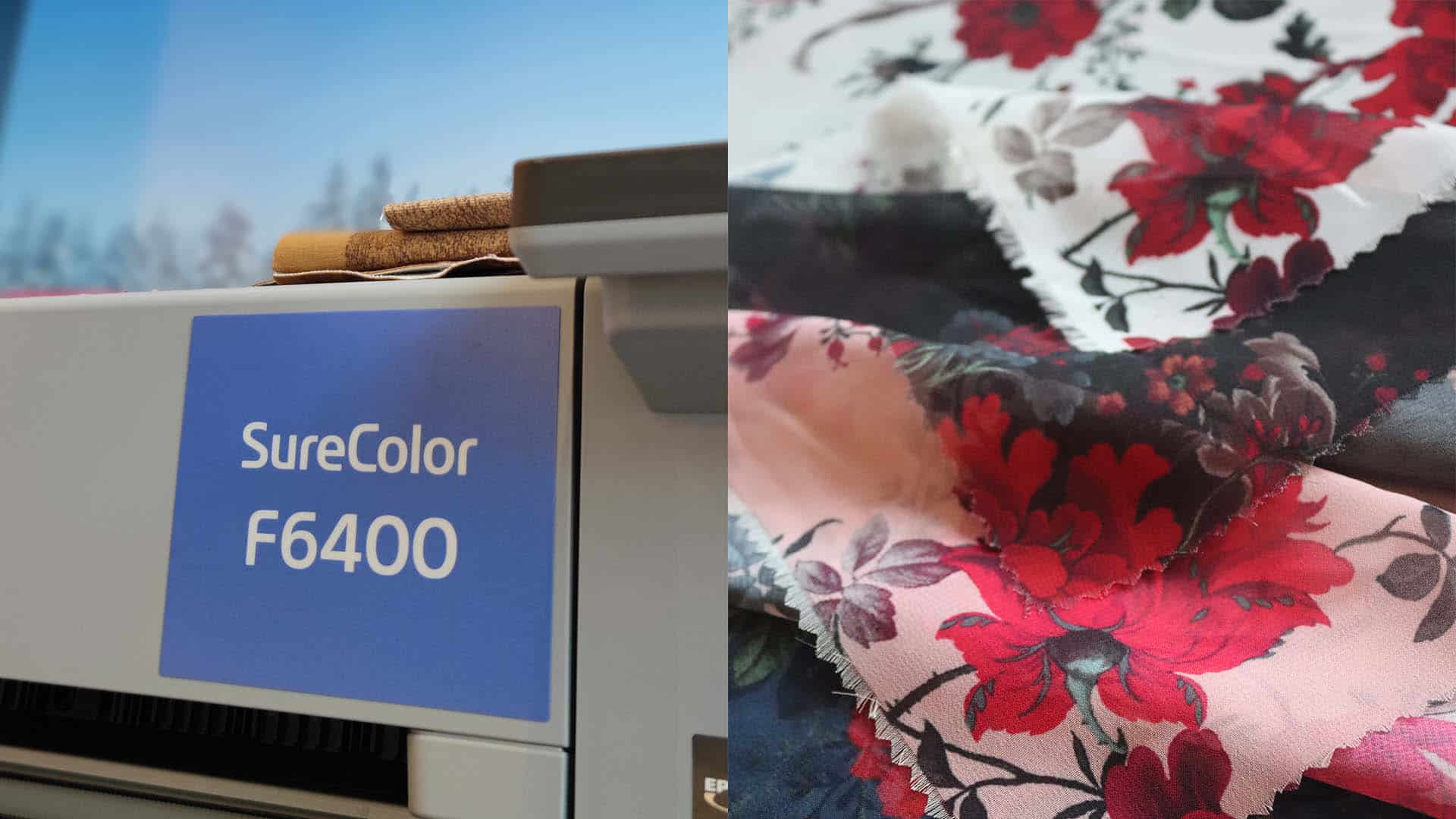 "Our customers enjoy the privilege of being in the 'Epson universe'"
Hayri Şenol emphasised that all machines are completely their own production from the sensor to the head and stated that their software is fully developed by Epson engineers. He also mentioned Epson Cloud Port solutions, saying: "With Epson Cloud Port, we offer the advantage of printing with hundreds of pre-set profiles, as well as enabling supervisors or business owners to monitor the status of their machines in real-time from their mobile phones or computers. Our customers can receive reports on data such as machine running and stopping times, ink status for the previous 6 months." Şenol also stated that they always stand by their customers with Cover Plus service package and underlined that they do not outsource any hardware or software in Epson products and therefore they can comfortably 100% stand behind their products. Şenol said that they are unrivalled in this sense and that the customers who prefer them experience the privilege of being in the 'Epson universe'.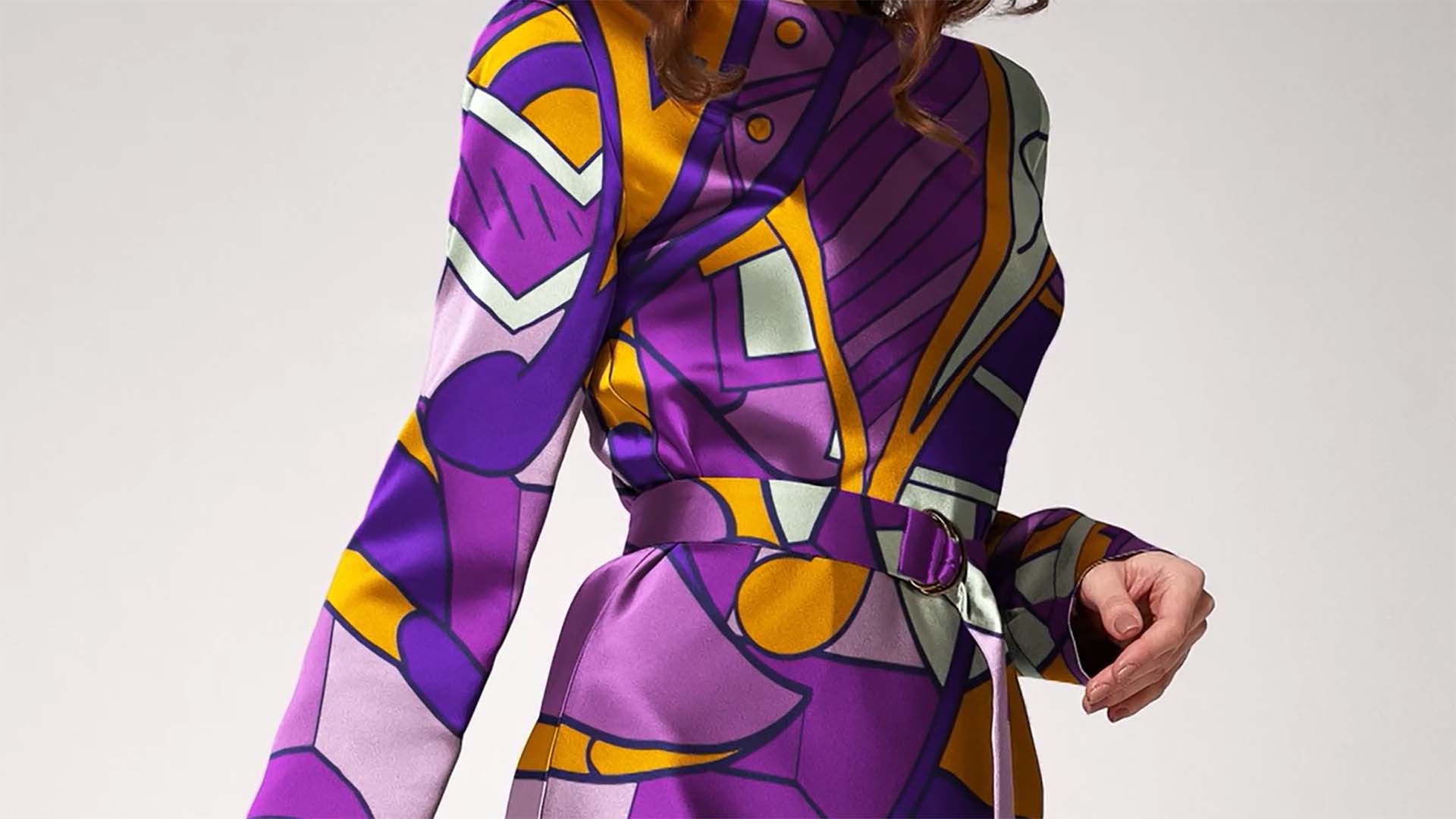 "We will increase the coverage of our service network to 91 percent in Türkiye"
Engin Hıraoğlu stated that they have three main service centres in Türkiye, namely Tecpro, LCR and Lidya, and that these companies supply all spare parts on behalf of Epson. Noting that the main services have a total of 91 service points affiliated with them, Hıraoğlu said: "We have service units covering approximately 89 percent of the population in Türkiye. We are working with 94 companies and 101 locations in total. By opening services in 3 more provinces, we will increase our coverage area to 91 percent. We try to contact almost everyone in their own province. We serve in all major cities with our experienced teams." Hıraoğlu added that they meet an annual average of 21 thousand customer requests for different problems, 87 percent of which are questions about usage.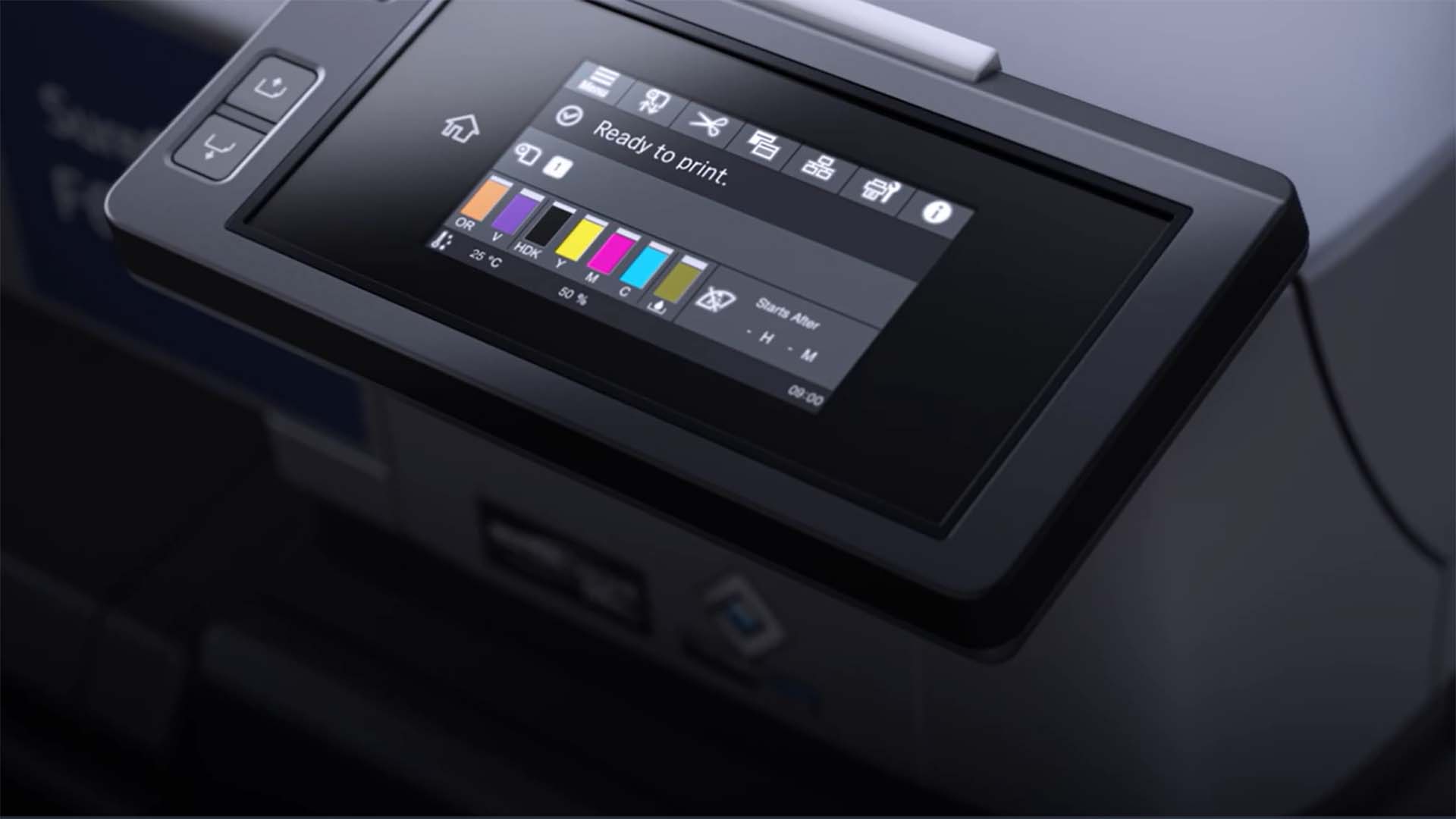 Epson on track to become carbon negative by 2050
Shihab Ahmet Zubair, sharing Epson's vision on sustainability, explained that they are carrying out significant studies on this issue. Stating that they are one of the few companies with a very clear long-term vision until 2050 about not using any underground resources in their products and being carbon negative, Zubair noted that they currently produce their products with clean energy in their factories covered with solar panels. He continued his words as follows: "All the materials we use in our machines, the plastic chassis and everything are made of recycled and remanufactured plastics, and by 2025 we will completely stop using any of these organic materials from underground sources. In addition, all our facilities, including all our factories and offices, will use clean energy by 2025."
Explaining that they have made important innovations within the scope of sustainability on a product basis, Zubair said: "We use the minimum amount of water in our products. Our machines use recyclable ink parts, so we no longer use plastic cartridges or gallons, and thanks to our special inks we save a large amount of water while producing the same amount of textiles." Zubair mentioned that they launched a very unique product called PaperLab a few years ago, and added that thanks to this solution, used paper is converted into fibre and then into new paper, creating a closed loop in the office.
At the end of the interview, Shihab Ahmed Zubair emphasised that they always offer their customers not a product, but a comprehensive solution that is one hundred percent their own, saying: "Epson continues its innovations as always. We invite everyone to the Epson booth at ITMA 2023 to see our latest surprise developments."