Mimaki, one of the leading manufacturers of digital printers, cutting plotters and 3D printing models, demonstrated its focus on sustainability with both innovative solutions and booth concept at ITMA 2023. While the Tiger600-1800TS with its compact design and high production capacity and the DTF printer offered with a special ink circulation system stood out at the Mimaki booth, the sublimation print removal process from the fabric, shown live during the exhibition, attracted great interest from the visitors. We talked to General Manager Sales, EMEA at Mimaki Europe and Mimaki Eurasia General Manager Arjen Evertse about the details of Mimaki technologies exhibited and ITMA 2023 impressions.
Evertse explained that lots of visitors from Italy and India, as well as Pakistan, Brazil, Italy, Italy and Türkiye showed great interest in Mimaki booth, and stated that 3 main points, namely innovation, sustainability and cooperation, come to the forefront in the themes of the exhibitions they attend. Evertse explained that they shaped their booth concepts within this framework at ITMA 2023 and emphasised the importance of cooperation: "As Mimaki, we always produce new technologies, but the work carried out with other companies that are competent in their field like us produces better and more effective results. Again, the technologies we produce only make sense when they serve their purpose, that is, to the extent they are used. Therefore, our special exhibition areas where the final products printed by designers and our existing customers with Mimaki technologies are exhibited and their stories are told are an indispensable part of our booth concept."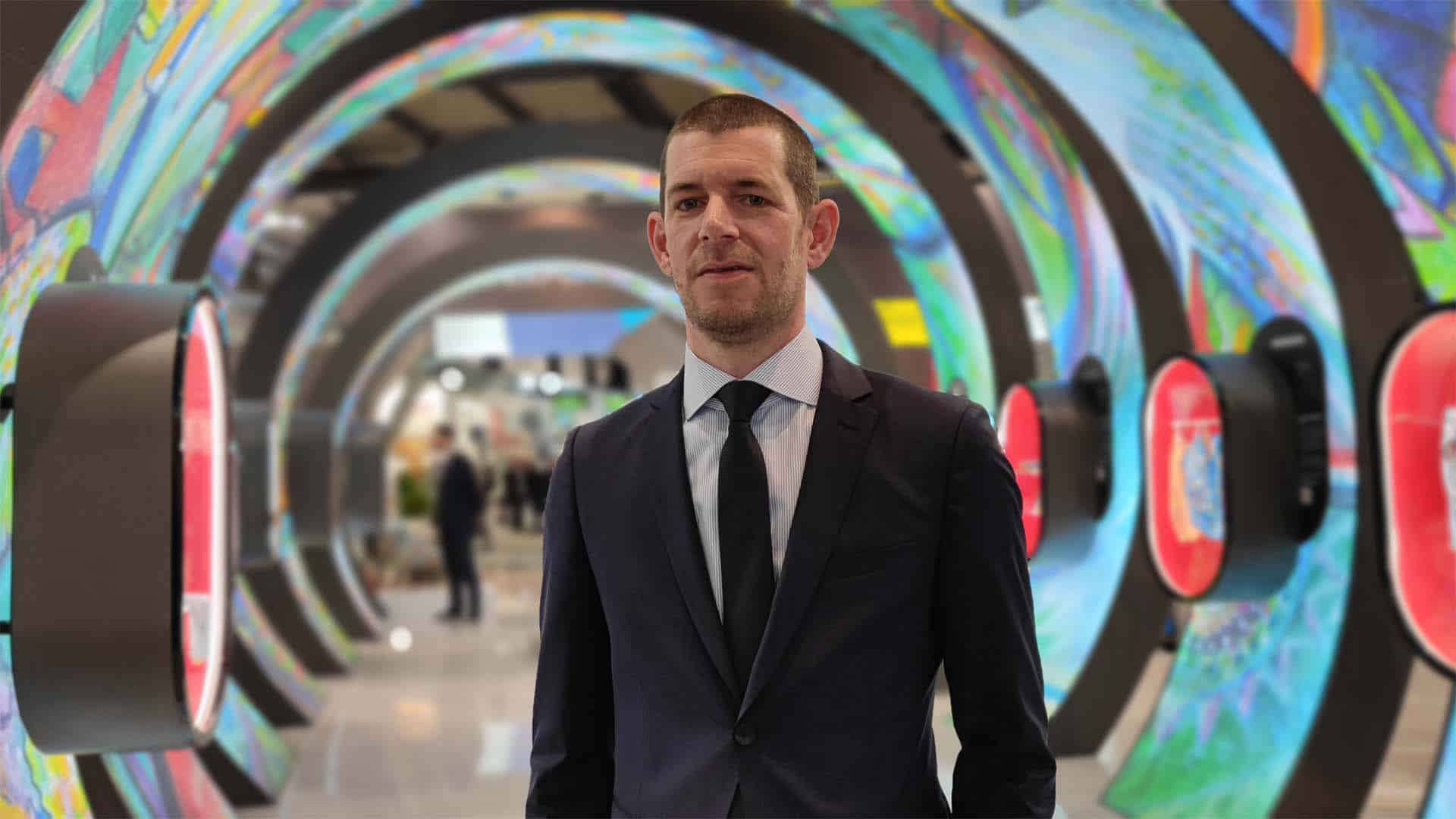 "We offer the advantages of sublimation printing in pigment printing for blended fabrics"
Arjen Evertse pointed out that there is a demand for blended fabrics instead of polyester in the market today and said that this requires an alternative solution to sublimation printing, which can only be used on polyester fabrics. Stating that pigment printing stands out as the most ideal solution at this point, he continued his words as follows:
"However, pigment printing also has some disadvantages compared to sublimation, especially in terms of sustainability. Since sublimation is printed on paper, it requires less investment and less knowledge and the machine takes up less space. Pigment, on the other hand, requires a much larger investment and knowledge since it is printed directly on the fabric and the machine takes up much more space. Therefore, this leads to the concentration of production in certain countries and requires transport between countries and even continents, which means a significant increase in carbon footprint. As Mimaki, we offer all these advantages of sublimation printing in pigment printing for blended fabrics. Just as in sublimation printing, we can print on paper and transfer the print to polyester fabric without any pre-treatment and post-treatment, we can now realise the same process by transferring it to blended fabrics with a special transfer paper called Texcol produced by Coldenhove using the pigment ink we produce."
The fastest new member of the Mimaki portfolio: Tiger600-1800TS
Explaining that Mimaki's fastest printer to date, Tiger600-1800TS, was welcomed with great interest at ITMA 2023, Arjen Evertse said that this new sublimation transfer printer can reach a maximum speed of 550 m2 per hour. Stating that only one operator will be enough for two or three of these machines, he said: "The 10 kg ink tanks give the operators ample time for ink changes. Another advantage of the Tiger600-1800TS is that the machine size appears quite small compared to its production capacity. Even on the first day of the exhibition, the machine could not attract the attention of the visitors sufficiently due to its compact appearance. On the second day, after we wrote 550 m2/hour on it, everyone stopped and started to examine it." Evertse stated that the Tiger600-1800TS will be finalised with the feedback they received as a result of the trials carried out in beta sites in Europe, and announced that they plan to put the machine on sale in October.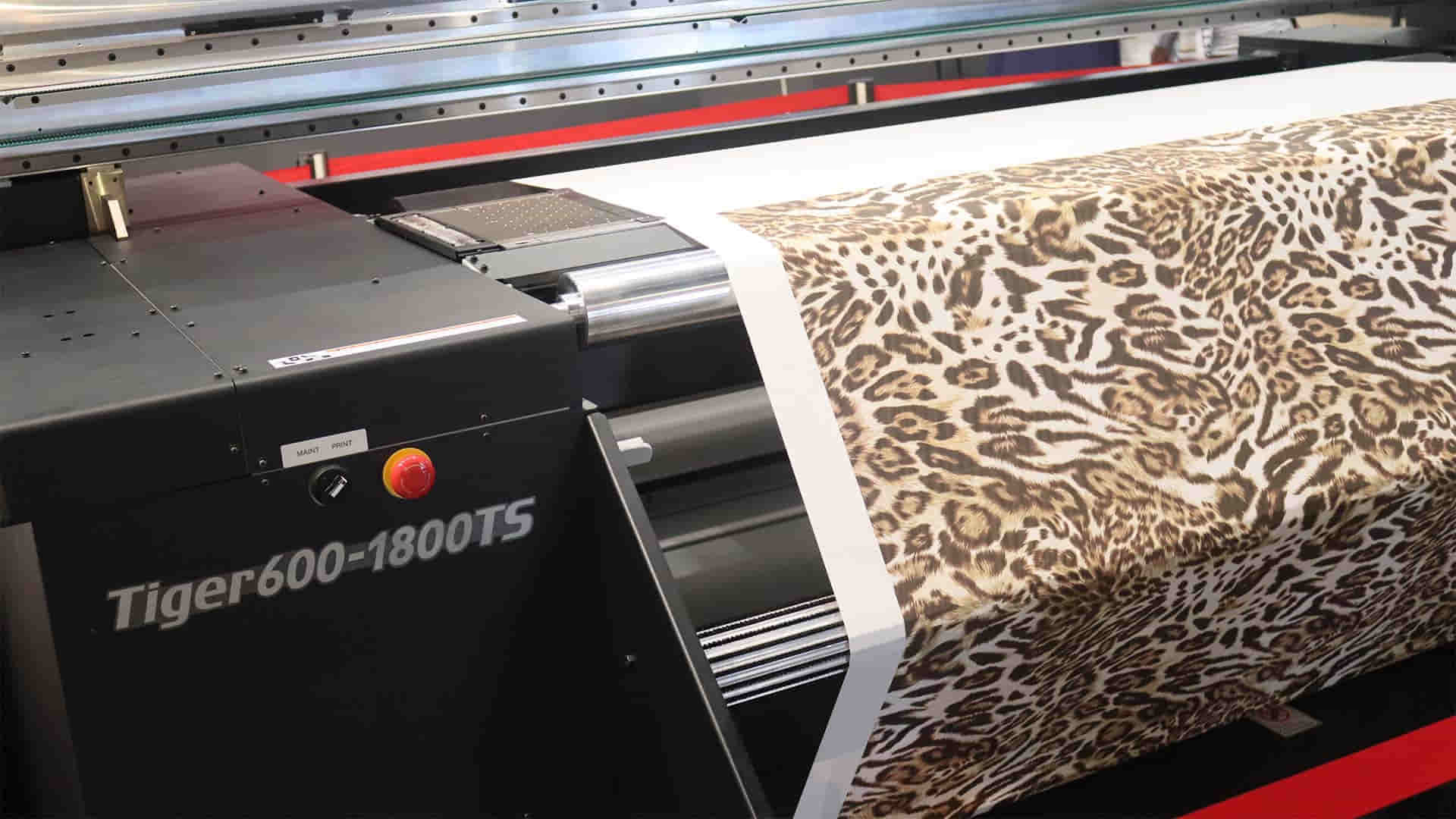 Mimaki difference in DTF
Arjen Evertse noted that screen printing, which uses water, ink and harmful chemical products heavily, causes environmental pollution, and that direct-to-film (DTF) printing offers a more sustainable process by digitalising this method. He emphasised that there are many DTF solutions in the market: "All of the existing DTF systems on the market use open system bulk inks. Its dust can mix into the air, and sometimes the printer is not capable of handling this ink, thus causing problems. As Mimaki, we developed our own DTF printers with a new ink circulation system and made a big difference in the market. At the moment, there is a great interest in our DTF printers, we already had high expectations, but we received an order even above this."
"If the ultimate goal is sustainability, consumer preferences should also be called into question when necessary"
Arjen Evertse stated that the colours have a paler appearance in pigment ink prints compared to others, and pointed out that consumers' demand for vivid colours can negatively affect the transition to pigment printing or create the need for additional treatments after pigment printing. Saying: "If a technology that makes it possible to print with pigment inks without harming the environment cannot be developed under current conditions, and considering that the ultimate goal is sustainability, at this point, perhaps it is necessary to look for the solution on the consumer side. The colour preferences of designers will undoubtedly be effective in this regard," Evertse emphasised the importance of everyone from manufacturers to printing professionals from designers to consumers to act in line with this common goal.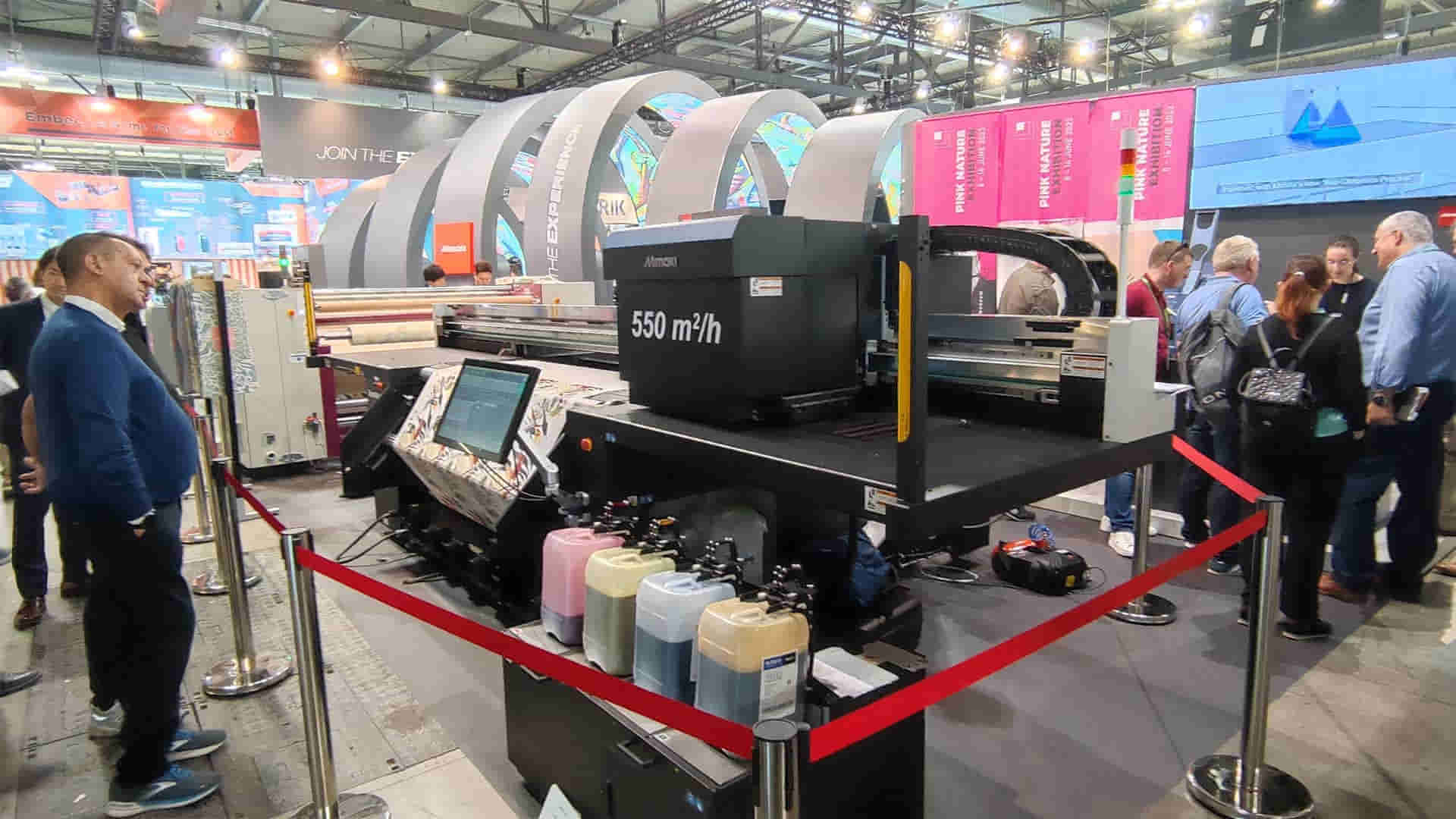 "Digitalisation in textile printing started with Mimaki and continues with Mimaki"
"Mimaki was at the very beginning of the digitalisation of textile printing," said Arjen Evertse, adding that although digitalisation in textile printing has increased by double digits, it still has a low rate in total printing. Evertse noted that Mimaki is working to increase these rates with more sustainable and facilitated technological solutions, and in this sense, he shared the following details about the extraordinary Neo-Chromato Process Technology, which they introduced at ITMA 2023 that enables the pattern on the fabric to be removed and reprinted multiple times: "Firstly, we apply a liquid on the sublimation printed polyester fabric. An absorber is placed on that liquid. The liquid reverses the sublimation process together with the heat. In other words, it evaporates again and reaches the absorber above and completely removes the print from the fabric. You have an extremely white fabric. Essentially, we reverse the sublimation process known to us. In our tests, we performed this process 20 times on the same fabric and we did not observe any deformation on the fabric. This method will be very useful especially in the field of soft signage. For example, you can clean the printed polyester fabric banners at the end of the exhibition with this method and reuse them for a new event." Disclosing that they plan to commercialise this process, which will raise interest in the textile printing sector, within a year, Evertse concluded: "Digitalisation in textile printing started with Mimaki and continues with Mimaki. We will continue to pioneer in the sustainable transformation of the industry with our innovative vision and technologies and continue our collaborations in this field."