According to the ICAC (International Cotton Advisory Committee), in 2015/16, world cotton production declined by 19% to 21.3 million tons, which was the lowest volume since 2002/03. This was a result of both a 9% contraction in area due to low cotton prices and a 10% fall in the world average yield. However, world cotton production is expected to grow for the second consecutive season by 7% to 24.6 million tons in 2017/18. World cotton area is projected to expand by 7% to 31.8 million hectares, which remains below the average of 32.3 million hectares of the previous ten years despite prices above their long-term average.
Cotton Production of India will be the world's largest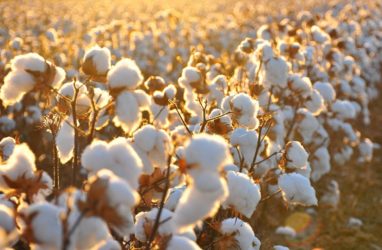 India will likely be the world's largest producer for the third consecutive season with production growing by 6% to 6.1 million tons. An early and adequate monsoon, a higher minimum support price, and the prospect of better returns from cotton compared to competing crops have encouraged farmers in India to expand area by 8% to 11.3 million hectares. Cotton area in China is expected to expand by 3% to 3.2 million hectares due to high cotton prices and the new subsidy announced during the planting season.
Assuming an average yield of 1,558 kg/ha, production could increase to 5 million tons. Production in the United States is forecast to increase by 12% to 4.2 million tons, which is the largest volume since 2007/08. High prices, sufficient soil moisture in dryland areas and beneficial weather during planting is driving the increase in area and production. After two seasons of decline, cotton area in Pakistan is projected to grow by 8% to 2.7 million hectares. Production could reach 2 million tons, assuming an average yield of 741 kg/ha, up by 11% from 2016/17.
Consumption is expected to increase by 2%
World cotton consumption is expected to increase by 2% to 24.7 million tons based on expectations of growth in the global economy. China leads as the world's largest consumer of cotton, though its mill use remains unchanged from 2016/17 at 7.7 million tons. High domestic and international cotton prices and constrained supply are likely to limit any growth. After a 3% decline last season, India's consumption is forecast to recover by 3% to 5.3 million tons. Pakistan's consumption is expected to increase by 3% to 2.3 million tons. Mill use in Bangladesh and Vietnam is projected to rise by 5% to 1.5 million tons and 7% to 1.3 million tons, respectively.
Largest exporter the US
The United States will continue as the world's largest exporter of cotton in 2017/18 despite a projected 7% reduction in exports to 2.9 million tons. This is due largely to the fact that there will be a much larger supply of cotton from other countries on the global market compared to 2016/17. As a result, its share of world exports is expected to fall from 50% in 2016/17 to 37% in 2017/18. After declining by 28% to 900,000 tons in 2016/17, exports from India are projected to rise by 2% to 930,000 tons. While imports in China will likely be limited by quota, they are projected to increase by 1% to 1.1 million tons. Imports by Bangladesh are expected to increase by 7% to 1.5 million tons and Vietnam by 8% to 1.3 million tons.
World ending stocks are forecast to decline by 1% to 17.1 million tons in 2017/18. China's stocks are expected to decline by 18% to 7.6 million tons, and its share of world stocks is expected to decline to 44%, which would be the first time since 2011/12 that it held less than half of global stocks. Stocks held outside of China are expected to rise by 17% to 9.6 million tons. This would be one of the highest volumes on record and indicates that prices should fall.