The production of recycled yarns as a special material requires specialized solutions. Saurer, which is developing technologies for the sustainable textile concept, enables recycled fiber to be brought back into the production cycle efficiently with its innovative Autocoro open-end spinning machine. Autocoro has gained popularity also among the companies that have sustainability as part of their vision, because of its energy efficiency and capacity to process recycled raw materials with high efficiency. Among the companies who have invested in Autocoro  is Uşak-based Haksa İplik. Producing environmentally friendly yarns and fabrics from recycled fibers, the company increased its flexibility and the quality of its products while saving energy with Autocoro  machines.
Established in Uşak in 1986, Haksa İplik is among the important players in the Turkish textile industry, with more than 30 years of experience. With yarn and knitted fabric facilities as part of its integrated production structure, the company exports 90% of its production to more than 30 countries. They sell the remaining 10% to the local market. Among the company's important export markets are Europe, Latin America and North Africa. Operating on the principle of sustainable production, Haksa İplik produces 8 000 tons of environmentally friendly yarns in the range of Ne 10-30 from 100% recycled fiber per year.
"Sustainability is the core of our business," Haksa İplik Chairman of the Board, Serdar Sağıroğlu, says. "We have achieved important results in terms of the use of resources and the waste left out in the environment within the framework of sustainability. Since we use recycled raw materials in our production process, we contributed to the preservation of 42 billion litres of water. More than 30 thousand tons of cotton fibers recycled from textile waste were reused in our production process and turned into environmentally friendly yarns. Since 3 200 tons of chemicals were not used in the dyeing process, we prevented the formation of toxic waste."
Raw materials are used in accordance with the standards
Serdar Sağıroğlu summarized their strategies as "innovation, up-to-date recycling technologies and sustainability", stating that Haksa İplik's strength as a company comes from its ability to supply customers fast, its highly trained workforce and the quality of its fabric design. Stating that they source high-quality raw materials from reputable companies with superior standards, Sağıroğlu continued, "We specialize in producing recycled yarn by blending pre-consumer cotton textile waste, viscose, nylon, and Repreve-certified polyester obtained by recycling more than 50 000 waste plastic bottles collected from the coastline. In addition to Repreve, we also source polyester from Reliance and SASA."
Sağıroğlu stated that Haksa İplik has a GRS certificate, indicating that they receive their raw materials from suitable sources and according to recycling standards. The company is also certified according to Oeko-Tex Standard 100 and audited in terms of social compliance.
High speed, efficiency, quality and performance with Autocoro
Noting that they have established modern production facilities with a technology and innovation-oriented approach, Serdar Sağıroğlu disclosed that they have added textile waste to the production cycle again. Saying that Haksa İplik specializes in the production of yarn from 100% recycled fiber, Sağıroğlu underlined that the Autocoro  had truly exceeded their expectations.
Stating that Haksa İplik have been working with Saurer since 2008, Sağıroğlu explained why the company had decided to invest in Autocoro; "This new-generation spinning machine from Saurer gives us a highly flexible working range. At the same time, our production speed has increased and we achieved high efficiency. Stable and reliable performance has had a very positive influence on our production processes. We achieved great results with multi lots and multi counts. Energy usage is of great importance in terms of sustainability. With the Autocoro , we managed to reduce our unit energy cost during production significantly. For these reasons, we are considering continuing with Autocoro investments in future, too".
According to Sağıroğlu, the Autocoro  is a user-friendly system; one example being that just the doffers are needed to change packages; thanks to the SynchroPiecing system. Producing packages of a constant quality also makes the production process easier for the operators.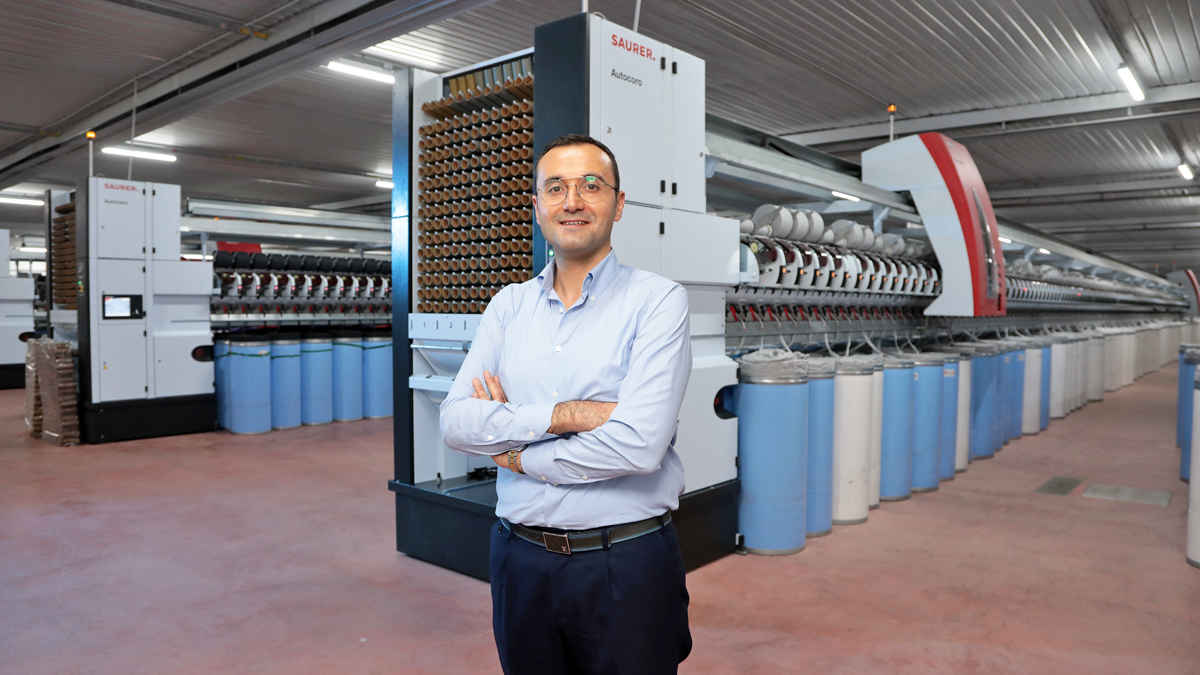 The ideal technology for spinning mills striving for Industry 4.0
Autocoro guarantees excellent quality in yarn and finished textile products made from recycled fibers. Bringing all the possibilities of Saurer's famous E3 (Energy, Economics, Ergonomics) philosophy to life; Autocoro offers yarn producers all possibilities of automation and digitalization; taking them one step ahead of the competition. In this way, spinning mills can benefit from the digital possibilities of Industry 4.0 with Autocoro.
The new Autocoro responds to the demands for greater piecing capacity, especially on long machines. With SynchroPiecing 36, the piecing capacity increases by 50%, while yarn breaks have less affect on the efficiency. The TurboStart feature enables the system to reach full efficiency in less than 10 minutes. Thanks to its increased capacity and up to 8 DCUs (package changing and cleaning units); up to 5% more efficiency can be achieved.
The new flexible spinning box ensures that short fibers are also included in the spinning process; depending the raw material used, with the help of a changeable fiber beard support. Vacuum Trash Cleaner (VCT) is supporting especially spinning of recycles fibres. The VCT removes dust and fiber residues  on the waste belt halfway through, protecting the spin box from dust accumulation.
The colored LED strips on the spinning unit ensure that staff no longer have to make long control rounds. Thanks to the system that indicates the cans about to be emptied and the spinning units with reduced efficiency; a 3% increase in efficiency can be achieved. With the machine's own clearer Corolab XQ/XF, it is possible to ensure standard yarn quality regardless of material.
With its innovative MultiLot technology, the Autocoro is able to spin up to five lots simultaneously for maximum flexibility. The PilotSpin feature makes it possible to respond quickly to customer needs, allowing customers to produce trials without stopping production. In addition, with the Senses mill management system; all spinning data can be collected in real time, reliably and from each production stage; and analyzed in a single program.