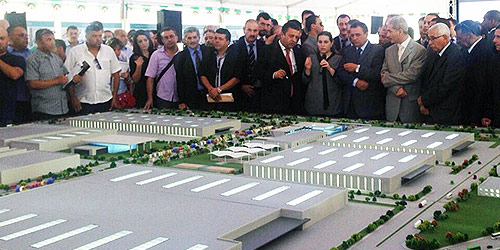 Tayal SPA's production plant is outstanding with its capacity and strength. The facility will be established in Algeria in as a joint venture of Tay Group and Algerian Government.
Tayal SPA, a subsidy of one of the rooted companies of Turkish textile industry, signed a giant investment in Algeria. Established as a joint venture of Turkey and Algeria, the company is set to own the largest textile manufacturing plant of Europe and East Mediterranean via building Industrial Estate of Textiles at Sdi Khettap industrial area located at Relizane, Algeria. This plant will be built on 250 hectares and is very important for Algeria's economy as it imports more than 90% of its textile needs.
Expected to significantly contribute to Algerian economy, the plant had the groundbreaking with participation of executives including Algeria Industry and Mine Minister Abdeslam Bouchouareb and Tay Group CEO Mesut Toprak. Speaking during the ceremony, Mesut Toprak said the investment will be a reference point in Algeria.
Toprak said that they are aiming to provide dynamism for textile and ready-wear industry again and opening to foreign markets. The 10 years project will be held in 3 main phases, while the first phase will be formed by 8 units in textile industrial estate to be completed by end 2018. "The first phase will employ 10.000 people and gradually 25.000 people in total during 10 years," Toprak said, adding that Tayal SPA will operate at global standards.
Regarding the 6 main goal of the project, Mesut Toprak explained, "The project aims to create maximum added value in textiles, provide economic variety and boost textile's share in national development, reduce currency flow to foreign markets given imports, boost exports of industrial products, offer transfer of technology and know-how in textile industry, promoting "Made in Algeria" label in Europe and other countries via global standard production."
Once the first phase of the investment starts up, the plant aims to manufacture 30 million meters of denim fabric; 15 million meters of gabardine and shirt fabric, 5000 tons of knit fabric; 4-30 million units of clothes per year. Currently, Algeria imports around 90% of its textile needs, while the country will obtain USD300 million profit via the project. Once the 10 years project is completed, this contribution is expected to reach USD1 billion. Meanwhile, the new facility will supply 40% of its output to domestic market while exporting the rest.
To be constructed on 250 hectares and a closed area of 330.000 meter square; the plant will have eco-friendly green technology features. Mesut Toprak reported planning to start up the production by end 2016, and continued; "This project aims to form a showcase in terms of development of the country's textile industry. We thank to Algerian Government and foundations for their support. We wish to promote Algerian brand on a global scale and market Algerian products; with the theme "Made in Algeria" to the world."
Tay Group; Algeria's Exports to Global Market Will Increase
TAY Group currently carries out productions for famous brands including Levi's, Tommy Hilfiger, M&S, Zara and Lacoste at plants located in Turkey and Egypt and exports around 20 million goods annually. Exports are expected to be done to famous brands from the new textile estate park in Algeria.