Getting V-Label certificate to 146 different fabric types, İpeker took a very important step in terms of sustainability and awareness as well as being the first manufacturer of vegan fabric.
One of Turkey's oldest textile businesses and brands, Bursa-based İpeker made a new first in the name of Turkish textile sector. Creating a difference by becoming world's first vegan fabric producer getting first Vegan-V Label certificate. Preferred by global fashion and garment brands, İpeker brings novelties to our sector with the force rooted in its history full of success.
Vegan fabric journey
İpeker owned the sustainability concept in its sectoral works with economic, social, environmental and ethical dimensions. While it support country's economy obtaining added-value products by using innovative technology as well as R&D, on the social dimension it focused on applications regarding application of social opportunities above the standards defined by regulators, improving the consumer habits and training to be life cycle thinkers. On the environmental dimension; the efficiency and saving of using natural sources and reducing water and carbon foot print issues are examined while on the ethical dimension fair trade, high-quality Stakeholder Engagement, corporate governance, company values and principles are actualised.
Considering animals as an inseparable part of the environment, İpeker once became the first vegan fabric producer announcing Vegan Declaration three years ago. Carrying out workshop to make its customers and the market become aware of that matter in fairs and facilities it attended, the firm has taken a new level regarding this. European Vegetarian Union (EVU) and its members Turkey Vegan and Vegetarian Association has approved that İpeker's 146 different fabrics are Vegan.
There is No Animal Supplement in Any Product and Process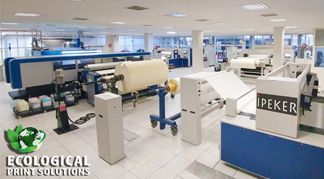 At the end of a long process, İpeker proving that there are no animal protein in its fabric through testings'  became the first fabric producer receiving Vegan V-Label certificate for its 146 different products. In the production line where there is no cross contamination risk, the operations are performed with the same transparency. Most part of 146 different fabrics getting Vegan V-Label certificate, consist of copper silk called as Cupro. This fibre is produced by regenerated fibres obtained from cotton's waste parts.
Producing with the aim of zero carbon foot print, Cupro gains its final state as the most sensitive fabric to human skin with innovative technology. Taking part as an alternative to silk in İpeker product range, Cupro outclasses silk with some features. According to its high biodegradable rate, half its original weight loss in 2 months and returns to the environment.
The Machine Park Has Been Renewed
İpeker, made important investments in machine park for Vegan Cupro fabric manufacturing. As a result of the studies to define it as an alternative to the silk, the machine park was reinforced with innovative technologies to increase its silky touch and providing skin sensitivity.
The firm strengthened its studies of animal-welfare after following Stella McCartney's Vegan Declaration. İpeker shows its sensibility towards human and nature through necessary certifications processes. Ipeker production range includes Vegan and Vegetarians' sensibilities.
Using V-Label known as the most reliable vegan label of the world, İpeker also has Oeko-Tex Standard 100 certificates for 100% all its product range. Formed in 1930, İpeker is a full integrated facility with its yarn preparation, weaving, engraving, dying, print and coverter and digital departments in its factory in Bursa. It offers fabrics and collections to its more than 1000 customers in 52 countries with center İpeker Bursa as well as İpeker Istanbul, İpeker Como and İpeker Augsburg branches and more than 20 agents.