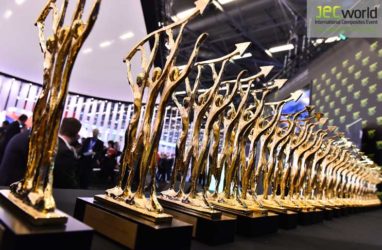 JEC Group Celebrates Composite Innovation at JEC World 2017 and hands out JEC Innovation Awards to 13 "Composite Champions
While JEC World 2017 will take place from Tuesday March 14 to Thursday March 16, 2017 at the Paris Nord Villepinte Exhibition Centre, France, JEC Group is proud to unveil the names of the 13 winners of the JEC Innovation Awards.
The JEC Innovation Awards reward the best composite breakthroughs based on their technical interest, market potential, partnerships, financial & environmental impact and originality.
Composite innovations in the spotlight at JEC World
This year, the submissions for the Innovation Awards programme were impressive, both in quantity and diversity, and more importantly in quality.
"Manufacturing processes for large series are growing in importance this year. This movement is expected to trigger a more massive use of composites. Therefore, we could see a change of scale in our industry, particularly in certain mass production sectors such as the automotive sector, for example, where the supply chain is reconfiguring through mergers and acquisitions, the upstream integration of automotive suppliers and the downstream integration of raw materials producers." says Mrs Frédérique Mutel, JEC Group President & CEO.
Just as last year, a high number of submissions came from the automotive industry, thus perfectly illustrating the current market trends. Process improvement was also one of the most represented themes, highlighting the importance of cycle time reduction.
With 13 categories ranging from raw materials to process, to applications in various fields such as Aeronautics, Automotive, Construction, Marine and Better Living, the winning projects offer a complete overview of the composite value chain, and the many future opportunities that are still to be taken in the field of composites.
The JEC Innovation Awards ceremony will highlight 13 innovators on stage and will take place on Wednesday March 15 at 5:00pm at JEC World (Paris Nord Villepinte – France). All exhibitors and visitors are welcome to attend the ceremony.
The 13 "Composite Champions" winners of the JEC Innovation Awards
Aeronautics – IHI Corporation (Japan): Innovative composite fan system for aero-engines
Automotive, Structural – Forward Engineering GmbH (Germany): T-RTM
Automotive, Exterior – LG Hausys (South Korea): One-piece roof rack
Construction – ACCIONA Construcción SA (Spain): Innovative composite panels, an alternative to steel and concrete for high-speed railway tunnel construction
Process – IRT M2P (France): Fast RTM
Manufacturing – Voith Composites GmbH & Co. KG (Germany): Voith Roving Applicator
Sustainability – Faurecia (France): NAFILite™ microcellular foamed material
Marine – VABO Composites (The Netherlands): "Plug-and-play" composite ship door
3D Printing – +LAB – Politecnico di Milano University (Italy): Smart manufacturing of continuous-fibre composites: Atropos
Software – e-Xstream (Luxembourg): Digimat AM
Sports – Leibniz-Institut für Polymerforschung Dresden e.V. (IPF) (Germany): Recurve bow riser
Raw Materials – Covestro Deutschland AG (Germany): Desmocomp® – a novel solution for composites
Better Living – Brødrene AA (Norway): Vision of the Fjords, Ship of the Year 2016 in Norway