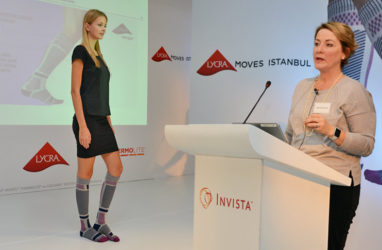 LYCRA® MOVES ISTANBUL IV seminar organized by INVISTA offered information and inspiration about 2018-2019 trends to the leading companies in the hosiery sector value chain.
Featuring a higher turnout this year compared to previous occasions; the event was kicked off with the address by Turkey Sales Manager Aslan Kabapelit; followed by the 2018-2019 season trends presentation and the technical workshop specially prepared for the participants.
Prepared by Amsterdam-based design agency Stijlinstituut; the new season trends and innovation efforts were presented by INVISTA Europe, Middle East and Africa Hosiery Marketing Manager Jane Gwyther and  INVISTA Turkey Office representative Fatma Ozhan under two seperate sections; namely fashion trends and technical specifications to the participants.
Hosiery Trends prepared for 2018-2019 fall into six main headings:
SELF IMPROVEMENT – This trend focuses on how the socks we wear boost our confidence in our bodies and contribute to our feeling good.
COMFORT SEEKERS – This is about performance-oriented clothing-meets-fashion and the factors affecting this meeting.
PERFECT HUE, featuring "color" as the lead actress.
THE CONSIDERATE CONSUMER trend focuses on how product development could be done considering the environmental concerns.
FLEX DENIM –. A trend focusing on how established concepts such as denim could adapt to future.
SERIOUS SPORTS is about satisfying those who do not find only looking sportive and active enough and would like to really compete and win.
INVISTA, with its specially designed hosiery collection using specialized fibers such as LYCRA® , COOLMAX®,  THERMOLITE® for 2018-2019 trends again created attractive innovations thus becoming an inspiration for the whole industry.
INVISTA is one of the world's largest integrated producers of polymers and fibres, primarily for nylon, spandex and polyester applications. With a business presence in over 20 countries; INVISTA delivers exceptional value for its customers through market insights and technology innovations; along with a powerful portfolio of some of the most recognized global brands and trademarks in their respective industries including; COOLMAX®, CORDURA®, LYCRA®, POLARGUARD®, SOLARMAX®, SUPPLEX®, TACTEL®, and THERMOLITE®.