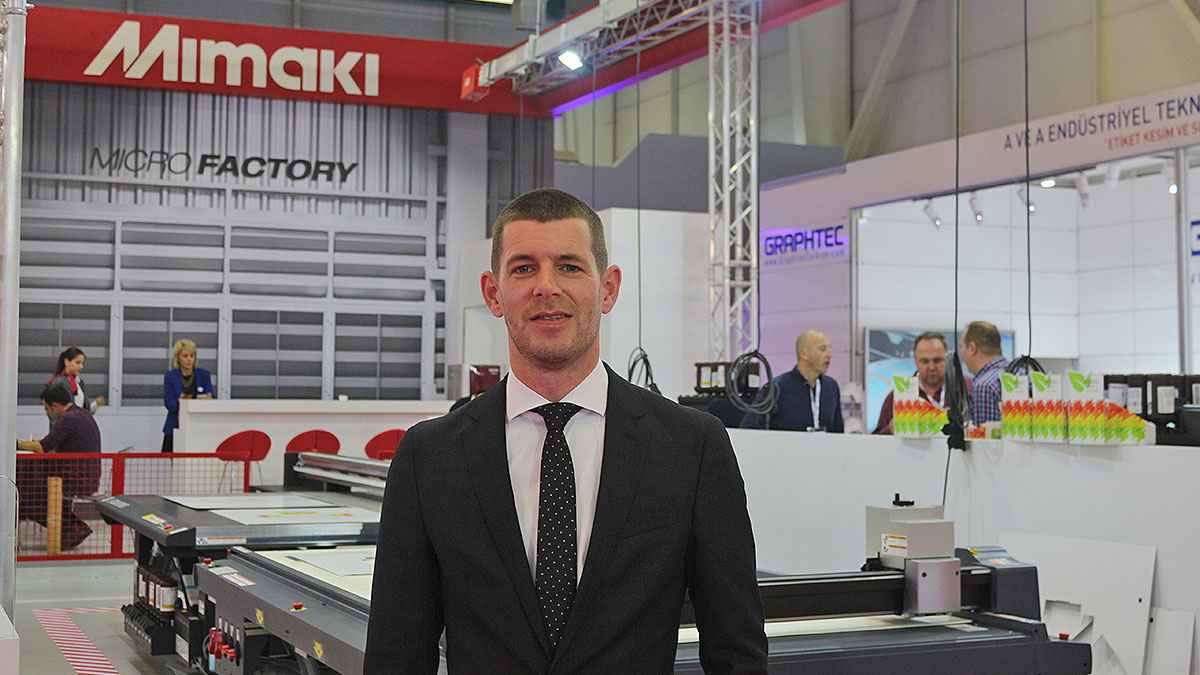 Mimaki Eurasia, the leading manufacturer of digital inkjet printing technologies and cutting plotters, exhibited their solutions focusing on the demands of the sector at the 25th Eurasia Packaging Istanbul 2019 International Packaging Industry Fair. With the participation of 1,231 companies from 48 countries and more than 64 thousand visitors, the fair became the meeting point of the packaging industry. Mimaki booth at Hall 8 number 833 was able to attract professionals who are curious about the advantages of digital printing opportunities in the field of packaging with its 'Micro Factory' concept during the fair.
The UV printing machines and cutting plotters at the Mimaki Eurasia booth showed the packaging industry how small orders or sample prints can be customized, different designs and alternatives can be produced at the least cost and without time waste.
Comprehensive digital printing solutions and cutting plotters from Mimaki
Mimaki Eurasia booth, where all necessary digital printing and cutting solutions were exhibited from the beginning to end of production with the Micro Factory concept, featured ideal solutions for the packaging industry. The machines that proved their performance by working during the fair and solutions with Mimaki Core Technologies were listed as follows;
Mimaki JFX200-2513 EX UV LED Printer:
Going beyond 2 dimensions, this machine produces 3D effects and can print high quality products up to 50 mm height with 2500 x 1300 mm printing area. With JFX200-2513 EX, which can process cardboard, glass, wood, metal or other packaging materials, layered printing design and printing can be performed easily and quickly. In addition, both CMYK printing and White + CMYK printing speed of 35m2 per hour can be obtained without a change in the print speed.
Mimaki CF22-1225 cutting plotter:
It is an ideal solution for cutting and creasing of cardboard, corrugated cardboard, transparent film and similar materials used in the packaging industry. With the CF22-1225 multifunctional large format flatbed cutting machine with a cutting area of 2500 x 1220 mm, materials can be processed.
Mimaki UJF-6042Mkll UV LED flatbed printer:
Offering greater speed, this desktop UV LED printer enables direct printing on small quantities of personalized products and samples demanded in the packaging industry at the lowest cost. The UJF-6042Mkll, which prints directly on surfaces up to A2 size and 153 mm high, maintains print quality at the highest levels with 1200 dpi print resolution.
Mimaki UCJV300-75 UV LED Print/Cut Machine:
Combining printing and cutting on a single roll-to-roll machine; the UCJV300-75 is ideal for different applications and the production of small quantity packaging labels. UCJV300-75, which has white ink and varnish properties; can achieve effective printing results thanks to the printing quality of white ink on transparent and coloured surfaces. The machine has a printing width of 75 cm and provides unique results with its 4 layer printing power. Thanks to its powerful structure; this print/cut machine responds to user demands for the entire range of banners, self-adhesive PVC, transparent film, paper, backlit materials and textile signage.
Mimaki CFL-605RT cutting plotter:
Designed for the packaging production of medium or small enterprises; this flatbed cutting machine has a cutting area of 610 x 510 mm. The CFL-605RT; which performs cutting and creasing of several materials up to 10mm thick; can be matched with Mimaki's small format UV LED flatbed printers to meet the demands.
The printing demand of the packaging industry points out to 'digitalization'
Arjen Evertse, General Manager of Mimaki Eurasia; emphasized that the packaging industry continues to grow both in terms of product variety and market; and that the industry needs a wide range of products. Reminding that nowadays all products are delivered to customers with a package; Evertse said that there is a packaging variety as much as the product variety, and this leads to new needs. Evertse; "In addition to protecting a product from external factors; packaging is also important for presenting its identity and characteristics to the customer. That's why packaging printing changes in connection with customer demands. Digital printing increases its power in the market with its high print quality; and low and fast production power compared to other printing methods".
Evertse said that Eurasia Packaging Fair was a very successful event for them; and announced that they came together with professionals from especially segments; such as carton packaging, glass packaging, plastic packaging, etc. Evertse; "We were very pleased with both the number of visitors that learned about the digital solutions; they didn't know before and the quality of the interviews. Visitors looking for digital printing solutions for their production processes have found the solutions they are looking for with Mimaki".
The Mimaki 3DUJ-553 3D printer is capable of producing vivid colours and realistic prototypes
Evertse mentioned that during the fair; they were printing on real products and as well as flatbed and roll-to-roll printing; and that the visitors closely examined the samples and received information from them. Evertse also noted that samples obtained through 3D printing technology was also offered; "The Mimaki 3DUJ-553 3D printer is capable of producing vivid colours and realistic prototypes; with a capacity of 10 million colours. In fact, it can produce eye-catching bright effects with its unique transparent printing feature".
Arjen Evertse said that the packaging industry is turning to digital printing solutions for; differentiated, personalized and flexible products and concluded his words saying; "During the fair, information flow was provided to different sectors related to packaging. We had the opportunity to directly explain the advantages of our proximity to the market with Advanced Mimaki Technology. It was a unique experience for us to understand our customers' demands and for our customers to discover new technologies".
More information about Mimaki's advanced printing technologies is available on their official website; http://www.mimaki.com.tr/