Mimaki, the leading brand of wide format inkjet printers and cutting plotters, participated in FESPA Eurasia 2022 on December 1-4 to meet directly with the Turkish printing and signage industry and showcase its latest technologies. Mimaki Eurasia's 648 m2 booth, consisting of three islands, turned into a hotspot for visitors who desire to discover innovations in printing throughout the exhibition. The company, displaying a spectacular technology show, also inspired industry professionals with its application areas.
Mimaki Eurasia Regional Sales Manager Hüseyin Şarerler stated that they emphasised their position as the market leader in digital printing at the exhibition and expressed that they were delighted to meet with existing and potential users. Şarerler said: "The Turkish printing and signage industry is undergoing a significant transformation, and as Mimaki, we are setting the trends in this transformation with our leading position. Mimaki is always the choice of print professionals who desire to be more competitive, and this motivates us to do better. We exhibited our different yet complementary solutions in our booth consisting of three islands at FESPA Eurasia 2022. We have shown that Mimaki has the best printing and cutting solutions available in the flatbed and roll-to-roll printing business. We are very happy with the positive feedback we have received."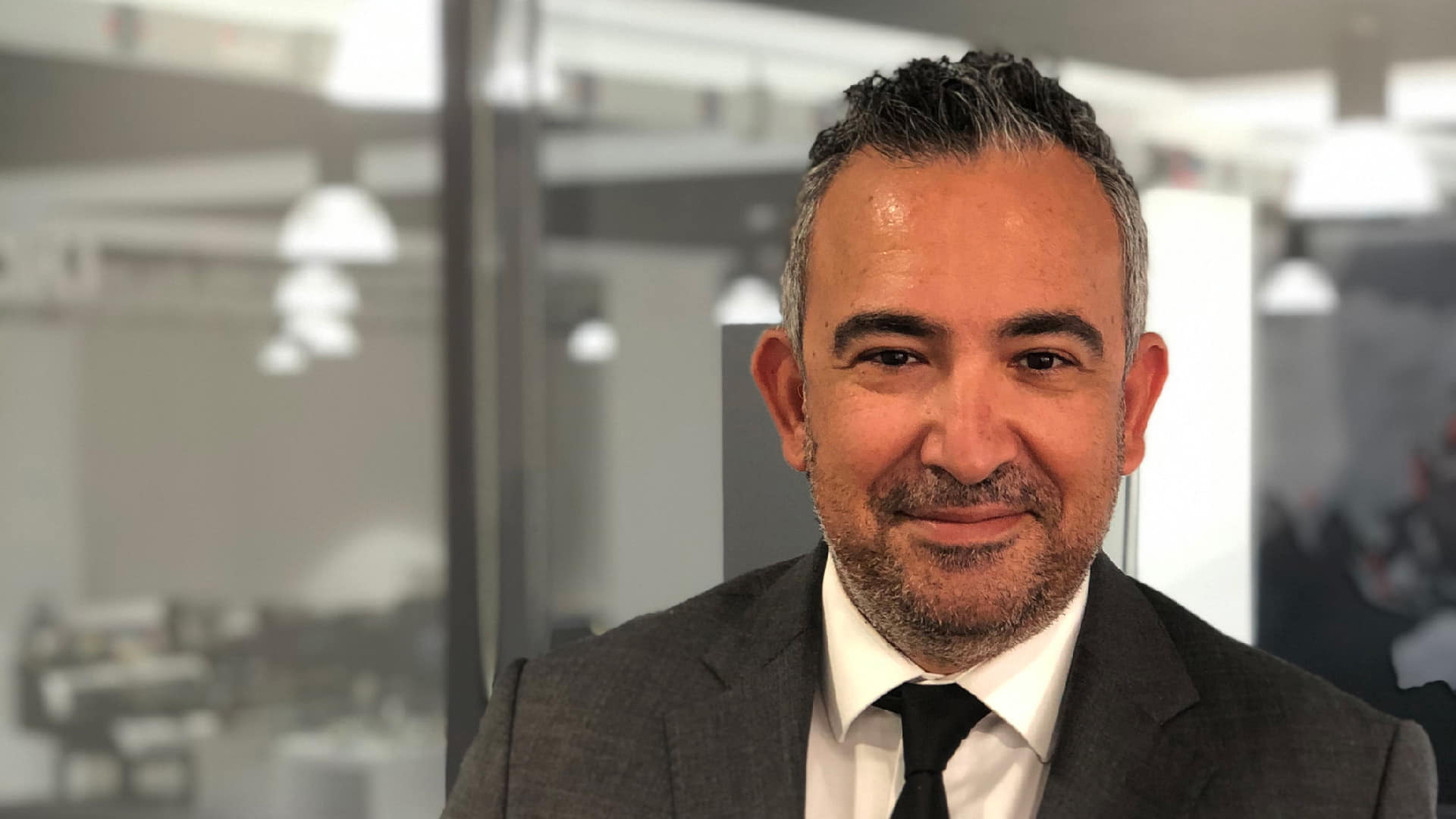 JV100-160 with promotion attracted great interest
Hüseyin Şarerler said that they also made a special promotion for the exhibition and that they gave the new generation CG-130AR cutting plotter as a gift to everyone who bought a JV100-160 eco-solvent printer during the exhibition. Şarerler mentioned that thanks to the ID Cut function of the JV100-160, integrated printing and cutting can be performed with the CG-130AR. He explained that the promotion was met with great interest by professionals who are looking for solutions in this field and desire to achieve an efficient print/cut flow.
JV100-160, turning into an integrated print/cut solution with CG-130AR, is preferred in different decorative and signage applications as well as indoor and outdoor applications. This fully equipped and cost-effective printer also offers advantages to its users with its operating costs. The next-generation cutting plotter CG-130AR and other models in the AR Series open up new possibilities for creative and value-added cutting processes.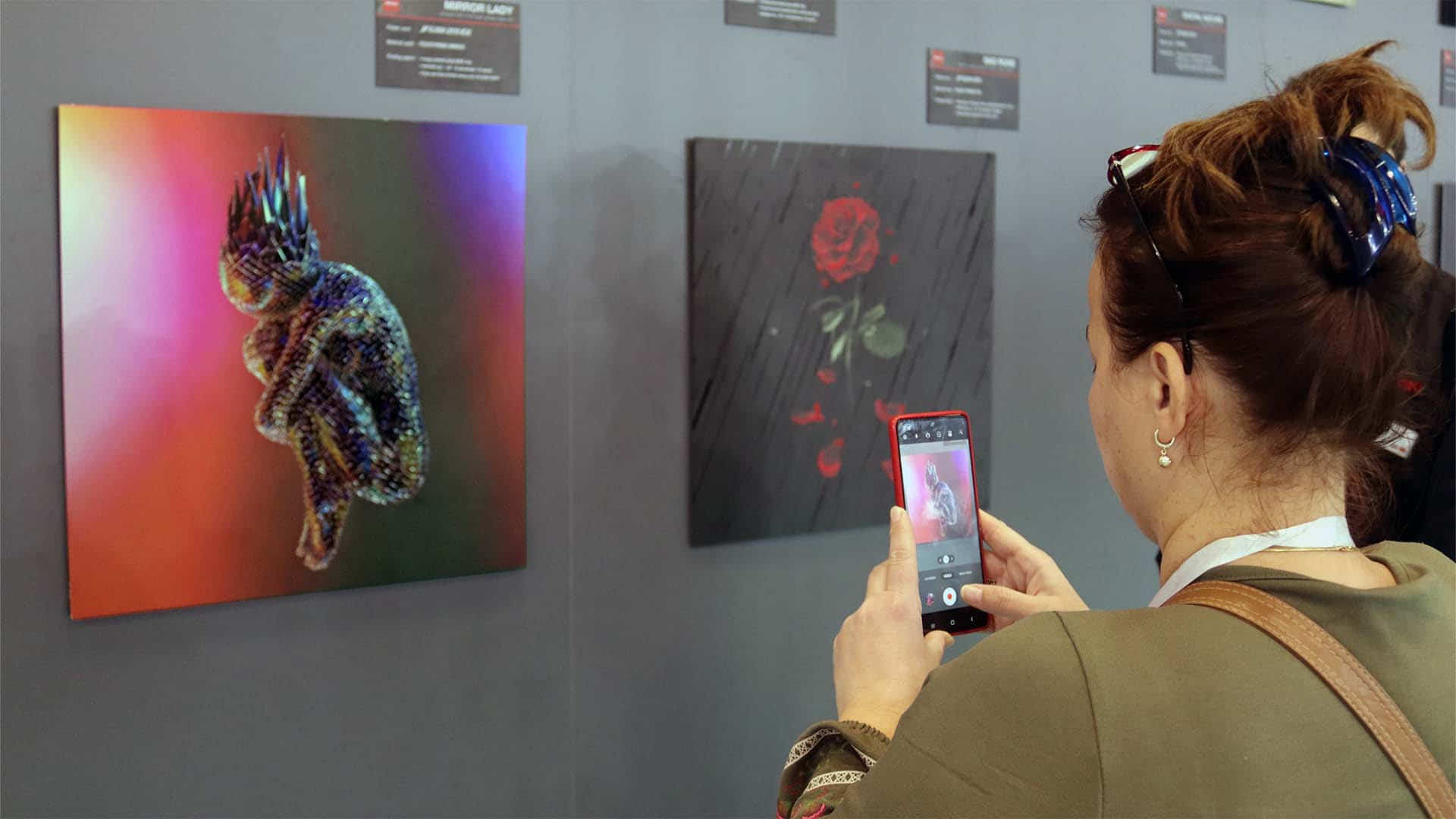 Technology and creativity show enhanced enjoyment of the experience
Mimaki Eurasia booth, consisting of three large islands, exhibited printers and cutting plotters in Signage Graphics (SG), Industrial Products (IP), Textile and Apparel (TA) and 3D segments in operating condition. From UV-LED printing to eco-solvent, direct-to-fabric printing to sublimation transfer printing, industrial solutions to 3D printing, visitors had the opportunity to closely examine the market's latest and most advanced solutions and the printing applications realized with these solutions. Visitors examining the inspiring printing and cutting applications also received detailed information from Mimaki technical team.
Located at the entrance of Hall 8 on the main corridor, the Mimaki Art Gallery Wall was one of the most popular spaces of the exhibition in terms of creativity. The exhibition area was transformed into an art gallery with the paintings produced using the 2.5D printing feature on the JFX600-2513 and JFX200-2513 EX UV-LED large format printers. Another point that added to the art and design value of the exhibition was the user experiences section, which has now become a permanent part of the Mimaki booth. Application examples from eight different Mimaki users were exhibited in this area, together with 3D models. Among the users whose products were exhibited this year were Diam Turkey (JFX200-2513), DSG Hediyelik (UJF-3042MkII) and Kardem Tekstil (TS55-1800) from Türkiye, while the following users' applications from Europe were exhibited: Bonanomi (TS300P-1800), Dennis Harroun (3DUJ-553), Friedmans (TS300P-1800), Kops (JFX200-2513 EX) and Shortcut Labs (UJF-3042MkII).
One of the most interesting products for printing professionals and enthusiasts was the 3DUJ-2207 3D printer with 10 million colours. This 3D printer opens new doors to users for both special applications and industrial demands with its capacity to produce full-colour and transparent 3D models.
The textile area, which welcomed its visitors with a living room concept, was equipped with samples produced with TS330-1600 sublimation transfer printer, TS55-1800 sublimation transfer printer, Tx300P-1800B direct printing on flexible fabric with blanket and TS100-1600 sublimation transfer printer.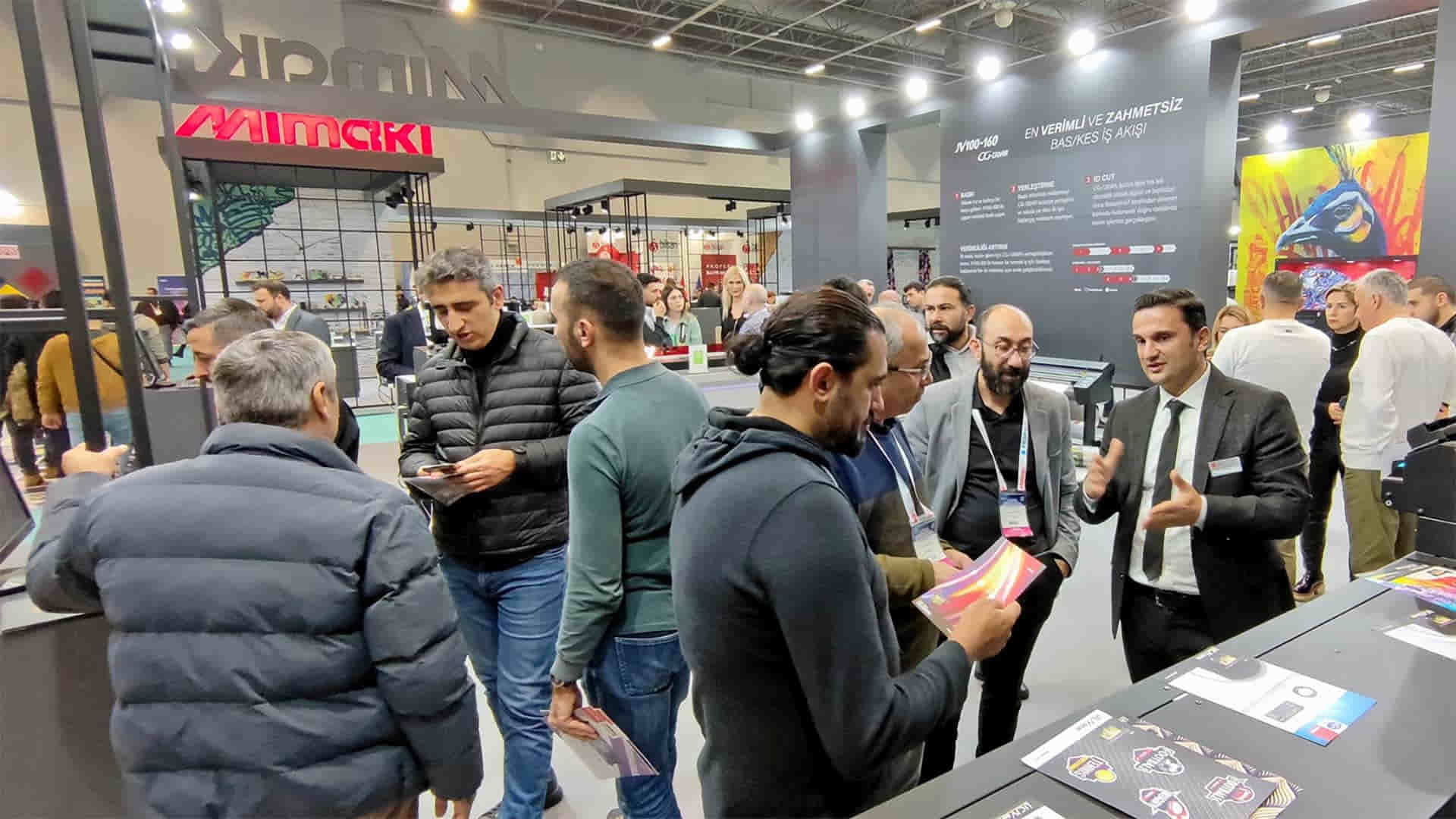 High visitor interest strengthens our market prospects
Hüseyin Şarerler reiterated that they took part in the exhibition with products representing all of the segments in the Mimaki portfolio and noted that they met the expectations of visitors from numerous different markets. Şarerler said: "Visitors to the exhibition came to our booth and it was almost like visiting the showroom in our head office, we made an almost complete presentation. We attracted more interest, especially in the large format printing, industrial solutions and 3D printing segments. Our non-stop operating JFX600-2513 wide-format UV-LED flatbed printer and 3DUJ-2207 models were always crowded with people. This high level of interest also provides us with strong insights for the coming period"
Pointing out that Mimaki Eurasia strengthened its leading power in the Turkish printing market, Şarerler continued his words as follows: "We continue our efforts to come together with our users and strengthen our ties with the market. We focus on expanding and improving our field of action to the advantage of our users by being involved in the Turkish printing and signage industry. In 2023, we expect investments and business volume to increase following the decrease in market uncertainties. We will continue to stand by our users and inspire them for new markets in this process."