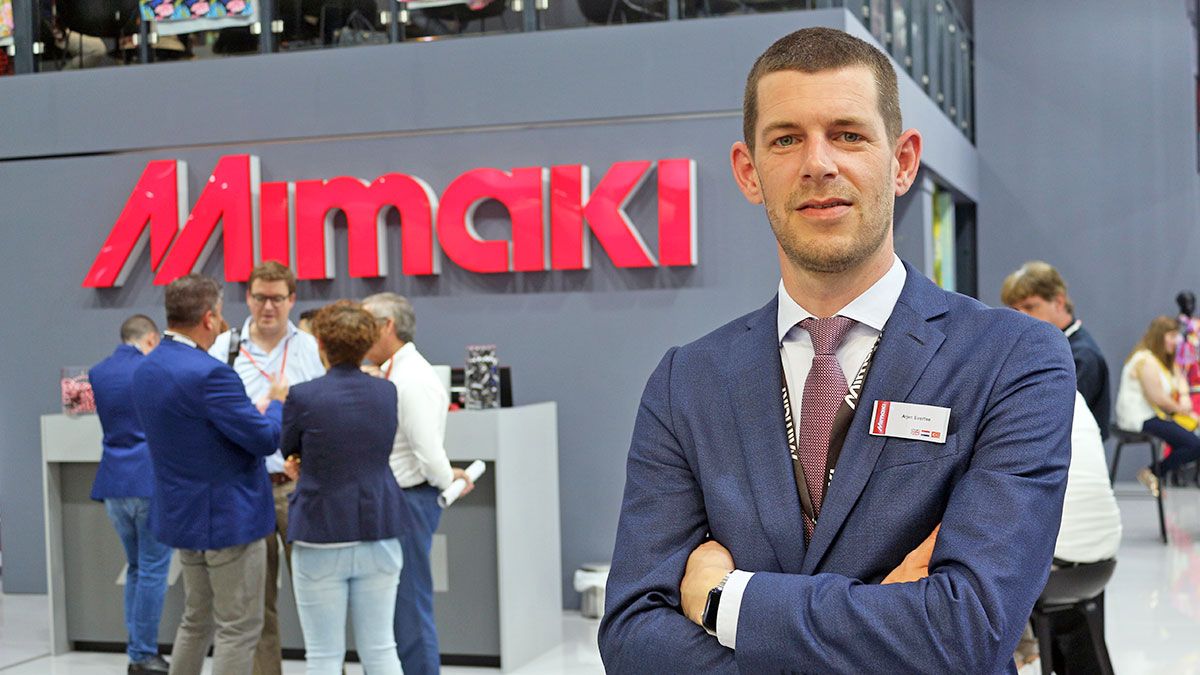 Mimaki introduces hybrid solution in textile printing. Mimaki, the leading brand of digital printing and cutting solutions, exhibited their solutions that opens the way to new opportunities in textile printing at ITMA 2019in Hall 3 Booth B110. Mimaki welcomed their visitors with a concept that includes solutions and application samples for the entry, middle and industrial volumes of the textile industry. The hybrid textile printer introduced by Mimaki was the highlight of the exhibition. This hybrid printer in the TX300P Series eliminates the distinction between direct and transfer printing and the need to use same type of inks.
During the fair, Mimaki also featured their market wide well-known solutions alongside the new hybrid model that attracted great attention from visitors. The Tiger-1800B MkII featured in the company's Pro Series; Mimaki TS55-1800 which is ideal for sublimation applications; Mimaki UJV300-160 roll to roll UV LED inkjet printing model, as well as two models from the TR Series (coating and steaming machines) for pre-print and post-print processes, attracted the attention of visitors. Arjen Evertse, General Manager of Mimaki Eurasia, made important statements about these innovations and more.
Mimaki introduces hybrid solution in textile printing: direct printing and sublimation now available in a single machine
Underlining that the new model developed within the TX300P Series is equipped with Mimaki's core technology, Arjen Evertse said that Mimaki solutions are unrivalled in the market. Evertse said that the new hybrid printer can be operated both in direct textile printing and transfer paper printing methods, notwithstanding of a single type of ink.
Evertse noted that both the sublimation ink developed for transfer paper and the sublimation ink developed for direct printing can be loaded to the hybrid textile printer at the same time, adding that one of the inks can be sublimation and the other pigment. Evertse says that 8 packages of ink are installed on this machine;
"For example, 4 colours can be selected as direct sublimation, 4 colours as pigment inks or 4 colours pigment and 4 colours as transfer paper inks. Thus, those who want to do boutique jobs can have two different prints with a single machine". Evertse said that an arrangement to be made in the print bed in just 5 minutes is sufficient for the change in this process, he explained that the ditch, which allows the ink to be collected in the print bed, is ready for transfer printing by covering it with a vacuum tray.
Allowing smaller service providers to expand their markets with richer applications thanks to its flexibility to print in different fabrics, the new hybrid model is scheduled to be ready for sale in both Turkey and the world by the end of 2019.
Tiger-1800B MkII responds to industrial print demands
The Tiger-1800B MkII sublimation printer, which performed at the Mimaki booth, managed to attract visitors' attention. This machine, developed by Mimaki for the industrial segment, fully meets the expectations with a production speed of 385m2/s, and its efficiency and quality. Evertse said that although Mimaki was a newcomer to the industrial segment, they did not replicate the existing technologies and provided information about Mimaki's core technologies.
Evertse; "Mimaki, working with several different printhead manufacturers, used a Kyocera printhead model on this machine. However, the controller system that manages the printhead, software and electronic hardware is completely ours. This puts us in an unrivalled position in the market in terms of print quality and efficiency. Controller is as important as the printhead. In general, two or more pass printing is not possible with these heads. We can actually achieve two, three or four pass prints by dividing the head and making finer advancements. 600×1200 dpi or 1200×1200 dpi printing is possible with 600 dpi Kyocera heads. If any nozzle becomes clogged in print, with our other core technology Nozzle Recovery, printing does not stop; another nozzle replaces the clogged one and continues the process without compromising quality".
Pointing out to their adoption of digitalization of the production process and Industry 4.0 approaches; Evertse said that communication with all machines can be established and every stage of the production could be monitored; with the recently developed and previewed Mimaki Job Controller software.
Mimaki TR series completes the printing process
In addition to comprehensive printing technologies, Mimaki introduced their pre-print and post-print solutions to the market at ITMA 2019. Mimaki underlined that they are a complete solution provider in the printing process; with their advanced TR Series pre-print coating machine (TR300-1850C) and post-print steaming machine (TR300-1850S). Mimaki also aims to introduce the washing machine to the market this year. Arjen Evertse said that it is not enough to offer only a printer for digital printing service; and continued saying that these technologies cannot be made attractive without pre- and post-print solutions. Evertse; "We show that we are a complete solution provider with TR Series. Even in very large textile mills; the TR series will make sample printing or low volume production with digital printing more economical and preferable".
Attention shown at ITMA was pleasing
Stating that the ITMA fairs, which are held every four years, are of great importance for the textile industry; Arjen Evertse disclosed that they welcomed a significant number of visitors from all points of the global market during the exhibition. Expressing that the interest of Turkish textile manufacturers exceeded their expectations, Evertse continued his words as follows; "ITMA has recently been the most popular exhibition for Turkish visitors. Decision makers and executives from the important companies of the textile industry visited our booth; and obtained first-hand information about our solutions. They watched the performance of our machines. We had very fruitful conversations with them about creative, new applications that appeal to new markets".
More information about Mimaki's advanced printing technologies is available on their official website.