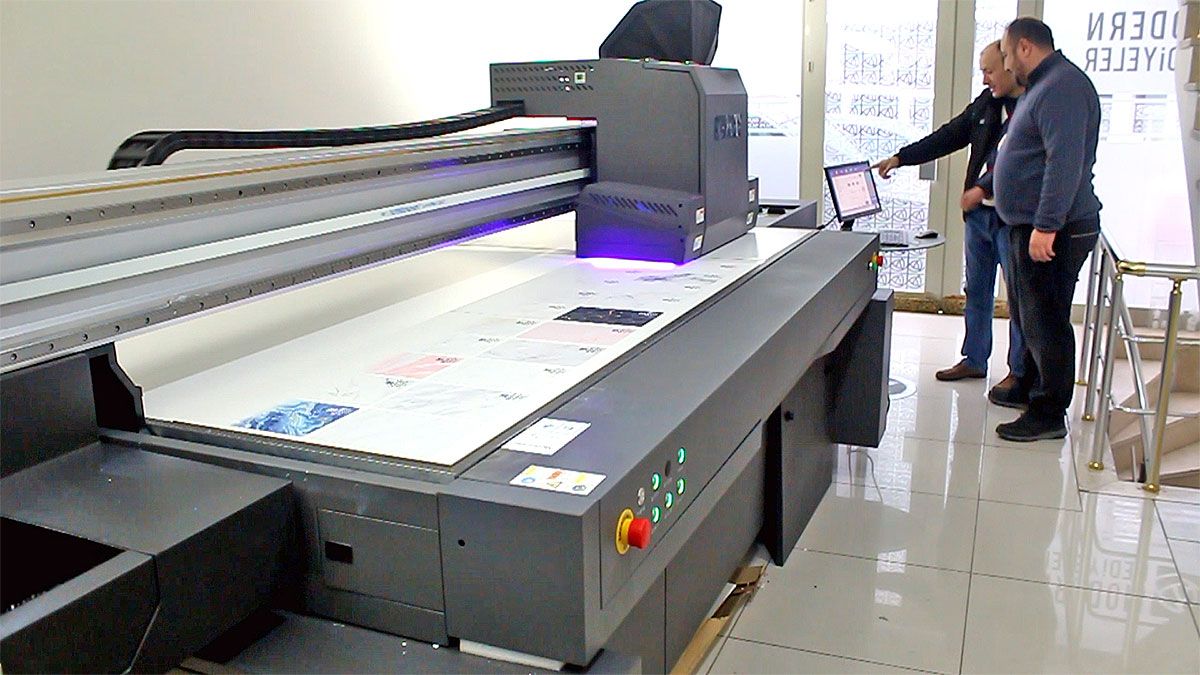 Modern Hediyeler continues their activities in the field of gift items, promotional materials and decoration products, and has invested in Plamac Morpho 2513 UV flatbed digital printer to expand their market with capacity increase and new products. As a result of the close cooperation with Pigment Reklam, which offers UV printing technologies to the market, the company made this investment and announced that it was satisfied with its rapid installation and successful operation.
Önder Divli, owner of Modern Hediyeler, said that the company, which was founded 3 years ago, produces gift items, promotional materials and decoration products with personalized features. Divli stated that they have invested to expand their power in the signage industry to new areas; "In recent years we have observed a very serious demand for personalization. While there are laser and eco solvent machines in our machine park, we have met this demand to a certain extent. However, when these were insufficient, we decided to invest. UV printing technologies are rapidly accepted in the market with the opportunities they offer. We have worked with Pigment Reklam on this subject by installing Morpho 2513 UV printer of Plamac brand in our 4-storey facility in Giyimkent".
Modern Hediyeler ahead of its competitors in terms of price-performance with Morpho 2513 UV
Önder Divli stated that they have closely examined several machine brands in the investment process and stated that Morpho 2513 UV has properties that are more than its competitors in terms of price-performance. Divli continued as follows; "First of all, the 6 colours feature is a big advantage. It has CMYK, White paint, varnish and extra primer properties. 3 kinds of special varnish application and three layer printing can be made. 250cm x 130cm prints with 1200 dpi resolution can be obtained. In addition, the inks we use are green certified inks that are friendly to human health and the environment. In this way, all our products can be used safely and comfortably in home and office environments".
Divli noted that steel, aluminium, composite, plexi, glass, tempered glass, acrylic, paper, wood and similar flat surfaces can print with Morpho 2513 UV flatbed printer. Stating that they have achieved more vivid and realistic prints with this new machine, Divli said that they can offer different solutions to customers.
"We can produce from one to endless units"
Önder Divli gave the following information about the services they offer; "As Modern Hediyeler, we respond to the demands of gifts and decorative items, promotional products and signage industry. All our products are customized for each institution and individual. Here digital printing is our biggest assistant. We are able to print any kind of flat surface product with 10 cm area that you can think of from a notebook to calendar, and powerbank. Whether it's a design, a logo or a name. That product now carries the customer's own mark. Together with our new investment, we can produce an infinite number of theoretically, whether it is one or one thousand. This means new markets and greater profitability for us".
Divli gave the information that the company provides services to its customers quickly and safely through e-commerce, and said that production on order started immediately. Divli ended his words as follows; "With the investment of Morpho 2513 UV flatbed printer, our whole production process became in-house. Thus, we are able to make our product order and delivery plans accurately. Since production and printing processes take place in-house, we can stand behind our product 100%. Quality control processes are carried out from the very beginning until they reach the customer. Our customers, whether at home or abroad, can safely buy and use our products".
Close cooperation which has started in the investment process continues
Serkan Çağlıyan, owner of Pigment Reklam, said that in close cooperation with Modern Hediyeler, they have supplied them Plamac's Morpho 2513 UV flatbed printer. Çağlıyan stated that the installation was carried out quickly and the first productions were realized successfully;
"First of all, we analysed our customer's market targets and discussed the most appropriate solutions for them. We agreed with the price-performance balance that Morpho 2513 UV is the ideal solution for them. Its print quality and ability to print on different materials will help Modern Hediyeler. After sales we will continue to provide service to them. We wish the investment to be beneficial".