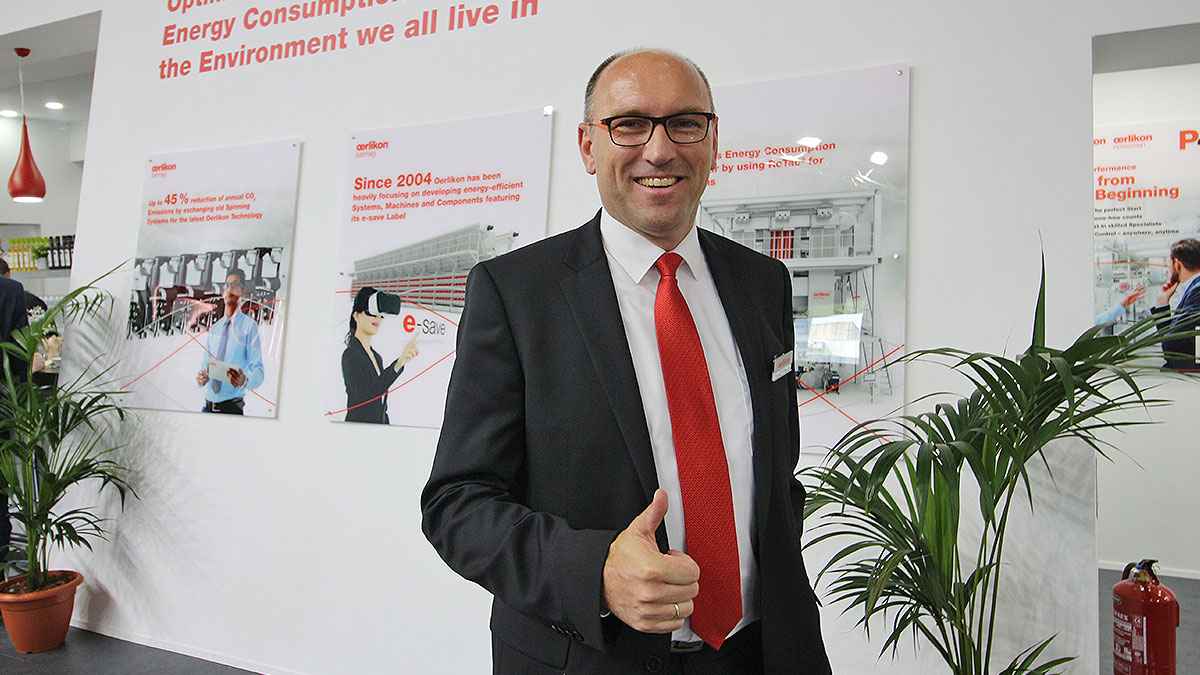 Oerlikon shows the 'future' to man-made fibre industry. Providing groundbreaking technologies to the textile industry, Oerlikon continued this tradition at ITMA 2019. Oerlikon Manmade Fibers showed the latest technological developments in the man-made fibre industry and technical textiles to visitors at their thousand square meters booth in Hall 7 at the exhibition which took place in Barcelona from June 20 to 26. ITMA visitors also experienced the vision of sustainable and automated man-made fibres production in a virtual 4D showroom located on the booth. Oerlikon launched 4 solutions at ITMA 2019; WINGS FDY PA6 for polyamide yarns, BCF S8 Tricolor for carpet yarn production, eAFK Evo texturizing machine and VacuFil for polyester recycling.
André Wissenberg, Vice President Marketing, Corporate Communications and Public Affairs, Oerlikon Manmade Fibers Segment said that they invite all visitors to this year's ITMA on a journey into the future of manmade fibre production. Wissenberg; "We have shown all our guests our vision of a sustainable and automated manmade fibre production in a spectacular virtual 4D showroom. 'Clean Technology. Smart Factory' is the motto of the future. And this was only a stone's throw away from reality at our booth. We presented four world premieres for efficient machine and plant concepts in a new, innovative industrial design. Together with numerous other innovations, all this forms our new DNA".
Oerlikon shows the 'future' to man-made fibre industry: BCF S8 Tricolor breaks the mould in carpet yarn
André Wissenberg provided information about the BCF S8 Tricolor, which is described as a big step forward in carpet yarn production. Wissenberg said that with this technology innovation carpet yarn manufacturers are able to better cater to changing market requirements and can stand out in a highly-competitive industry despite increasing pressure on costs – regardless of whether with standard or niche products. Wissenberg also commented;
"Developed as the most efficient BCF solution of Oerlikon Neumag, carpet yarns can now be processed in 3 colours instead of single colours with BCF S8 Tricolor. It is unique in the market with this feature. The new BCF S8 is the first Oerlikon Manmade Fibers segment system equipped with an innovative human-machine interface (HMI) for intelligent controlling and monitoring. To this end, the system offers – by means of a touch screen – direct access to important information, operating statuses and actual and target values at each take-up position".
Disclosing that customers from US, Turkey and China in particular are closely interested in BCF S8 Tricolor and the HMI innovation, Wissenberg announced that the HMI innovation will also be adapted to other product lines of Oerlikon as well.
Oerlikon shows the 'future' to man-made fibre industry: eAFK EVO sets the new  standards in texturing
Another innovation that premiered at the Oerlikon booth was the eAFK EVO texturing machine. Offered under the Oerlikon Barmag brand, this solution promises superior speeds, greater productivity and consistently high product quality; along with lower energy consumption and simpler operation vis-à-vis comparable market solutions.  There are two important features that define the eAFK EVO; an optimized EvoHeater and an entirely newly-developed active cooling unit, the EvoCooler.
"We are talking about a truly revolutionary machine," said André Wissenberg and continued saying; "EvoCooler uses active cooling technology, with which the machine speed can be increased by 10 to 20 percent vis-à-vis comparable systems. The optimized EvoHeater ensures energy savings of up to 25 percent. And the new, patented automatic doffing system EvoTake-up is also proving to be extremely robust and exceedingly low-maintenance; while nevertheless achieving efficiency of over 99 percent. It also includes an artificial intelligence. The AIM4DTY analysis software is a further step on the digitalization journey at Oerlikon's Manmade Fibres segment. This learning artificial intelligence system filters thousands of error graphs generated every day by the UNITENS®1 monitoring sensor whenever the yarn tension exceeds the prescribed tolerances".
Wissenberg divulged that they have worked with some of the major textile companies in the development of these solutions; including Korteks from Turkey.
Clean technology production philosophy and VacuFil® innovation
Expressing that polyester and its applications are omnipresent in our everyday lives; André Wissenberg added that another innovation of Oerlikon is the VacuFil® recycling series; which was developed together with their subsidiary BBEngineering. Wissenberg; "With VacuFil® we are offering a solution catering to a "clean technology" production philosophy. In a normal spinning process, there are wastes. This means, for example, that a 15 kg package is used as 10 kg due to a yarn break. Yarn wastes can be recycled as fibres with VacuFil®. Zero waste in spinning is thus becomes real".
Wissenberg announced that the other innovation they presented at ITMA 2019 was the new WINGS FDY model for polyamide FDY yarns. Reminding that polyamide is mainly used in the automotive industry; Wissenberg emphasized that this solution was developed for the most demanding polyamide 6 process. Stating that WINGS FDY was presented for the first time at ITMA; Wissenberg shared the knowledge that important manufacturers from advanced textile markets made machinery purchases.
Oerlikon's Business Calendar is full until 2021
In his evaluation of ITMA 2019, André Wissenberg said that; big players of the industry attract more attention than small businesses. Stating that Oerlikon has become one of the hangouts of textile manufacturers with their different booth concept, innovations, 4D show and multimedia presentations; Wissenberg said that the exhibition meets their business potential expectations.
Stating that Oerlikon's business calendar was full by 2021 due to new orders, Wissenberg continued; "We are doing very well in terms of business. We have many strategic investments for the man-made fibre industry at hand. When we look at the plans of big companies for 2022 and 2023, we see that they plan to make strategic investments.
As an example of large-scale investments in the industry, Wissenberg pointed out to Adana-based SASA; and reminded that the company has made serious investments for a long time. Wissenberg; "SASA has invested to become a major player in the man-made fibre industry and has achieved this position. Now they want to be the biggest player that can compete with Chinese and Indian companies' products in the Turkish market. They are progressing in this process with new investments. Similarly, the Turkish textile industry continues its development. We provide solutions from a single source to those who want to invest to survive".
Wissenberg added that aside from Turkey they are expecting new investments and growth in Chinese, Indian and Bangladeshi markets.