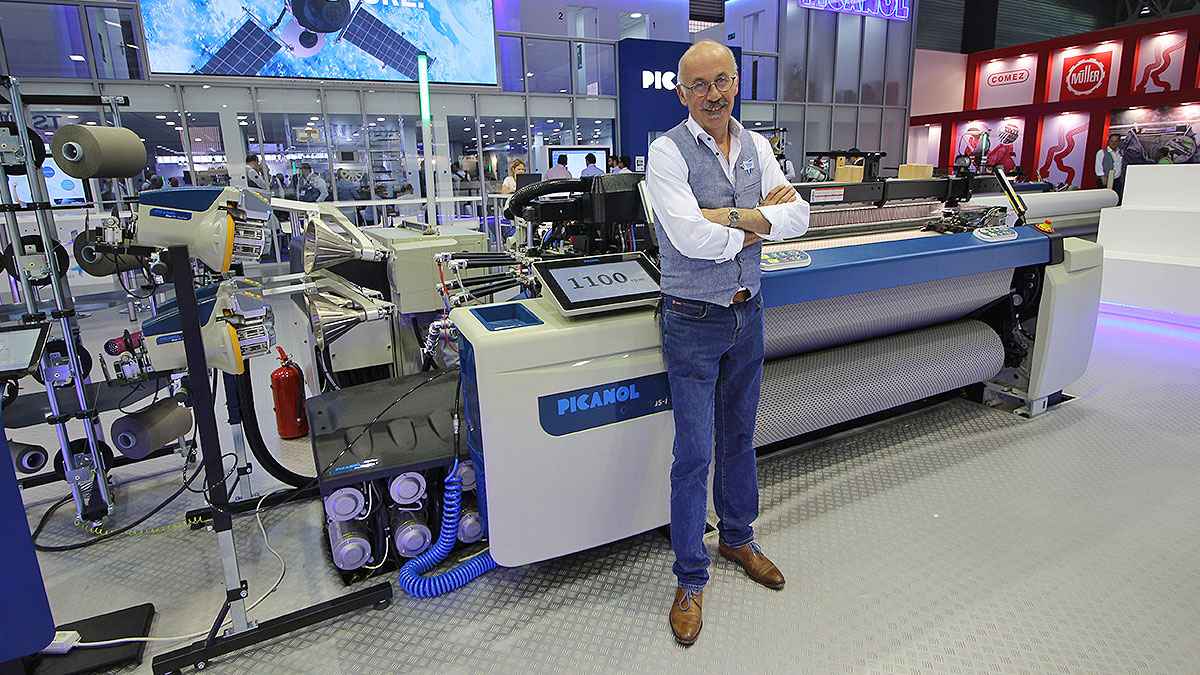 Picanol draws attention to digital developments in weaving at ITMA 2019. Rapier and airjet weaving technologies expert Picanol exhibited 12 machines at ITMA Barcelona in June 20 to 26 and was among the most interesting exhibitors of the fair. The Picanol booth in Hall 4 featured 5 new airjet weaving machines and 5 rapier machines. In addition, a rapier machine for jacquard applications was displayed at Bonas booth while a terry airjet weaving machine was displayed at Staubli booth.
The machines that Picanol presented to the textile industry at ITMA are listed as follows; OmniPlus-i-4-D-190 (weaving a Car Seat fabric), OmniPlus-i4-R-190 (weaving a parachute fabric), OmniPlus-i-4-P-280 (weaving Sheeting), OmniPlus-i-4- D-190 (weaving Poplin), OmniPlus-i-4-P-190 (weaving Bottom Weight), OptiMax-i-4-R-220 (weaving Denim), OptiMax-i-4-R- 460 (weaving a coating fabric), Optimax-i-4-P-540 (weaving Ground Backing), OptiMax-i-12-J-190 (weaving upholstery), TerryMax-i-8-J-260 (weaving Terry). TERRYplus Summum 8-J-260 for terry weaving at Staubli booth and OptiMax-i S-J-190 for decoration fabrics were displayed at Bonas booth. During the fair, ITMA visitors had the opportunity to examine these developments in Picanol weaving machines closely and get information.
Picanol draws attention to digital developments in weaving at ITMA 2019: new OmniPlus-i stands out as the favourite of the Picanol booth
Having sold more than 100,000 airjiet machines to date, Picanol has launched the new OmniPlus airjet weaving machine at ITMA thanks to their extensive experience in this field. Taking the development of digital technologies to the weaving segment, Picanol developed OmniPlus-i based on four basic principles; smart performance, sustainability inside, driven by data and intuitive control.
OmniPlus-i is featuring a redesigned reed motion, optimized relay nozzle set up. The full electronic controlled shedding motion SmartShed also finds a place in this machine, which is establishing e new reference point in airjet weaving.
Picanol draws attention to digital developments in weaving at ITMA 2019: digitalization opportunities in denim weaving
Picanol participated at ITMA 2019 with several innovations including innovations in rapier weaving as well as airjet weaving. The impact of the Industry 4.0 wave is particularly visible in insertion systems. OptiMax-i has a fully digitalized weft system in denim weaving. Thanks to the integrated concept, all settings can be accessed from the central microprocessor.
Digital management starts right from the prewinders equipped with a tension display (TED). Having a digital setting of the brake on the prewinder not only gives you a tension which is reproducible in the future, but also allows you to manage possible differences between prewinders in a much easier way. The filling tension during insertion can be electronically controlled with the programmable filling tensioner TEC to eliminate possible tension peaks. Concepts such as QuickStep filling presenter, Electronic Right Gripper Opener (ERGO) and EcoFill are also included in digital process management.
Picanol has been working on Industry 4.0 and Digitalization for a long time
Picanol Marketing Communications Manager Erwin Devloo told Textilegence that they are very pleased to attend ITMA 2019 and with the results. Devloo; "The fair was really well organized with people from all over the world. Of course, some countries were better represented both in terms of visitor numbers and visitor quality. I can say that Turkey is among those countries. Pakistan and India were also represented with a high number of visitors".
Pointing out that Industry 4.0 has become the most popular term, Erwin Devloo said Picanol has been working on this for a long time. Stating that Picanol weaving machines are performing the process with the data provided by Industry 4.0 and digitalization, Devloo said; "For example, our new OmniPlus-i machine is truly driven by data. In this machine we have a system that captures the arrival time of the yarn and this affects the efficiency very much, because we can see if we can reduce the air pressure. Air means cost. All data from the machine is used in real time. This means lower production costs, stability in weaving quality and high productivity.
Stating that Picanol machines stand out with their versatility, Devloo expressed that the power of weaving different types of fabrics is a current demand from textile manufacturers. Devloo noted that sustainability has become a sine qua non for all machines, and said that for example by optimizing the weft loop they have been able to reduce energy consumption. Devloo; "With digitalization, less air consumption is achieved at the same speed. In addition, the amount of waste at the edges of the fabric has been significantly reduced. Considering the decrease in energy consumption, we can see complete sustainability". Devloo said that users don't have to know every program, so they work to make their machines intuitive.
Turkish market maintains its importance
Saying that Turkey is always a very important market for them; Erwin Devloo noted that Turkish businessman worked their way as best as they can despite the economic/financial problems and uncertainty occurring in Turkey. Explaining that they both held important meetings and signed new agreements throughout the exhibition; Devloo told that they considered the Turkish market for the long term not the short term. Devloo ended his words as follows; "Turkey is one of the three largest market for us. This is why we have our own corporate existence in Turkey. This is unique for Picanol. We are just a phone call away from our customers".