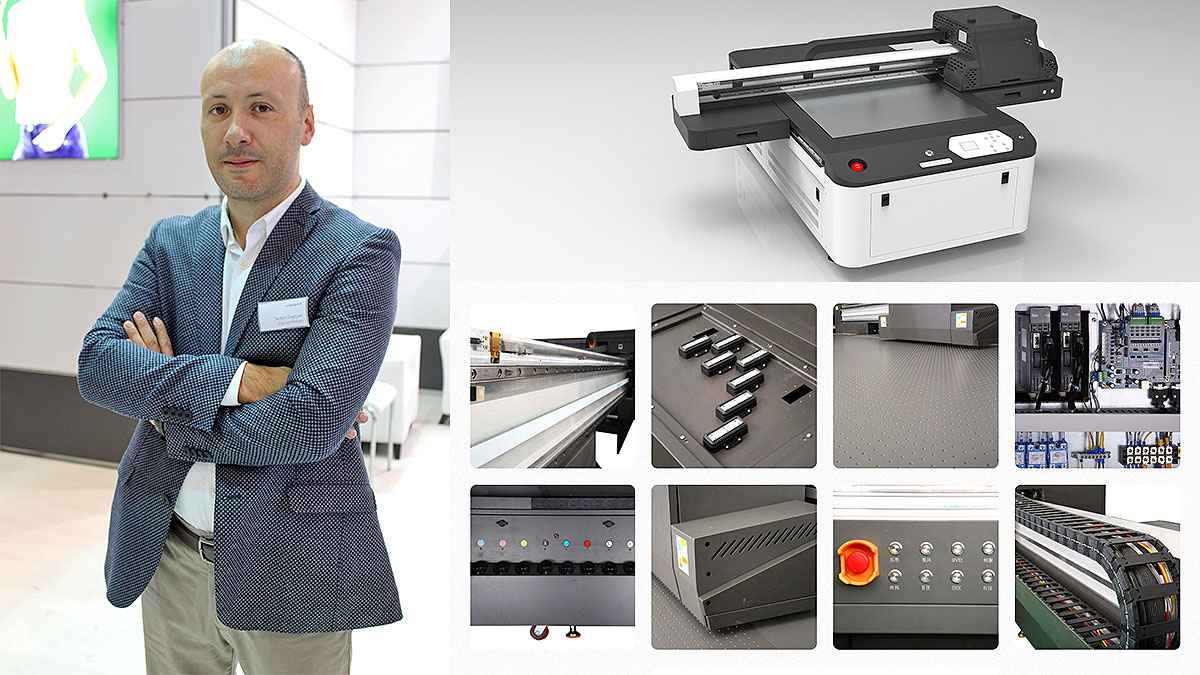 Pigment Reklam at FESPA Eurasia 2019. Pigment Reklam, the reliable technology partner of the digital printing industry, will be exhibiting their UV and eco solvent printer and new solutions at FESPA Eurasia 2019 from 5 to 8 December. At the Eurasia's most important printing and signage show taking place in IFM, Pigment Reklam's booth number B50 in Hall 10 will feature advanced printing solutions from the Plamac brand. Visitors to FESPA Eurasia 2019 will be able to see Morpho 2513, MU6090, Pegasus 3200 and LJ 320SG printer models at the exhibition.
Pigment Reklam company owner Serkan Çağlıyan stated that more flexible solutions attracted attention due to increasing costs and differentiating customer demands in the digital printing and signage industry and emphasized that as Pigment Reklam they take these customer demands into consideration. Çağlıyan; "At FESPA Eurasia, we will exhibit our Plamac branded printers developed for different application purposes. We will show that these solutions offer high speed and high quality altogether and have reliable and stable working performance".
FESPA Eurasia is an important platform
Reminding that they participated in FESPA Eurasia every year, Çağlıyan said that the show is an important platform for meeting the manufacturers and professionals in the region. Çağlıyan continued his words as follows; "At the show, we aim to meet with those who really need professional service and seek industrial solutions. We created our stand concept accordingly. Our machines will be fully visible to visitors and will be visible to the smallest detail. We will explain the advantages of these solutions that combine investment and production advantages. Our team of experts will be ready to provide complete and comprehensive answers to all of our visitors' questions on both machines and applications".
Stating that the shows now have a weaker power in terms of creating business volume, Çağlıyan said that they are still indispensable for meeting current and potential customers and talking about investments. Çağlıyan; "We are one of the most important suppliers of Turkish printing industry in UV printing. This autumn we added a new UV model to our product range for promotional/gift and sample printing. At FESPA Eurasia 2019, we aim to meet not only the Turkish printing industry, but also investors from Eurasia and Arab countries. With our product range and technical team, we made plans for the new period in the growth process. 2020 will be an important year for us in this sense".
Pigment Reklam at FESPA Eurasia 2019: complete solution for wide format printing and promotional printing
Morpho 2513 UV flatbed printer, which has reached significant sales figures since its introduction to the Turkish printing industry, guarantees reliable process with its high precision platform structure. With a print size of 250 x 130 cm, the model is equipped with 4 to 9 industrial Ricoh Gen5 print heads. Printing on par with photo quality (1200 dpi) with a droplet size of 7 to 21 picoliters, Morpho 2513 is available in three varnish applications and three-layer printing capacity. CMYK + Lc + Lm + White/Varnish printing strength results with quality on many different media such as acrylic, wood, glass, ceramic, metal, leather, PVC, industrial film etc.
Pigment Reklam's latest innovation in the Turkish printing industry MU6090 intelligent UV flatbed printer; has the features sought by professionals in the promotion and gift business. The MU6090, which also responds to sample printing demands; meets personalization demands for dozens of different products with a print size of 60 – 90 cm. Printing CMYK Lc + Lm + W + V prints; the model produces prints with resolution up to 1200 dpi with its rising and lowering platform structure. Dozens of materials such as PVC, acrylic, tile, glass, metal, mobile phone cases, cardboard boxes and bottles; can become personalized products with the MU6090.
The roll to roll business weight is quite high in the signage industry. The Pegasus 3200 LED UV Roll to Roll printer truly represents industrial strength. Providing a print resolution of up to 1200 dpi with 4 to 9 Ricoh Gen5 industrial print heads; the Pegasus 3200 is equipped with 7 to 21 picoliter grayscale printing technology. Having the standard CMYK + Lc + Lm + White + Varnish power, the printer offers 86 square meters of production power per hour.
Roll to roll eco solvent print
The Starfire LJ 320SG roll to roll eco solvent printer; which will be exhibited at the Pigment Reklam booth, is ideal for several applications; especially in outdoors with a width of 3.2m. Equipped with 2 to 4 Starfire print heads, the model can work with solvent, eco solvent and mild-solvent ink types. Starfire LJ 320SG, loaded with 5 lt paint cartridges; provides easy and fast operation with its powerful heating and drying system and platform structure. In addition, the independent ink cleaning system is both maintenance-friendly and eliminates ink waste.
In addition to Plamac solutions which will be exhibited at FESPA Eurasia 2019 at Pigment Reklam booth; detailed information about the company's world-famous swissQprint models and other solutions will be provided. Pigment Reklam invites visitors to their booth in Hall 10 B50 for solutions that offer investment advantage.
You can learn more about Pigment Reklam's rich product range and services from the official website; http://pigmentreklam.com.tr/