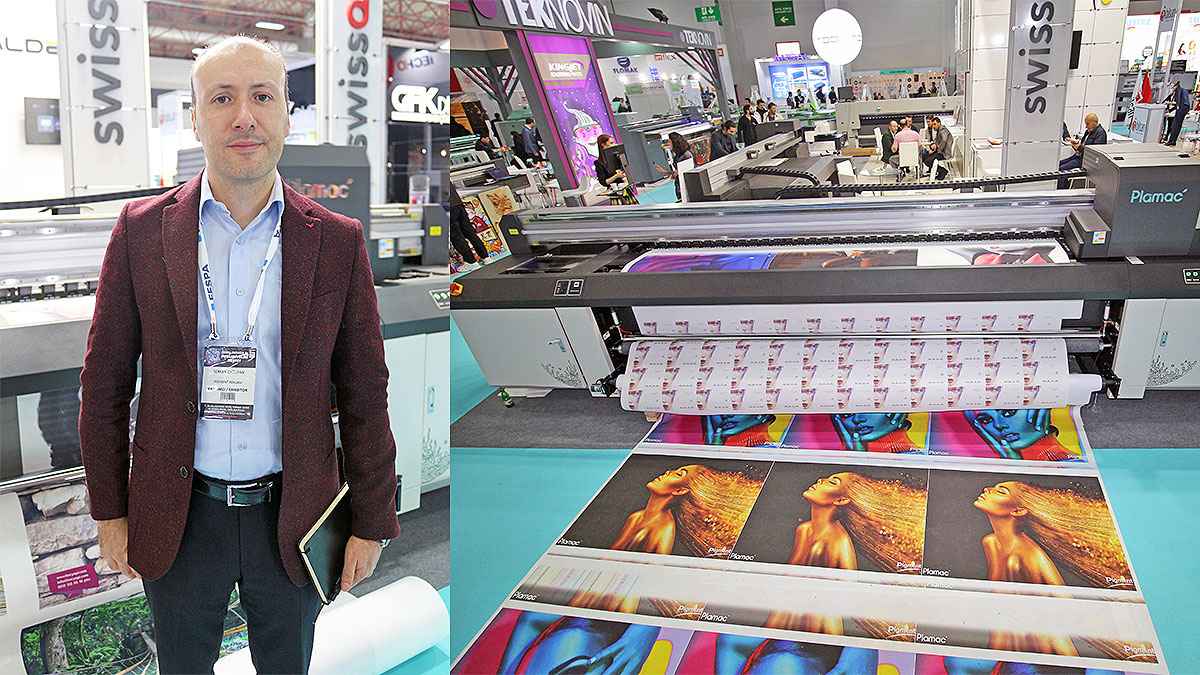 Pigment Reklam has become the centre of attention of visitors with UV printing solutions at FESPA Eurasia 2019 that took place at December 5-8. The company exhibited Pegasus 3200 UV roll to roll printer, MU6090 smart UV flatbed printer, Morpho 2513 UV Flatbed printer and LJ3200SG roll to roll eco solvent printer of Plamac brand, while making important sales agreements and also providing information to industry professionals about their new solutions.
Pigment Reklam company owner Serkan Çağlıyan said that the show was very fruitful for them; "As it was the last important fair of 2019, in preparation we had serious expectations for FESPA Eurasia. The customer meetings we held at Sign Istanbul 2019, which we participated in September, were resolved at FESPA Eurasia 2019. We have seen that FESPA Eurasia visitors were completely focused on machine investment and 2020 works. Therefore, we had a fair where investment decisions were made and agreements were signed".
Increasing demand for Pigment Reklam UV printing solutions
Serkan Çağlıyan emphasized that Plamac branded UV and eco-solvent printers were displayed during operation and that the visitors could see the performance of the machines and have a clear idea about the printed samples and applications. Noting that there is an increasing demand for UV printing solutions both in the market and among the visitors of the fair, Çağlıyan reminded that they have solutions that appeal to entry, middle and industrial manufacturers;
"Our Pegasus 3200 UV roll to roll printer has become a prominent product in our booth with its capacity to print on wallpaper and fabric. In addition to this sale, we also sold a Morpho 2513 UV Flatbed printer for promotion and gift industry. In addition to these two sales, we have 4-5 meetings where the final decision will be made after the fair. Also, our MU6090 smart UV flatbed printer for promotion and gift industry has attracted attention. Our LJ3200SG roll to roll eco solvent printer has proven to be an ideal solution for the signage industry".
Meeting professionals from the industrial printing houses, signage industry and promotional gift manufacturers at the fair, Pigment Reklam company owner Çağlıyan stated that there is an increase in demand in the leather industry regarding UV printing. Çağlıyan; "We expect these talks to be realized in 2020. We expect an increase in sales with both Plamac and swissQprint brands. In 2020 we will also introduce a new textile printer to the market. 2020 will be a year in which we continue to grow in terms of the market".
Çağlıyan stated that in FESPA Eurasia 2019, they showed their stance in the industry beyond just exhibiting machinery and added that high-value-added products can be produced with more stable machines. Çağlıyan; "For us, the companies we work with are references. The companies where our machines are installed and serve are essential elements for introducing the machine in the market. Our machines that work properly at our customers, maintain quality and do not need service are now talking for themselves and presenting themselves".
We expect growth in the market in 2020
Evaluating the digital printing market, Pigment Reklam company owner Serkan Çağlıyan said that investment slowdowns were experienced in the market in 2018 and 2019. "Due to the economic developments, the print manufacturers have been more cautious and slow in their investment decisions," said Çağlıyan. "This brought depreciation together in installed technologies. Investment demand for new technologies has started to make itself felt in the second half of 2019. Even in the last 3-4 months, signs of recovery in investments have started to be taken as strong. Both the balance in exchange rate and the decrease in bank interest rates will be effective in investments. These positive developments in investment make us more hopeful as solution providers".
New UV inks allow new possibilities
Serkan Çağlıyan stated that they, as Pigment Reklam, also offer innovative UV inks to the printing industry and said that these GREENGUARD Gold certified inks are able to produce prints that were previously impossible. Çağlıyan expressed the following; "Prints that were previously available with latex and water-based inks can now be realized with these superior UV inks from the company. Because it has the same class of certificates. With their evolving features, UV inks now appeal to a wider area. Their odourless properties make them ideal for interior print applications. It does not contain any substances harmful to children and human health. These inks can be used in the toy industry. In addition, our inks have special certificates for export. In other words, jobs done with these inks can be exported. Export means new market opportunities".
You can learn more about Pigment Reklam's rich product range and services from the official website.