FESPA Eurasia 2016 visitors had the chance to observe swissQprint and HandTop digital printing machines as well as bullmer's digital cutting model closely at Pigment Reklam booth. Pigment Reklam kept its promise to provide plus one to the sector.
A digital UV printing solutions specialist, Pigment Reklam not only presented its rich product range, but also strengthened its collaboration with digital printing, outdoor advertising and related sectors at FESPA Eurasia 2016.  Taking place at Hall 2 C50 at the fair, swissQprint's Nyala 2 printing machine, bullmer's PREMIUMCUT 141 digital cutting mode and a UV printing machine from HandTop GEN5 Series were presented while operating.
Making evaluations about the attendancy to the fair and sector, Pigment Reklam company owner Serkan Çağlıyan stated that as the last event of 2016, FESPA Eurasia reflected all the impacts of the year. Çağlıyan continued thusly; "2016 year will be remembered as a very challenging year by our country and our sector. Increasing terrorist attacks, 15th of July coup attempt and foreign-sourced financial difficulties affected every person living in this country very deeply. Thereby, both the exhibitors and the visitors of the fair took their places at the fair despite of these unpelasant incidents. This really shows that the sector is very strong." Talking about the meeting with sector representatives at the fair, Çağlıyan quoted that investors were waiting macro financial system to become stable again.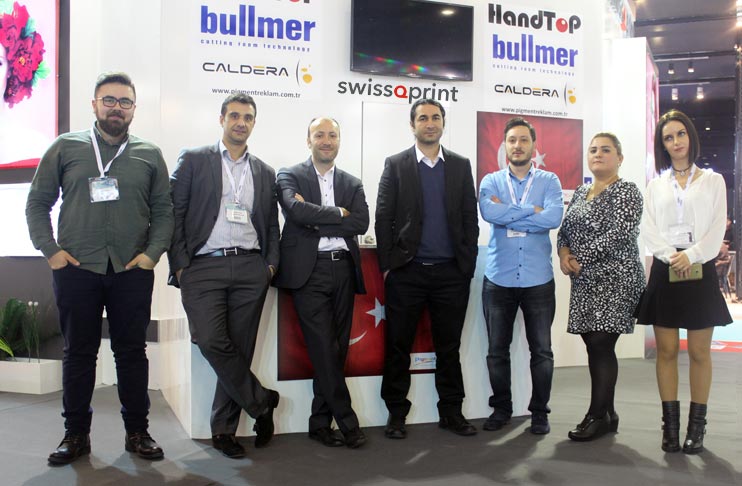 Sector Demands +1
Reminding that droptix 3d effect application presented for the first time at FESPA Eurasia last year, received great interest, Serkan Çağlıyan indicating similar applications were repeated by many companies at this year's show, said that they enjoyed being a leader in this field. Drawing attention to the fact that digital printing, signage, advertising, outdoor advertising and all the related fields are searching for innovation all the time, Çağlıyan remarked that the sector always demands for plus one (+1) feature. Çağlıyan stated as such;
"While technological developments were depicted with decades in the past, they went down to five years. In the past, you would have to wait for a very long time to see an new printing method. But now, there is a 'continuous innovation' demand. Innovation in production technologies is developing continuously with the end user's demand. The customer now wants plus one (+1) of whatever there is. This is occured in digital printing market; from machine parts to print head, dyes to softwares. Our swissQprint brand's solutions that prove themselves very quickly, strengthened the confidence for UV printing solutions. With its second generation models Nyala 2, Impala 2 and Oryx 2, it provides value-added manufacturing opportunity without sacrificing quality to all segments from beginning to industrial level. On the other hand, in our bullmer PREMIUMCUT series possessing 3,4m working width, you can cut carpet, composite, technical textiles, upholstery, PVC and all advertising materials at the highest speed and precision. So, it's an investment that can cut everything. Our other brand for which we provide sales and technical service, HandTop meets the needs of professionals wishing to enter UV print market but can't reserve a high budget for it; on top of that it doesn't sacrifice quality. All of our solutions answers the market's demand for +1 ."
Stating that new demands are yet to come in near future in addition to sector's print quality, print speed, high efficiency, energy and eco-friendly technology demands, Serkan Çağlıyan ended his words thusly; "As we have seen at FESPA Eurasia fair, businesses desire to cut down their costs. Profound systems are adopted. This process which is a part of Industry 4.0 brought to life in many spots in Europe, also constitutes one of our focal points. Solutions that provides automation in digital printing and minimizing the need for staff, will meet Turkish market very soon. We are already getting prepared for presenting our new concepts to the sector at the next FESPA Eurasia fair now."