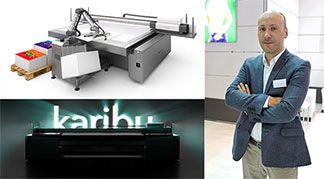 Pigment Reklam, the reliable technology supply partner of the Turkish printing and advertising industry in UV printing technologies, will be by the side of their prestigious main brand, swissQprint, at FESPA Global Expo 2019, which will be held in Munich on 14-17 May 2019. New developments in the 3rd generation flatbed printing models will be exhibited while the brand's first roll to roll UV printing machine Karibu will be launched at the swissQprint booth in Hall A5 booth H30.
Stating that FESPA 2019 has a great importance for themselves and the industry, Pigment Reklam Company Owner Serkan Çağlıyan noted that a turning point will be experienced for swissQprint. Çağlıyan; "swissQprint has been the focus of the show last year with the 3rd generation of their UV flatbed models. Developments in these product groups can be seen at this year's show. For example, how efficient and successful the Impala 3 and the robotic arm Rob works will be shown with sample prints. But the main emphasis will be on the first roll to roll printer Karibu. Karibu is the latest development to complete the product range for the UV printing market".
Pigment Reklam FESPA Global Expo 2019 with swissQprint: Karibu has been developed based on 20 years of experience
Pointing out to Karibu's typical swissQprint features such as precision, reliability, longevity, Çağlıyan said that the launch will be the most remembered event after FESPA 2019. "Karibu, a roll to roll innovation that combines efficiency and quality, is based on the company's 20 years of experience in this area," said Çağlıyan, summarizing the main features of the new machine;
"Important features of Karibu are kept as a secret until the world premiere. However, remarkable details were shared with the industry. For example, it has easy roll handling. With the Karibu cassette system which increases the efficiency, reliability and precision, the rolls are placed and ready for printing. Instant, real-time appearance on the application of backlit printing provides optimum production and minimum loss.
Thanks to the precisely adjustable Tip Switch Vacuum system, improved media control is achieved effortlessly. Each segment is replaced just by a touch. Karibu inks developed for all roll to roll printing have Greenguard Gold certification. That means they can be used safely wherever people are located, including schools and health facilities. Time-saving and cleaning-free mesh printing can also be done with Karibu".
3rd generation models are offering new opportunities to users
Serkan Çağlıyan said that they will take care of the visitors during FESPA Global Expo 2019 and they will share important information about both their current products and the newly launched Karibu.
swissQprint takes productivity and print quality one step further with 3rd generation UV flatbed printing models. All models with different print sizes and speeds have swissQprint's high engineering quality and reliability. Developed in response to the diversity of the user profile; these models offer customers new market opportunities with high flexibility and customizable features;
In addition to the entry level Oryx 3 (2.5x2m flatbed, 65 m2/h print power), middle segment Impala 3 (2.5x2m flatbed, 180m2/h print power); and Nyala 3 for industrial printing work (3.2×2 m flatbed, 206m2/s print power); Impala 3S (2.5x2m flatbed, 317m2/s print power) and Nyala 3S (3.2x2m flatbed, 370m2/s print power) models have also been added to the series.
Nyala is the most sold model for the 4th time
The Nyala model also continues its success in the European market. According to Infosource, a Swiss market research institute; the Nyala brand became the best-selling model in Europe for the 4th consecutive year in its segment. Nyala to achieve the success 4 times consecutively was a motivating development; both for swissQprint and their Turkish representative Pigment Reklam.
Learn more about Pigment Reklam's rich range of products and services on their official website; http://pigmentreklam.com.tr/