As the textile sector leaves behind the great global meeting at ITMA 2023, Konica Minolta, one of the leading digital textile printing technology providers, imprinted on the memories with its cutting-edge innovations. In an exclusive interview, Konica Minolta Director of Sales IJ Textile Gianluca Macchi shared insights into their revolutionary solutions to reshape the future of textiles, offering possibilities for a new era of efficiency and sustainability.
Gianluca Macchi said that it was very nice to be at the first ITMA exhibition after the pandemic period and they experienced a great atmosphere that exceeded their expectations. He said that the quality of the customer they welcomed is so high compared to the last ITMA and pointed out that they are really looking for new technology and want to really change their way to work. Stating that they have seen some changes in terms of requests, Macchi disclosed: "The request now is not only a simple machine, but also something related to the full process. Before, people were only looking for increasing productivity. Now it is not only productivity but quality and sustainability." He added that there is another essential difference in the European and especially the Italian market, noting that it is very active and ready to start probably because the high fashion segment is now one of the most demanding.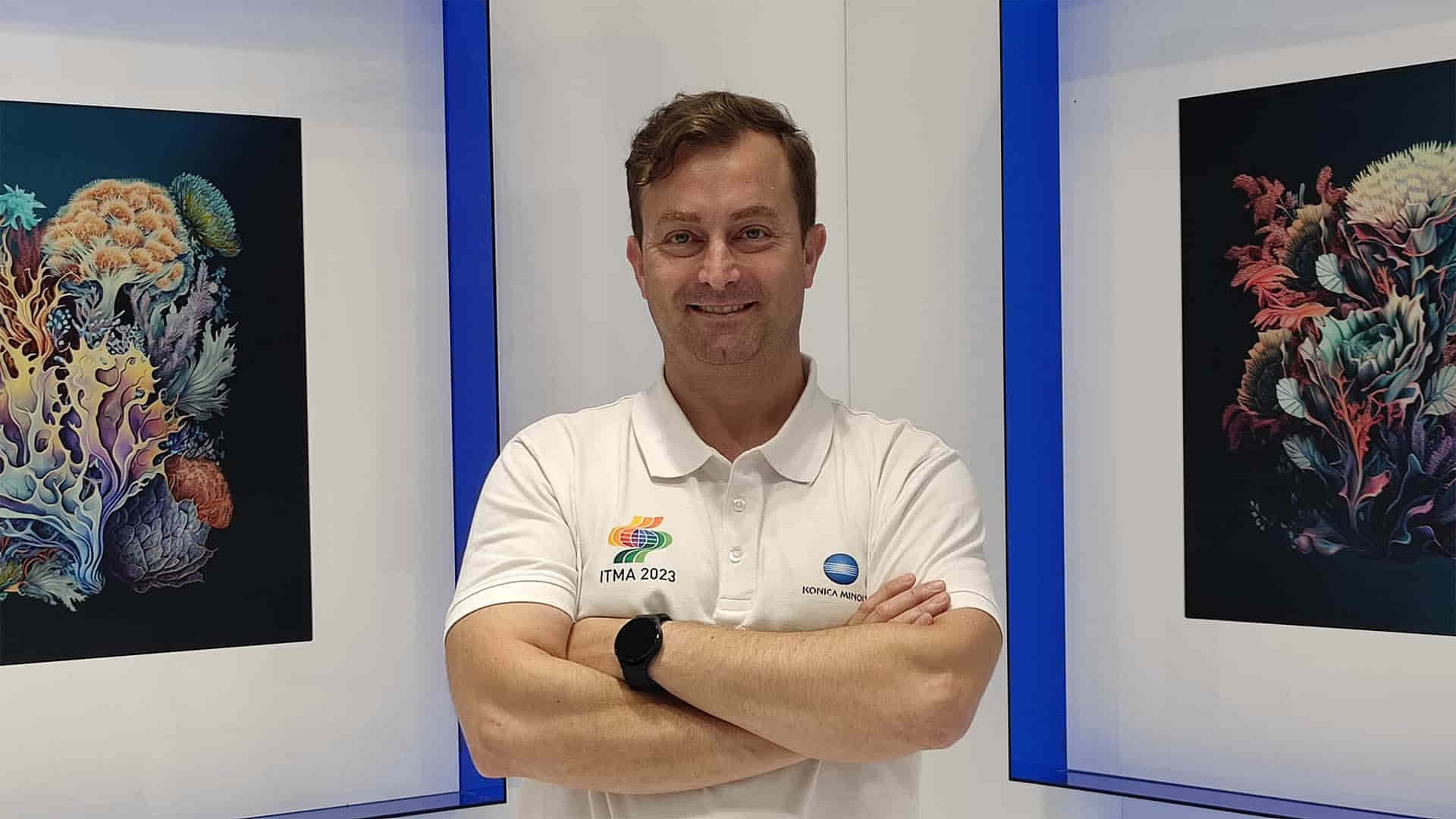 Konica Minolta's first sublimation printer: AccurioTex 700
Gianluca Macchi, mentioning the solutions they exhibit at ITMA 2023, expressed that AccurioTex 700, Konica Minolta's first sublimation printer, is one of the technologies standing out at their booth. Saying that they are the last one to launch their sublimation printer and explained their advantages in this term as follows: "We have been able to analyse and study all the solutions in the market and the demand in detail and therefore we have provided in this machine which is made with the same printheads of the direct printing machine. So, it has exactly the same advanced technology. AccurioTex 700, at the moment, we tested up to 200 square meters per hour and is equipped with 16 Konica Minolta 1024 nozzle printheads." He added that their printing machines are equipped with full of Konica Minolta technologies and it gives trust to their customers.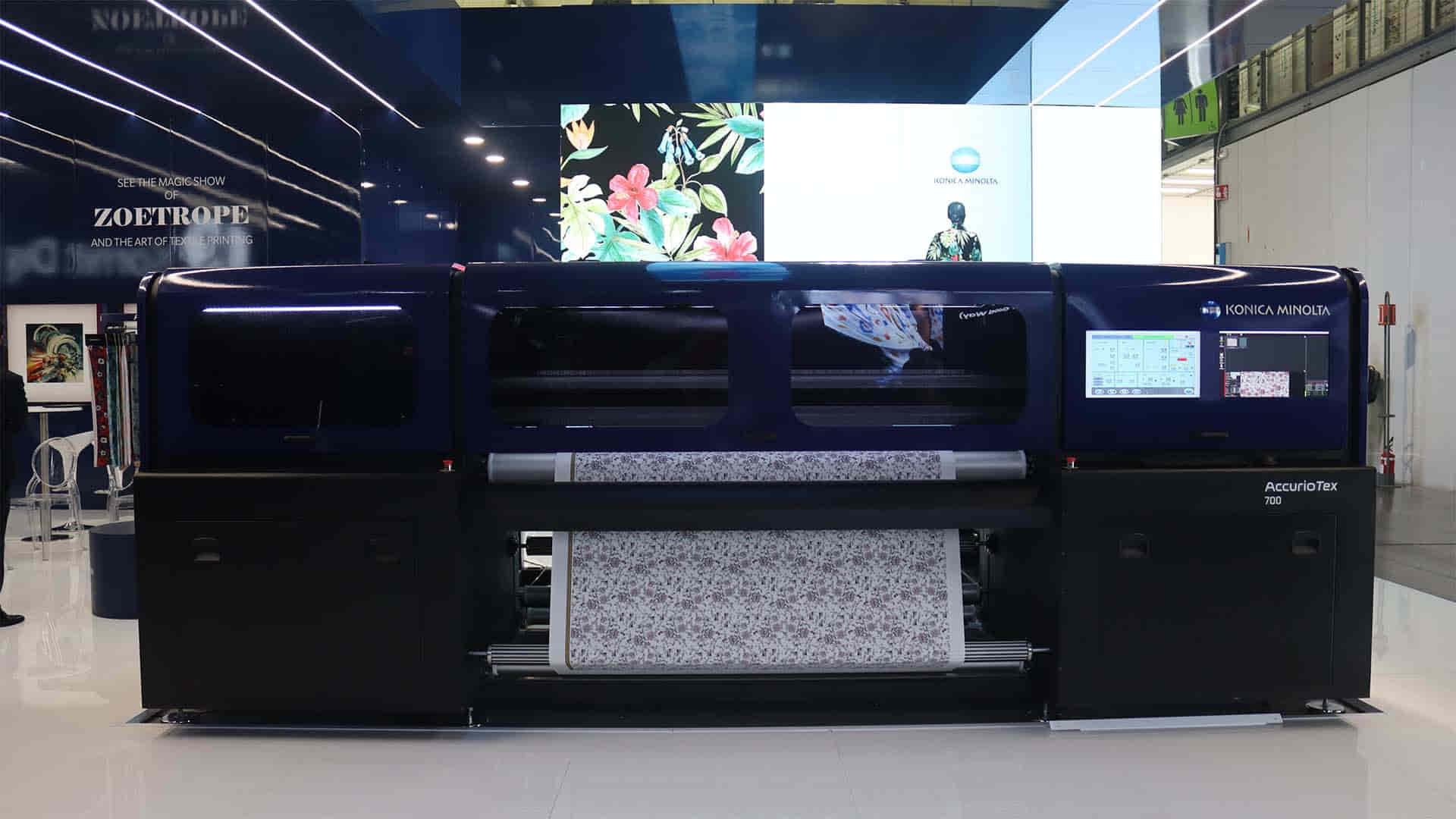 "ViROBE is truly the world's most sustainable ink"
Gianluca Macchi explained that another important solution they exhibited at their booth is a unique type of ink, ViROBE studied, developed and patented by Konica Minolta. Saying: "ViROBE is a new totally concept and a new ink which we like to call dry process. This non-pigment ink will help to shorten the process including preparation, printing, and drying. The most important difference is the touch, the brightness and the solidity. Because pigment is all right when you print but then you have certain limits, especially for what is concerning their hand feel, the solidity and the fastness. ViROBE ink can be used on polyester, polyester and rayon blend, recycled polyester, polyester and cotton blend, and 100% cotton, and it is totally feeling like direct printing." He stated that they are in the process of getting the necessary certificates and added since this ink also contains a special formula, it will be for sure the most sustainable chemical product in the world."
In addition, he noted that they have also offered in-line pretreatment ink, which is used on cotton fibre at the moment, saying thanks to this, you can skip pretreatment and directly integrate it into the printing process.
Macchi stated that this solution accelerates the delivery and provides a shorter process and has also advantages in terms of sustainability. He relayed that in-line pretreatment ink reduces waste and water consumption and saves costs in energy, chemical and material waste.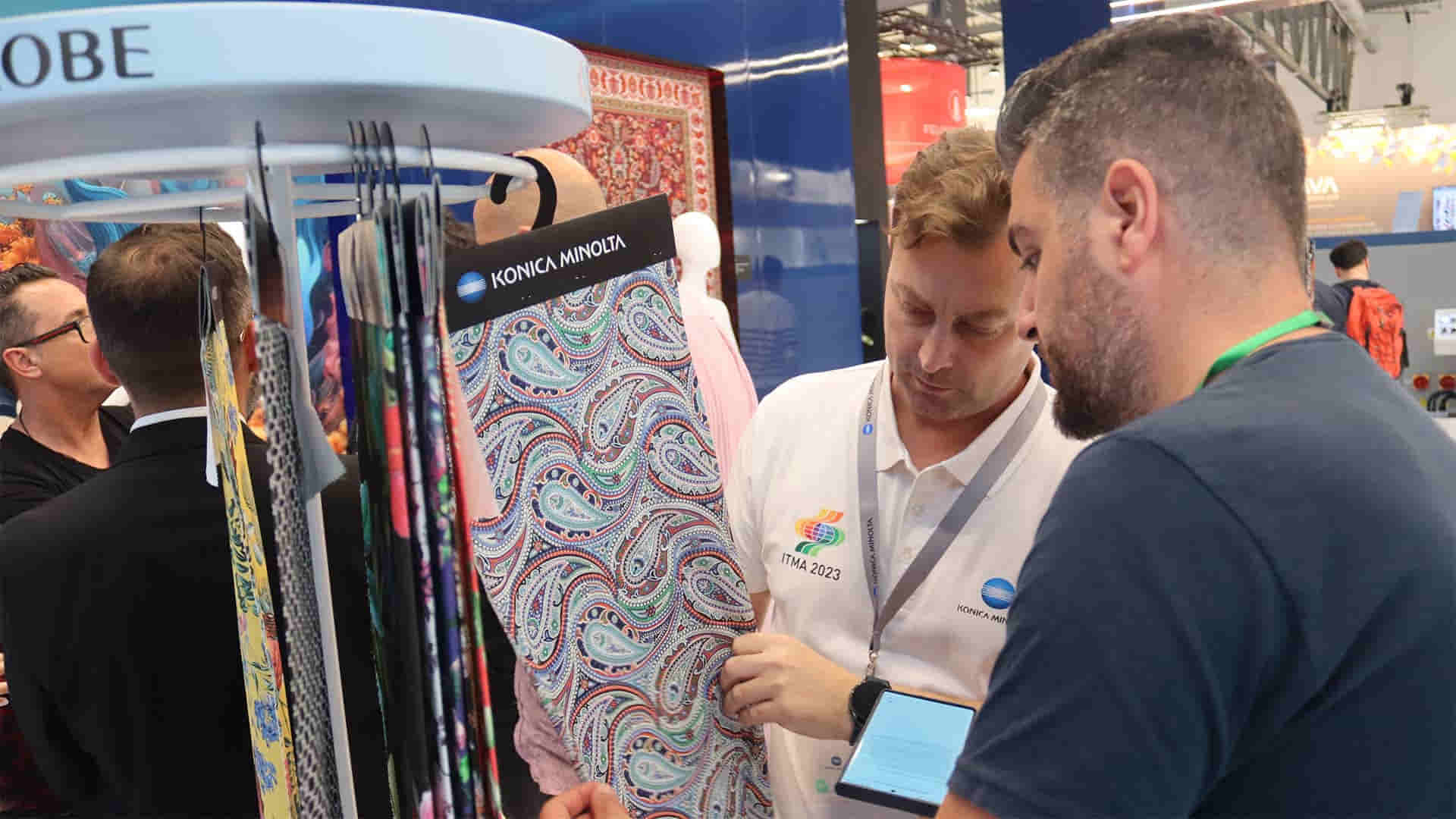 Konica Minolta ended ITMA 2023 with lots of sales agreements
Gianluca Macchi said that they are also pleased with the exhibition in terms of machinery sales. He stated that they sold a machine for polyester to their new customer Ersa from Türkiye and it will be installed in July. Stating that apart from Turkey, they had repeated orders from their existing customers, Macchi said: "We sold a new machine to Sara Ink and we are going to develop with them a stronger partnership also in terms of R&D development Nassenger-8." He added that especially, their partners choose Konica Minolta, as they provide reliable printheads with longer life, to not face a big problem with their printheads.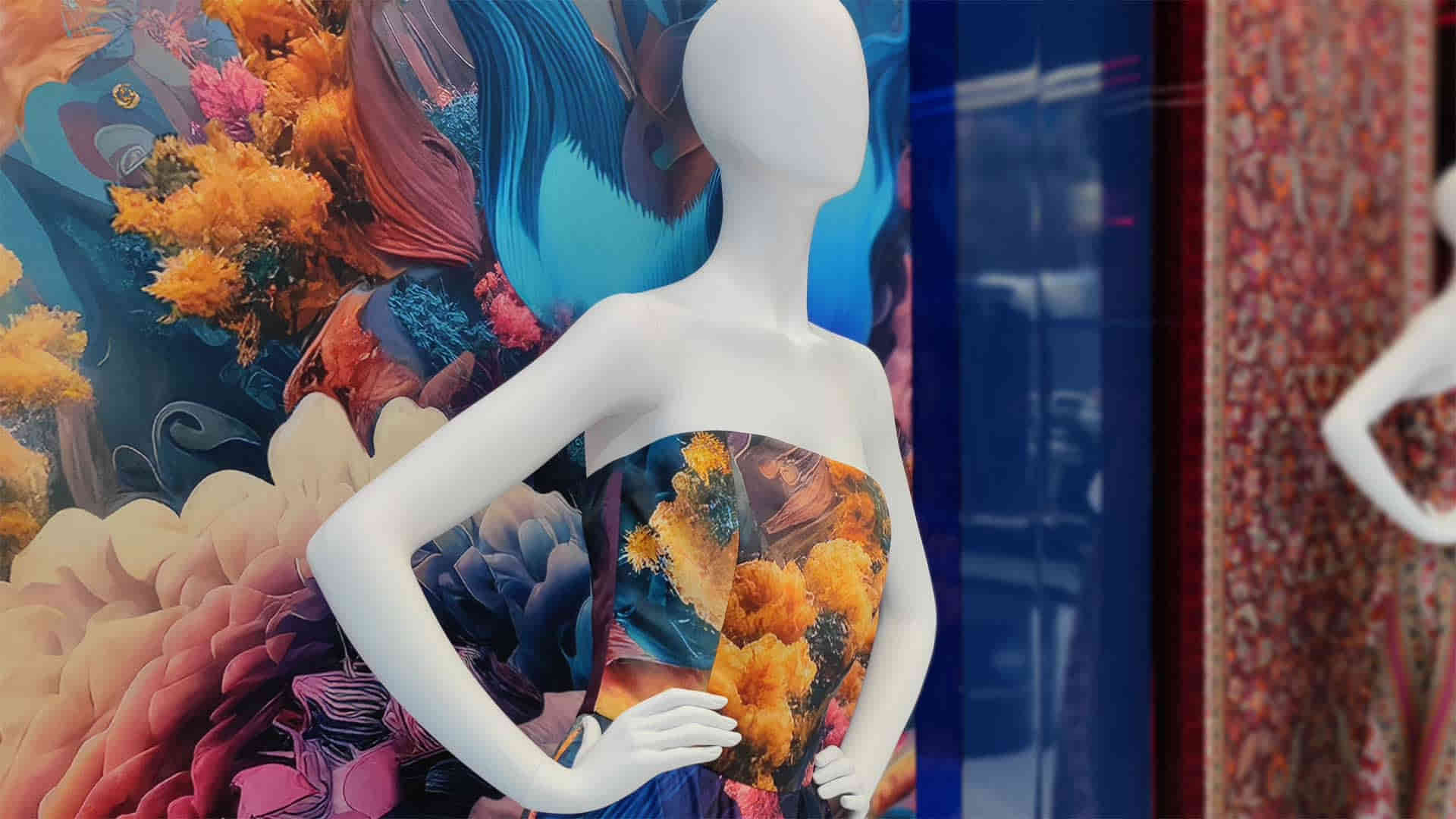 "The new fashion proposal will be with a printed solution"
Gianluca Macchi, evaluating the fashion industry, said that he sees slowness in the market. He disclosed: "The market is not very good, not meaning in picking orders, but people are looking around and using this calm in order to study research or work to be ready when the big load will come again. This year, the winter season has jumped from the printing point of view, because fashion has been pushing for dye and normally in the textile, this is what is happening. It is the cycle, when the printing sector is not going very well, it is because the dyeing is going fantastically and after that, when the fashion industry will bring again news of how they can change it from dying full darker full-colour clothes to something new, they must put flower drawing and something on it. So, the new fashion proposal will be with a printed solution." He added that in this context Türkiye is also an important market and he hopes that the Turkish market will start again very soon.
Konica Minolta also welcomed the editors of leading industry publications from the global market at its booth on the 5th day of the exhibition. Konica Minolta Business Solutions Italia SpA Assistant Manager Takahiro Tanno and IT – Chief Researcher Katsuya Motohashi shared detailed information about the innovations and advantages they provide in digital printing with the media during their presentations and answer the questions.