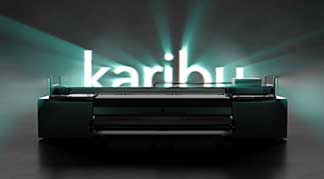 swissQprint Karibu ready to be presented! Flatbed UV printing technology specialist swissQprint is preparing to present their first roll to roll UV printer at FESPA Global Expo 2019. The new model will both expand the company's product range and be a real alternative to respond to market demands.
swissQprint, offering technological solutions for UV printing, and represented in Turkey by Pigment Reklam, continues their innovations. The brand participates in FESPA Global Expo every year with innovations and improvements that will affect the market, and they will experience an important milestone in this year's exhibition. swissQprint will premiere Karibu, the first roll to roll UV printer at Salon A5 Stand H30, from 14 to 17 May 2019 at FESPA Global.
swissQprint has become a well-known brand in flatbed printing so far with Oryx, Impala and Nyala models that appeal to different production volumes and markets, and is expanding their product range with the first roll to roll printer Karibu. "Another major milestone is on the horizon," said Reto Eicher, CEO of swissQprint, and he underlined that swissQprint's first roll to roll printer with unique features will be introduced at FESPA Global Expo 2019. Eicher said; "Our aim with this printer is to meet current trends and give users an efficient working tool".
swissQprint Karibu unique production power in roll to roll printing
swissQprint will announce the technical details of Karibu; which will offer many new features to both market and users at FESPA. Certainly, however, Karibu, which has a unique production power in printing several different flexible media; will complete the current 3rd generation flatbed product range. This step will enable professionals to print both hard and flexible materials on a single source, and will bring many businesses the advantage of cost, efficiency and profitability.
For more than a decade, swissQprint has become a pioneering technology brand in the digital printing and advertising industry; with high-quality flatbed printing solutions and they attract attention in the market thank to their solid Swiss engineering. The solutions offered to the market; besides the basic needs such as precision, reliability and durability; with ergonomic and compact designs and user-friendly features increase performance, make working easier. The three-generation development and success of Oryx, Impala, and Nyala will certainly be achieved for Karibu as well. In addition to having the same features and capacity as other large format printers on the market; Karibu will also have several options with swissQprint's experience in flatbed printing.
Don't forget to visit swissQprint stand at FESPA Global Expo 2019; to see what's new in flatbed and roll to roll printing. Throughout the fair, Pigment Reklam officials will be taking part in the stand and will take care of the visitors.
Learn more about Pigment Reklam's rich range of products and services on their official website; http://pigmentreklam.com.tr/