Textile orders move to Turkey due to coronavirus outbreak. Serious changes may occur in global markets due to the Coronavirus outbreak that started and spread rapidly in December in Wuan, China. Many brands and retail companies supplying from the biggest production power of the global textile industry China have reshaped the supply process due to the coronavirus. Coronavirus concern has affected important regional textile producer countries such as Pakistan and Bangladesh alongside China. While purchasing offices do not travel to China, production has come to a halt in many companies in China. Therefore, the outbreak seriously affected both the Chinese economy and the global supply chain. Textile and ready-to-wear sectors where collection-based and uninterrupted product flow is required are among the first sectors affected by this process.
Therefore, Turkey stands out among manufacturers especially with its proximity to the European market, fast delivery and flexible production alternatives. Reuters reported that officials in the ready-to-wear industry are waiting to receive additional orders of 2 billion dollars. Polish ready-to-wear retail brand LPP started negotiations to ensure supply from Turkey, Bangladesh and Vietnam as a backup plan, in case of production delays continue in China.
Textile orders move to Turkey due to coronavirus outbreak: orders alter course for Turkey
In a statement to Reuters, Turkish Clothing Manufacturers' Association (TGSD) President Hadi Karasu said the purchasing managers and designers would not go to China due to coronaviruses concerns and travel restrictions. Therefore Karasu has announced that many well-known brand started negotiations with Turkey for the production of new season products.
Pointing out to the increase of production costs in China, Karasu said that the 36% depreciation of the Turkish lira in the last two years makes the Turkish market attractive for buyers. Karasu; "Some European companies are already considering shifting their orders here as the production costs between China and Turkey get to the same level. China already has 170 billion dollars of ready-to-wear exports. However, according to our calculations, about 1% of the initial order will now be shifted to Turkey. This could mean 2 billion dollars".
Sector managers and experts underline that the Turkish textile and apparel industry has sufficient capacity and power for additional orders and new demands from Europe. Istanbul Textile and Apparel Exporters' Association (İHKİB) President Mustafa Gültepe announced that foreign ready-to-wear companies has begun to get more deals from Turkey. Stating that the effects of the epidemic will last 5-6 months more, Gültepe said that there will be a big change in supply from China and that this will be seen after May.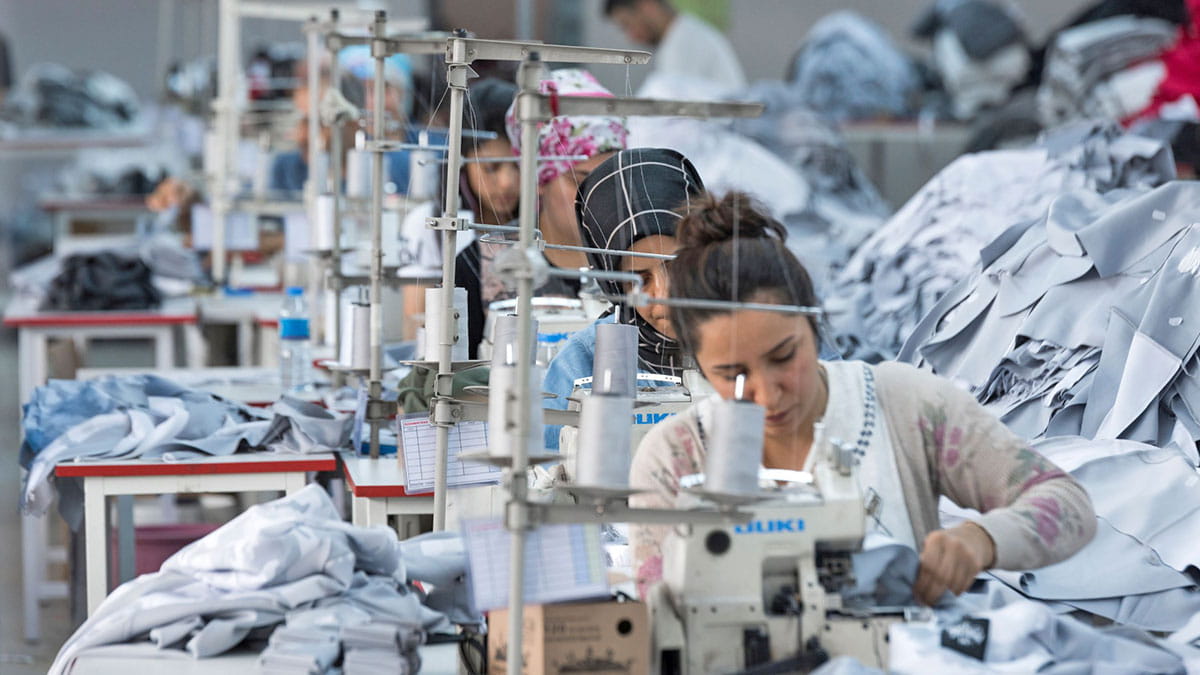 One of every three textiles in the world is produced in China
Istanbul Textile and Raw Materials Exporters' Association (İTHİB) President Ahmet Öksüz reminded that China is the world's largest textile and ready-to-wear supplier in a statement made on Bloomberg TV. Öksüz said; "China takes 33% share of the world markets with 233 billion dollars export. In other words, in terms of our sector, one of every 3 products produced in the world is produced in China. On the other hand, we as Turkey are an important country of textiles. In this sense, we have very little dependence on China. Turkey is a largely self-sufficient country that have its own textile production; and even have a net ready-tp-wear exports to over 15 billion dollars. Our imports are only around 10 billion dollars in our total exports of 26 billion dollars in textile and ready-to-wear".
Ahmet Öksüz stated that the Turkish textile industry will not be affected by the problem in China in terms of its supply chain; and that some raw materials can be acquired from different supplier countries. On the other hand Öksüz voiced that the textile orders for the supply of the European market began to return to Turkey and away from China.
Expressing that they attended Texworld Paris and Premiere Vision Paris fairs in February; Öksüz stated that the booths of Chinese companies remained empty at these fairs. Öksüz noted that there was a great interest in Turkish textile companies in both fairs; "We are the second largest supplier in the European Union market after China. This is the market where we are the strongest in competition with China. Our companies participating in the fair state that they have increased orders. This increase is important in terms of Turkey's total export growth. Because we are an industry that has proven its worth and has a place in Europe. Turkey is the country comes to mind first for new supply. We have the power to take advantage of this opportunity".
17.7 billion dollars of ready-to-wear exports were made in 2019
The Turkish ready-to-wear and apparel industry increased its exports to 17.7 billion dollars in 2019; with an increase of 0.4% compared to the previous year. Thus, the share of Turkey's total exports of apparel and ready-to-wear was 9.8%. In 2019, the countries to which the sector exports most were Germany, Spain and the UK. Other prominent countries were England, the Netherlands, France, Iraq, the USA, Italy, Denmark and Israel. The share of the top 10 markets in exports in total ready-to-wear exports was about 68%. The capacity utilization rate of the sector was determined as 85.6%.