Textilegence May June 2022 issue meets with readers with the latest developments in the textile industry, the highlights of the agenda and the news we have prepared specially for this issue. The textile industry is preparing to meet at the ITM 2022 in Istanbul after a 3-year hiatus in the atmosphere of uncertainty and insecurity created by the fluctuation in the Turkish economy. You can read the details and exclusive interviews about the latest innovations and special displays that the textile machinery and technology manufacturers will introduce at the exhibition in the 54th issue of our magazine. In addition, new investment news in the textile sector, NFT moves of brands, the latest global developments regarding sustainability and more are waiting for you in this issue.
Speaking to Textilegence, Marzoli Marketing Manager Ilaria Scalvini explained the solutions that will be exhibited at ITM 2022. We also talked with Lupamat Compressor A.Ş. South Marmara Region Sales Manager Burcu Türkmen about the innovations they will introduce at ITM in this issue. Konica Minolta Textile Sales Director Gianluca Macchi explained to Textilegence the details of their new technical and technological developments in digital textile printing they will introduce at ITM 2022. Digital printing surprises await visitors at the Kornit-Mattex booth. You can find the ITM news of Saurer, Trützschler, Oerlikon, Picanol and numerous other leading brands in the textile industry in the new issue of our magazine.
Textilegence May June 2022 issue takes the pulse of the agenda
Itema, offering advanced weaving solutions including weaving machines, spare parts and integrated services, increases its strength in this market with its new subsidiary Itema Türkiye. TENCEL™, Lenzing's flagship brand in the textile industry, celebrates its 30th anniversary in sustainable fibre innovation. All and more are included in the new issue of Textilegence.
Mainetti, announcing its sustainability goals for 2025 and beyond, will switch to 100 percent renewable energy in production in 2030. You can read the details in our new issue.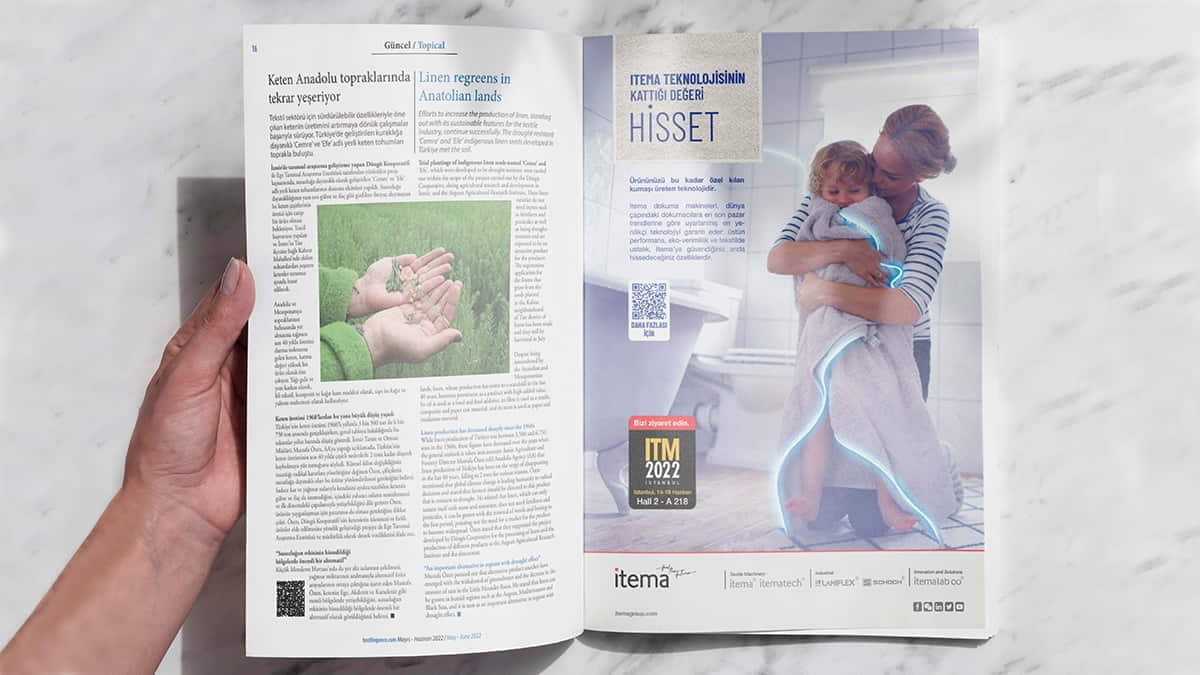 We talked with Bego Demir, who entered the industry as a denim sandblasting worker at the age of 15, about his clean denim journey leading to the Bego Jeans brand he founded, in our exclusive interview for this issue.
The new textile strategy announced by the European Commission has been the focus of criticism with its missing points. Uzbek cotton proved successful in the years-long fight against child labour and forced labour. The developments in the sustainability agenda of the textile industry and more are waiting for you in our 54th issue. We hope you enjoy the reading…
You can subscribe from this link to read the entire magazine.