Because of the fact that cotton prices in worldwide had been high, Turkish textilers went towards domestic cotton stocks. With the rise of interest towards domestic cotton, the stocks drained away. It is expected that manufacturers who once gave up on cotton planting because of its low prices will direct to domestic cotton as a result of price increase and manufacturing will reach to 1 million tons limit this year.
Making a statement to AA, National Cotton Council President Barış Kocagöz said that cotton manufacturing in Turkey increased 15% in 2016/17 season, and a positive season for manufacturers occurs since the prices worldwide are high. Reminding that Turkish textile sector directed to domestic cotton since Turkish cotton price was below the worldwide average at the beginning of the season, Kocagöz stated that the stocks finished for that reason. Saying; "For the first time this year, there was no cotton in the stocks", Karagöz continued thusly; "There are nearly 800 tons of cotton in The Aegean region. This is a facility's one month of need. So, until the new harvest starts, Turkish textile sector will have to run totally by imported cotton."
Cotton stocks pined away due to rise of domestic interest
Defending that Turkey needs at least 1 million tons of cotton manufacturing, Barış Kocagöz recorded that they determined this goal as National Cotton Council. Expressing that 630 thousand tons cotton manufacturing in 2015 reached to 730 thousand tons in 2016, Kocagöz said;
"We have gained a very good increase in cotton manufacturing. Manufacturers who gave up on cotton in Manisa, Denizli and Aydın have made turns. We must keep these manufacturers turning to cotton without huffing them for at least 3 years more. These are the manufacturers who hadn't been manufacturing for nearly 10 years. In 2001, we had 721 thousand hectares of harvested area in cotton. Last year, however, we had 422 thousand hectares of harvested area. This year, we assume that harvested area will reach nearly to 500 thousand hectares with comebacks and the production will reach to 900 thousand tons. If we catch the harvested area in 2001, we foresee that Turkey will provide its own consumption in 3 years progress. "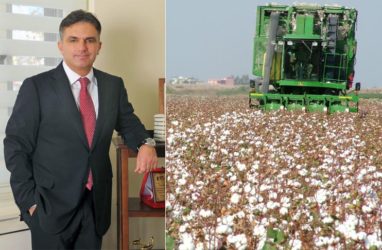 Pointing out that continuous increase of cotton need in global markets, Kocagöz stated that Turkish cotton manufacturers made the most efficient manufacturing after Australia with the technology they use. Announcing that the production efficiency will increase even more with land consolidation projects, Kocagöz pointed out the importance of licenced warehousing business against the price imbalances. Kocagöz added that they expect a good season for cotton manufacturers in the next term.