For a cellulose or man-made fabric to be the first choice of international fashion and home decoration suppliers, it must meet some important criteria. Perfect fibrillation and defibrillation processes are indispensable for vivid colours, no shrinkage and ultimate effects such as peach-skin and many others. The AQUARIA continuous, open-width washing machine developed and produced by Biancalani adds value to the fabrics in this regard. Moreover, these are just part of what AQUARIA® can do. Biancalani responds to the changing fashion and textile industry's demands for sustainability and eco-friendliness by bringing them together with solutions that save time and money.
In fact, during the washing process, AQUARIA® creates the mechanical action needed as to "heal" the fabric once and forever. Defibrillation deletes flaws such as pilling from the fabric and thus makes sure the final customer won't face the same flaws when washing their apparel. This is effective for any kind of fabric. Anti-pilling tests such as Martindale clearly show that fabrics finished with AQUARIA® are high-performance. Which means, what big and high end fashion brands expect to offer to their final clients: apparel ensuring breathability, easy maintenance, thermoregulation.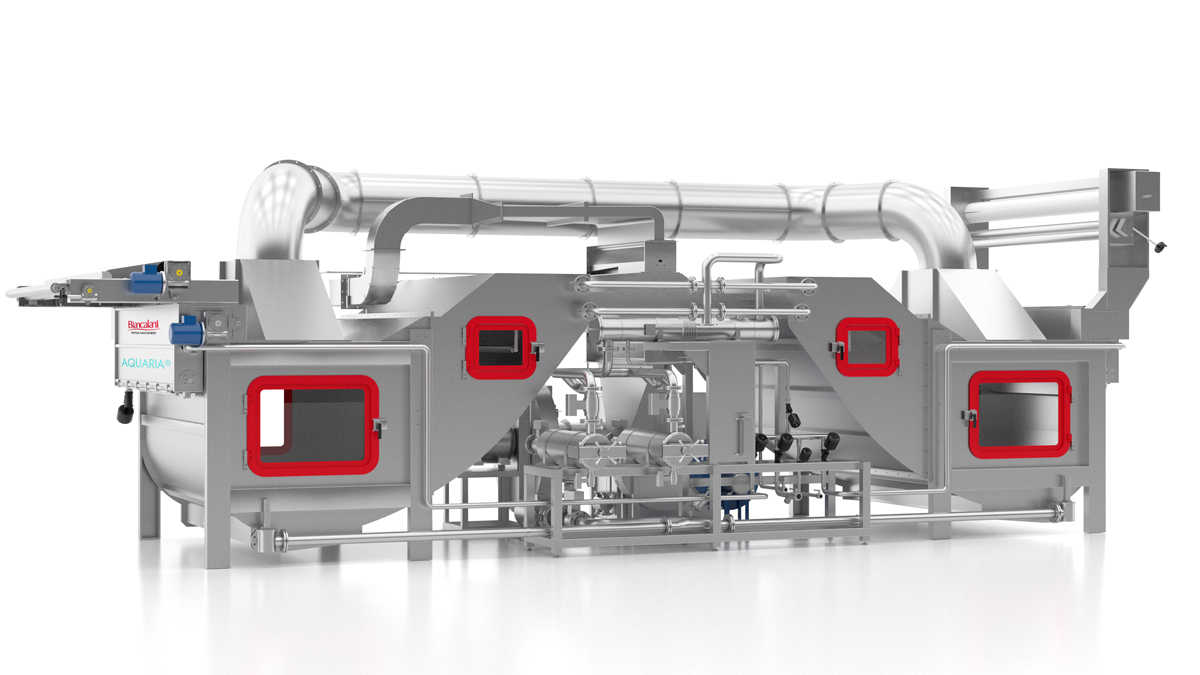 Fabric treated with AQUARIA increases in value
Furthermore, fabrics finished with AQUARIA® are so much easier to dye, with colours being vivid, sharp and shiny.
Problems such as dyeing fabrics so full of flaws the results are striped colours looking like they have been worn and washed many times are no longer a matter. Obviously, purchasing managers are not expected to take these worn fabrics into account. Because they have a wide range of options and they really want to buy the best fabrics designers need.
Now, not only AQUARIA® does it all, but it provides a unique continuous open width washing process. This means a safe and defect-free treatment – flaws that are very common with rope finishing. In fact, because discontinuous and rope processes made it very difficult to achieve specific results, manufacturers eventually stopped targeting the perfect fabric and began to see mistakes as inherent in this business. AQUARIA® puts an end to giving up the perfect fabric.
Key words here are: an economic, beneficial, repeatable process. Not to mention sustainability, as AQUARIA® means a very low water consumption, which is very much different from other continuous washing processes. And which means using much fewer chemical products.
T-Klab works for perfect finishing
In addition to a perfect finishing process, what you really need to succeed is the Technologist Club Laboratory by Biancalani, also known as the T-Klab. Extensive feedback from T-Klab and customers confirms that the dimensional stability of the fabric is incredibly improved with AQUARIA. The finishing process relaxes the fabric to the point that it finds its natural shrinkage and permanent stability position. That's why big and high-end fashion brands ask for fabrics finished with Biancalani textile machineries. Because this ultimately means a real made-in-Italy process.
Consequently, if a client does not achieve their target fibrillation and defibrillation results, it is sufficient for them to contact T-Klab. Having the necessary equipment and experience, T-Klab is the place where Research and Development technicians examine and find the best solution according to the needs of the customer and the market.
Those who want to see these results on their own products can send their fabrics to Biancalani T-Klab and thus see what the difference is. Results of all the tests conducted by Biancalani over the years show excellence when it comes to fibrillation and defibrillation of cellulose, artificial and man-made fibres. Fabric tests performed with AQUARIA can answer all that is wondered.