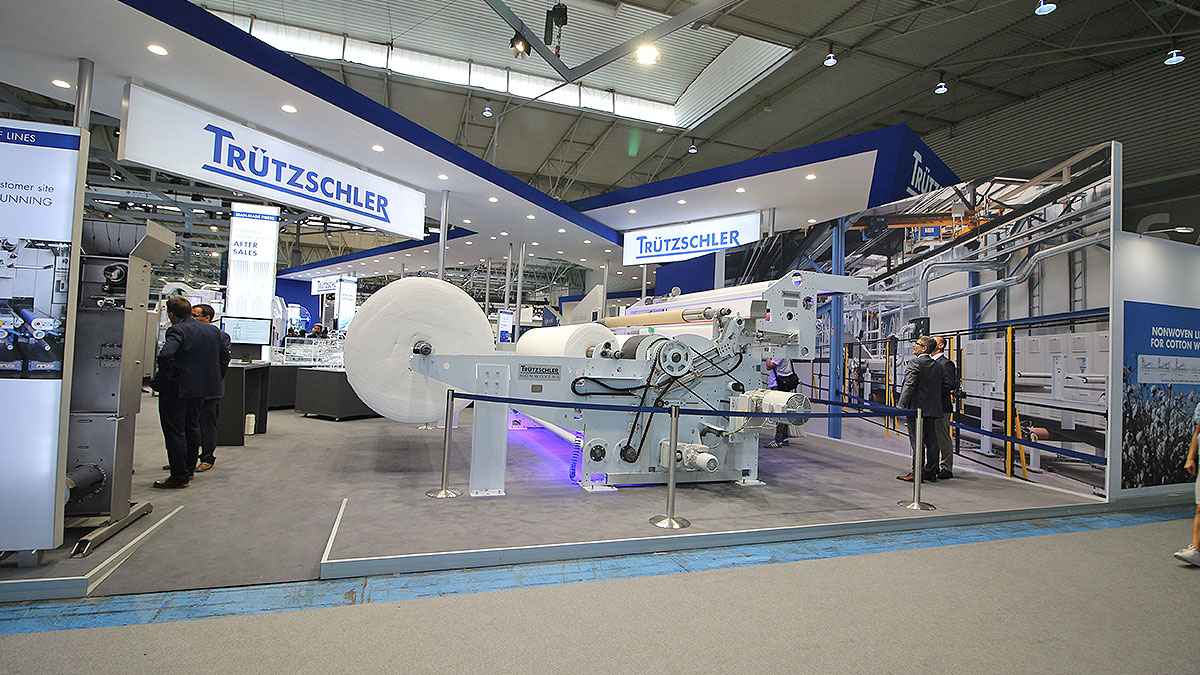 The Truetzschler Group took their place at the ITMA 2019 in Barcelona from June 20th to 26th, with the advanced solutions needed by the textile industry for spinning preparation, nonwoven & man-made fibre process. The solutions at the Truetzschler booth attracted attention with their 'intelligent, individual and sustainable' features.
As a complete supplier for spinning preparation, Truetzschler introduced their solutions at ITMA to make the spinning preparation process more intelligent against increasing competition and cost pressure. Among these innovations was the intelligent card TC19i. Michael Van Den Dolder, Marketing Manager at Truetzschler Spinning; "I is meant to be intelligent. It optimizes the carding gap itself, thus guaranteeing the most accurate carding gap. With the TC19i, even the narrowest carding gap of 3/1000 inches can be adjusted permanently. Thanks to this unique feature in the market, yarn manufacturers are continuously achieving high quality, while raw material usage and productivity are being seriously improved".
Saying that the new bale opening system Portal Bale Opener BO-P developed for the yarn industry has been introduced at the exhibition, Van Den Dolder disclosed that it guarantees a better blend in the blowroom. Van Den Dolder explained the features of the machine as follows; "With widths of 2,900 mm or 3,500 mm, this machine allows significantly more bales to be placed side by side and processes them in parallel using two opening rolls. Thus, it results in significantly better blending and higher productions of up to 3,000 kg/h".
Intelligent autoleveller draw frame TD 10 also attracted great attention during the exhibition according to Van Den Dolder who expressed that optimum sliver quality with perfect break draft can be achieved with TD 10. Van Den Dolder said; "The machine realizes significant cost savings due to its compact design and energy-efficient suction system. Like the TC 19i and the BO-P, the TD 10 provides the operator-friendly T-LED remote display which visualizes important machine and production information in a simple way".
The entire mill is digitally controlled with Truetzschler My Mill and My Wires
Van Den Dolder underlined that they have innovations in the digitalization that affected all industries deeply and commented about My Wires application and My Mill system. Van Den Dolder disclosed that information about the status and service interval of the clothings at the mill can be monitored with My Wires and that orders can be obtained from TCC if necessary, and continued saying that the cloud based digital control and management system My Mill is effective in mill optimization. Van Den Dolder announced that they will continue to offer new digital solutions that provide process control.
Noting that they are satisfied with the interest in the exhibition, Van Den Dolder divulged that they met visitors from all textile markets. Van Den Dolder; "We had the chance of meeting with a significant number of visitors from Turkey as well as from China, India, Japan, Indonesia and Vietnam. I can say that in these meetings we shook hands for a significant number of orders".
Van Den Dolder expressed his hope that the stagnation in the global market will be overcome with the growth after ITMA and concluded his words saying; "Negotiations for new investments indicate that the market will soon rise again. For example, we have received some orders from Turkish textile manufacturers for T-SCAN TS-T5; which separates foreign matter from the fibre, which we have exhibited its new optimized version at the exhibition. We see ourselves as the most important partner of Turkish textile manufacturers to solve quality problems in the blowroom".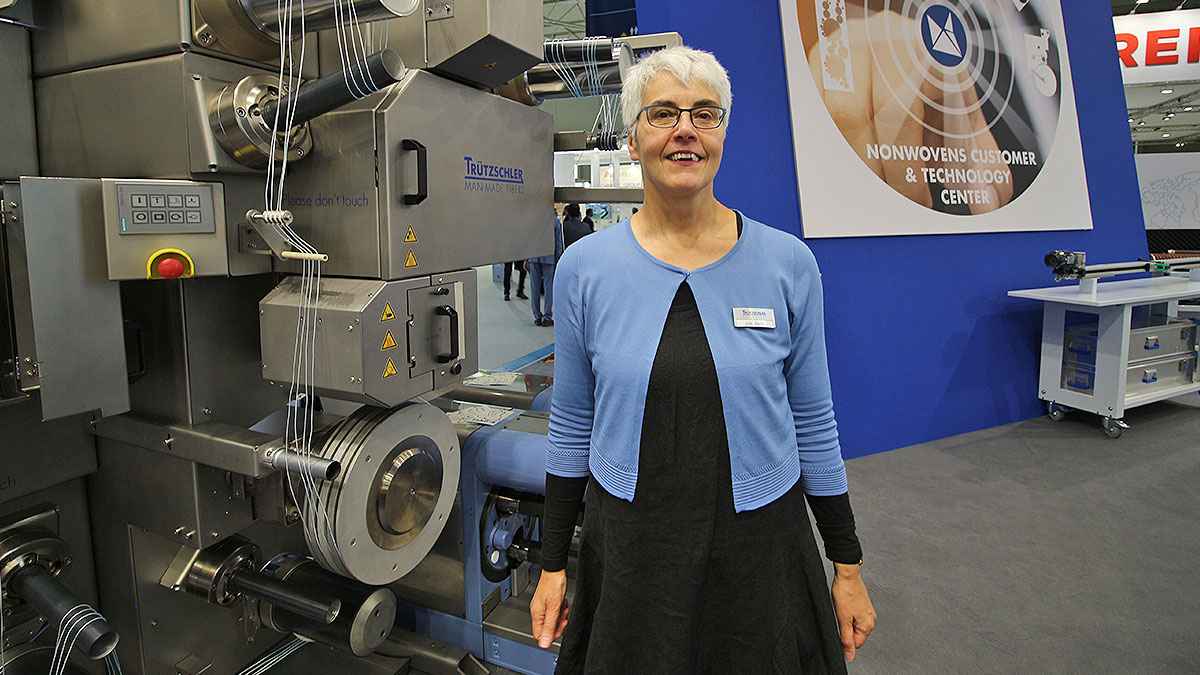 Renewable, sustainable nonwoven products are now possible
Jutta Stehr, Senior Marketing Manager at Truetzschler Nonwovens & Man-Made Fibres, said that a big part of the booth was reserved for nonwovens. Stehr; "We focused on showing that we have technologies for the production of biodegradable light-weight webs from renewable raw materials". Stehr pointed out that the demand for sustainable nonwoven products increased and continued her words saying;
"Several products such as disposable wet wipes, diapers, hygiene products, etc. continue to gain volume in the market. Every year more than 1.4 million tons of wipes are produced. And I think 90% of it is thrown away once it's used. Most of them also contain polyester and polypropylene. These raw materials are not good for nature, for example polyesters continue to exist 200 years after their use. It transforms into micro plastics and damages the eco system. That's why we at Truetzschler Nonwoven developed solutions for carded, spunlaced nonwovens made of 100% cotton or 100% viscose. In addition, we offer wet-on-wet process solutions developed in collaboration with Voith. Our main focus in all these solutions is environment-friendly, sustainable production technology".
Stehr said that they have also introduced the new four-end BCF machine, the M40, based on the M40 concept; and that the symmetrical design in combination with the lamellaless HPc texturing results in maximum yarn and bobbin qualities. Stehr; "As each spinning position produces four BCF ends simultaneously; the machine achieves high productivity at moderate speeds, which ensures a stable process".
Truetzschler booth also featured high-performance clothings. TCC completes its portfolio of special flat clothings with the MT 52; which demonstrates outstanding stability, particularly at high card productions in ring and rotor spinning. In addition, TCC has developed the new PRECISETOP flat clothing; which is essential for the intelligent self-optimization of the carding gap in the TC 19i.