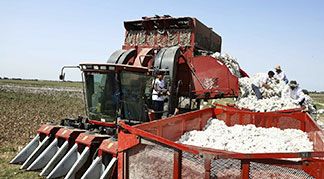 Turkey and Azerbaijan cotton cooperation. Turkey is taking steps to improve bilateral trade and investment relations with Azerbaijan whom it is in close relations and defined as 'brother country'. After the 9th Term Meeting of the Agricultural Steering Committee (TYK) held in Izmir among the technical authorities of the two countries, the TYK Report, the Cotton Memorandum of Understanding and the Declaration of Intention for Cotton were signed. Minister of Agriculture and Forestry Bekir Pakdemirli and Azerbaijani Minister of Agriculture Inam Karimov signed the agreement aiming to develop the cotton business between the two countries.
Minister Pakdemirli made a statement after the talks, and said that Turkey have a 15 billion dollars trade goal with Azerbaijan. Pakdemirli; "We talked about how to achieve this goal, we need to do more than we can to get more share of the potential trade of 15 billion dollars".
The cooperation in hazelnut will continue with cotton
Voicing that Turkey has the 65-70% share of the world hazelnut market, Bekir Pakdemirli said that Azerbaijan also started to become a serious manufacturer in the production of hazelnuts. Pakdemirli continued his words as follows: "In this field, we decided to take steps to cooperate with Azerbaijan on production and marketing. We have signed a cooperation in the field of cotton. We have attended a consensus that Turkey should provide every support in order to increase Azerbaijan's cotton production potential. Turkey is good on soil analysis. We will cooperate with Azerbaijan at that point as wwell. We have a well-functioning insurance model; TARSİM. It is a system that is helps the farmers in a bad time. We want to implement a similar system in Azerbaijan".
Explaining that there is a request for the appointment of a mutual agriculture consultant by Azerbaijan, Pakdemirli announced that they would respond positively. "Azerbaijan and Turkey, two states, one nation," said Pakdemirli and noted that the two countries will mutual be sharing of information, knowledge and skills in between and that he believes that this relation will evolve into a bilateral trade and investment.
Azerbaijan Minister of Agriculture, Inam Karimov said that they have had mutual talks; with the aim of bringing the relations between the two countries to a better point. Karimov said that the relations on agriculture increased rapidly; "Important reforms were made in Azerbaijan. Our main strategy partner to positive result of reforms implemented is Turkey, Turkey's Minister of Agriculture".
Azerbaijan cotton industry has serious potential
Azerbaijan has a significant potential for cotton with its favourable climate and soil structure. Cotton was actually one of the traditional production and industrial branches of this country. However, there has been a steady decline in the country's cotton plant after 1987; and there has been a gradual development/recovery in production for the last five years. In 2015, cotton cultivation increased by 3 times compared to the previous year and reached 51,000 hectares.
With this growth trend, cotton cultivated area reached 132,000 hectares in 2018. In the country that harvested around 215,000 tons of cotton in the last year; the average productivity exceeded 16 centners per hectare (50-pound weighing measurement) of 2017. In Azerbaijan, cotton cultivation is developing especially in Saatli, Bilasuvar, Barda, Aghjabadi and Sabirabad. The 2017-2022 State Program, which came into force at the beginning of 2017; aims to improve the cotton production, increase the export potential and provide employment for the rural population. The Azerbaijani state aims to increase its cotton production from 260,000 tons to 500,000 tons by 2022.