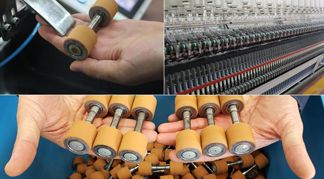 Asteks created a significant added-value to the industry in Turkey as the company developed 'UV-302 Apron UV Machine' via demand and cooperation from Gülle Tekstil. Asteks sold '201-AF Apron Grinding Machine' to the company in 2016.
Turkey's leading apron and cot manufacturer Asteks signed great achievements in terms of producing all required machine and measurement devices for a grinding department via intense Research&Development studies. Following the studies since 2014, the developed cot grinding machines are providing advantages beyond their competitors.
Gülle Tekstil operates in Çorlu with an integrated structure that consists of yarn, weaving and finishing, while the company elected Asteks solutions for cot grinding. After purchasing 201 AF (Automated Feeding) model grinding machine last year, the company preferred to cooperate with Asteks for the UV cot machine it needed. UV-302 Cots UV Machine was developed by Asteks and shaped up by demand from Gülle Tekstil, while it started up successfully at Gülle Tekstil's spinning mill. Pleased with the machine's performance, Gülle Tekstil widened its cooperation with Asteks via purchasing the second UV cot grinding machine. UV-302 grinds the cots in short staple ring spinning machines working with synthetic and blend fiber, while it offers efficiency when used after cot grinding as well as 3 times more feeding and irradiation compared to standard machines.
 "For us, a cot is as much crucial as a tire is for a Formula 1 pilot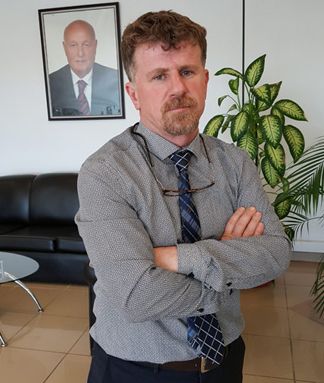 With a spindle ring production capacity of 110.000, Gülle Tekstil carries on mélange, combed cotton and beige yarn production under three roofs. Gülle Tekstil Spinning Mill Manager Timur Atik said they have been working with cot and apron manufacturer, Asteks for 20 years now and explained their investment process in grinding machine:
"Formula 1 pilots periodically visit maintenance areas, namely pit stops, in order to have their tires replaced. For a spinning mill, clean and reliable cot means the same importance as a new and durable tire is for a pilot. Cots should enter steady maintenances in order to avoid any disruptions in yarn manufacturing. We rely on grinding in order to have smooth cot surfaces again, fibre rolling and avoid yarn disengagements. We had used two grinding machines for these reasons in 1990s, whereas we needed a new one for our capacity. Moreover, we had set a foreign brand for the purchasing action. We determined on the product after finding out ASTEKS, then-developing product in this process. We purchased 201 AF cot grinding machine after ITM 2016 Fair which met our expectations."
Timur Atik pointed to the reason of their preference of a local brand. Turkey has the manpower, intelligence and experience, he said and continued: "Textile facilities are involved in intense technology investments. Part of them better be provided by local sources as this would be in favor of the country and industry. We realized that Asteks cot grinding machines are more qualified and competitively priced; when compared to their equivalents in the world. They are much more advanced. This is an added-value for our country and Asteks is a proof."
Gülle Tekstil is set to invest in Asteks solutions within this year for standard cot grinding at their three actively operating spinning mills, according to Timur Atik.
All Solutions for Grinding Department at Single Source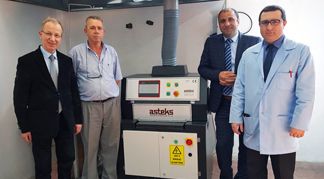 Asteks Marketing and Sales Manager Sabri İlknur noted that they are trying to provide all the must-required solutions for a grinding department. In addition to the existing cot grinding machines in the market, the company's projects related to cot fitting and greasing are almost completed. New solutions are developed in interaction with the market, İlknur said, adding; "We are constantly improving our machines in accordance with customer feedbacks. In the field, we are evaluating and developing more clearly while working at spinning mills. In this context, Gülle Tekstil is not just a customer for us, but also an important partner."
Grinding machines are manufactured within Asteks structure including the software İlknur underlined; which contributes to improving the quality of cot surface in machines and consequently boosting efficiency in yarn production. "We highly care about easy using, reliable cot cleaning and efficiency criteria for our customers. Cot helps yarn disengagements to be reduced significantly and efficiency in manufacturing increases. We are also developing items to preserve operator health. All our solutions contain an equipment that absorbs dust during the operation. Plus, the newly developed 302 UV cot machine has UV light that turns off during loading and pouring; which prevents harm to human health. Our competitors still lack of that feature. A sustainable production system is possible by only maintaining man health and efficiency of the facility," he stated.
Sabri İlknur declared that they receive high demand for grinding machines; both in export and domestic textile markets, while they aim to exceed their 2017 market goals.